The Lamborghini Terzo Millennio (English: Third Millennium) is a concept electric hypercar unveiled by Lamborghini, developed in collaboration with the Massachusetts Institute of Technology (MIT), and is also the first product of a three-year, €600,000 partnership with each other.
Overview
The Terzo Millennio uses high-capacity supercapacitors in lieu of batteries, due to their more rapid storage and discharge of energy. These supercapacitors have been made to simultaneously capture and release energy to give the car an increase in high performance, without having the depend on chemical reactions.
Each wheel, the rims of which glow orange, contains an electric motor, so that the amount of torque can be controlled individually, making the car's stability as good as a modern Formula One car. Because there is a motor on every rim, the car would be all-wheel-drive if it were a running model.
The Terzo Millennio is reported to have an autonomous system, but only for racetrack driving. This system would make the car run a full lap without any mistakes, then teach the driver how to run the lap on their own, using a ghost car, which is based on various racing video game franchises.
The car still inherits the modern Lamborghini design, with the Y-shaped headlights and taillights, and the triangular front trunk and rear engine bay.
Carbon fiber composite is used entirely for the body panels, containing nano-tubes that can repair itself if the factory-fitted sensors detect any small cracks and dents in the panels. The body of the car is monitored by a health system.
The Terzo Millennio was succeeded by the Sian FKP 37, introduced two years later at the 2019 IAA Frankfurt Motor Show, and some of the design elements were integrated into the Sian FKP 37.
The Lamborghini Terzo Millennio was added in the Worldwide Launch and appears as a Class S car with the following rank statistics:
Starting rank: 3,288 (60 BPs)
1* Max rank: 3,440
2* Max rank: 3,618 (13 BPs)
3* Max rank: 3,798 (16 BPs)
4* Max rank: 3,986 (25 BPs)
5* Max rank: 4,205 (38 BPs)
6* Max rank: 4,411 (48 BPs)
Performance
While the Lamborghini Terzo Millennio has quick acceleration and excellent drift radius, it has an an inferior top speed compared to the W Motors Fenyr SuperSport, Koenigsegg Regera and Bugatti Chiron, with a below average nitro duration and subpar handling. Overall, it is an average performer that doesn't excel at anything.
Price
The Lamborghini Terzo Millennio requires 60 blueprints to be unlocked and an additional 140 blueprints for Star Upgrades; a total of 200 blueprints. Blueprints were only obtainable through its special event. Upgrades require

 27,726,000 while Import Parts require 

 14,760,000.
Special Event
Main article: Lamborghini Terzo Millennio (Special Event)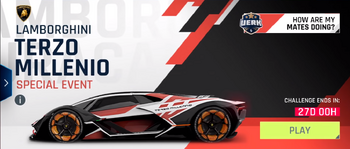 The Lamborghini Terzo Millenio Special Event was available between April 12 - May 10, 2019 as part of the Caribbean Update.
3 decals for the Lamborghini Terzo Millennio were obtainable from the special event:
Stage 17: Rouge Red (3600 required rank)
Stage 24: Storm Blue (3900 required rank)
Stage 25: Exclusive Club (Top 10 players and their club members)
Summary
The Lamborghini Terzo Millennio was added in the Sixth Anniversary Update as a high-end Class A car with the following statistics:
Performance
At stock, the Terzo Millennio features surprisingly mediocre acceleration, low top speed, mediocre handling and drift radius, and a low nitro stat. It resembles the Holden Coupe 60 and Chevrolet Camaro SS in terms of rank distribution as they all have low starting ranks. As the car is upgraded, the acceleration, handling and drifting radius are greatly improved.
Usage
Price
The Lamborghini Terzo Millennio is obtained by reaching Tier 11 of the 6th Anniversary Festival. If viewed in the Tag Racing car selection menu, it will show a price of 

 20,000, however, the option to buy out the car is grayed out.
Pro Kits require

 4,788,000 and 220 Kit cards. Kit cards for the Lamborghini Terzo Millennio were available between October 1-14 2019 for up to

 1,000 each.
Community content is available under
CC-BY-SA
unless otherwise noted.