The Lamborghini Veneno, also known as the Lamborghini Veneno LP 750-4, is a limited-production hypercar based on the Lamborghini Aventador and was built to celebrate Lamborghini's 50th anniversary, along with the Lamborghini Egoista one-off concept car.
Description
The Lamborghini Veneno was built alongside the one-off Egoista concept car to celebrate Lamborghini's 50th anniversary. When unveiled at the 2013 Geneva Motor Show, the Veneno was one of the most expensive production cars in the world, with a price tag of US$4.5 million. The Veneno, built on the Aventador chassis, was produced only in five examples: one for factory testing, one for Lamborghini, and three for customers. Another nine examples were built, as roadsters. Car Zero is finished in Grigio Estoque and includes an Italian flag vinyl on both sides of the car.
The Veneno's 6.5 L (6,498 cc; 396.5 cu in) L539 V12 has been modified from the Aventador, with a higher power output of 740 hp (552 kW) at 8,400 rpm and a higher redline due to the use of larger air intakes and an updated exhaust system. It still makes 509 ft·lb (690 N·m) of torque at 5,500 rpm, though. All power is sent to all four wheels via a seven-speed single-clutch ISR semi-automatic transmission, the same one in the Aventador.
The Veneno is up to 275 lb (125 kg) lighter than the standard Aventador, coming in with a dry weight of 3197 lb (1450 kg) and a maximum curb weight of 3810 lb (1728 kg). This makes the Veneno have a maximum power-to-weight ratio of 510 hp (380 kW) per tonne.
The Veneno is capable of 0 - 60 mph (97 km/h) in 2.7 seconds, 0 - 100 mph (161 km/h) in 5.8 seconds, and a top speed of 221 mph (356 km/h). It also produces 1.41 lateral Gs while cornering.
Summary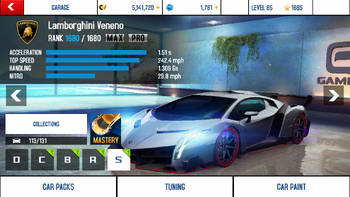 The Lamborghini Veneno appears as a low-end Class S car with the following statistics:
Starting rank: 1481

This is exactly identical to that of the Sbarro GT1's MAX rank from Class C as both cars have the exact same top speed and nitro stats.

MAX rank: 1600 (+119)
MAX+PRO rank: 1680 (+80)
Tuning Kit bonus: +29
Stock to MAX+PRO rank difference: 199
Upgrade rank percentages: 15/20/30/35
Nitro Efficiency: 6/12/16
Performance
The Lamborghini Veneno, despite being intended to be a starter's Class S car, performs extraordinarily well for its rank. It has a decent launch and strong acceleration, albeit not the best in the game. The Veneno's drifting and handling capabilities are great too (a trait shared by the original S-class cars), as is its raw top speed, which is actually higher than that of the Pagani Huayra. The Veneno has the highest nitro stat of all the original Class S cars and is also the most nitro-efficient of all the original Class S cars. It has a total speed of 277.8 mph/447.2 km/h at MAX+PRO with Tuning Kit.
Compared to the GTA Spano, the Veneno excels at nitro efficiency and acceleration, while the Spano has better total speed, top speed, and handling. Its other closest rival, the Lamborghini Sesto Elemento, features faster acceleration and similar handling but with a lower total speed.
Usage
The Lamborghini Veneno is adequate enough even at MAX to complete all unrestricted Class S Career Mode races with the exception of the Exclusive Metal Events.
The Lamborghini Veneno is also widely used for credits grinding. It has the largest payout per minute in its Mastery Challenge 15 out of all cars that do not require Engine cards in their Pro Kit upgrades, earning approximately
 6,000 in 54-58 seconds. Until other useful cars such as the McLaren 675LT, Pagani Huayra BC, Apollo Intensa Emozione, Audi R8 e-tron Special Edition, and/or 2018 McLaren X2 can be obtained and fully upgraded, the Veneno has a very solid niche in single-player.
Price
The Lamborghini Veneno had an original buying price of either
 32,000​ or
 50,000​ that was increased to
 140,000 in The Great Wall Update and again to

 1,100​ on March 23, 2018.
Upgrades cost
 417,500​ while Pro Kits require
 304,274​, 5 of each Class S Part, and 12 Mid-Techs.
The Lamborghini Veneno appears in Asphalt Overdrive as a Turf 5 car with a 1.25 bonus multiplier for Takedowns. It has a buying price of $750,000 or 550 Gold.
This section of an article is missing some information. Please try to add some relevant content.
The Lamborghini Veneno now appears as Class A car. It otherwise behaves exactly identically to its Asphalt 8: Airborne rendition. The Veneno has a buying price of
 155,000.
In the beta version, the Veneno was a Class B car.
The Lamborghini Veneno appears as a Class S car added in the Asphalt Street Storm Racing Graphics Update.
This section of an article is missing some information. Please try to add some relevant content.