The Leaderboard Update, referred to as Update 1 by Gameloft, is the fourth update of the launch version of Asphalt Street Storm Racing. It adds more visual changes and gameplay balancing to the game.
Announcement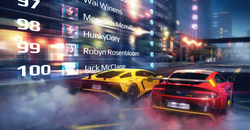 The Street Storm competition is reaching a new level!
LEAGUES & LEADERBOARDS: You know you're the best; now show the world! Top the Leaderboards and reach Higher Leagues while unlocking exclusive prizes along the way.
4 NEW CARS: The Aston Martin Vulcan, W Motors Lykan HyperSport, Mercedes-AMG S 65 Coupé and Dodge Viper ACR are making their grand entrance to the race strip.
MORE REWARDS: Get ready for recurring free gift box deliveries and get your hands on increased 4-player race rewards.
PINK-SLIP BUYBACKS: We all like to live on the edge. But when you wager more than you care to lose in a Pink Slip race, you can now buy back your ride for a limited time.
DRIVERS TAKE CONTROL: By popular demand, your Street Storm driver is now behind the wheel and taking your supercar across the finish line.
LOBBY OPTIMIZATIONS: It's easier than ever to find a new challenge! The status of other racers is now visible and registering for 4-player races has been simplified
BALANCING ADJUSTMENTS: Stats for select cars and upgrades have been fine-tuned. More details on the Street Storm forum, Reddit and Facebook.
AND MUCH MORE: An upgraded interface, new cinematics, improved game flow and other little touches will make your racing experience smoother than ever!
New Cars
Class B
Class A
Class S
Game Changes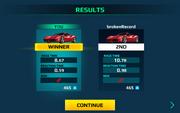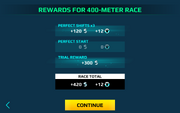 Cosmetic Changes

New app icon of a Porsche 911 GT3 RS racing a Porsche 918 Spyder
New loading screen of a 4-way race in New York. This is the same screenshot used in promotional material
New loading screen tips
The car icons for Gift Boxes now have more reflections depicted
New animation when a Gift Box is opened
The icon for Subscribers and Driver Rating have been redesigned
Vehicle selection has been redesigned with less borders and search filters are now on a separate screen
The shop now shows if a car can be visually customized or not.

This also allows custom colors to be applied before the car is bought

The list of cars has been rearranged
Visual Customization has been added for the Honda S2000
The screen for Champions Clash and Daily Car Trial have been redesigned
The tachometer is now significantly smaller
The race countdown timer has been redesigned
The post-race results now has its own screen
A driver is now shown in the car during a race.
MPH has been added
New sound effect when a car is selected
A cutscene now plays when a new car is obtained.
A link to the game's subreddit is now available in the main menu

Gameplay Changes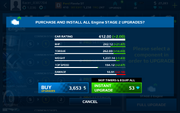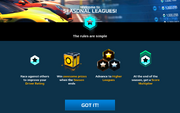 New event: Seasonal Leagues
Bronze Boxes are now free every 4 hours
The Pro stage for the Stabilizer Bar has been fixed

All other suspension upgrade aspects have been nerfed for gameplay balance

The speed penalty for transmission upgrades have been reduced
The upgrade durations for all classes are now based on 15 / 30 minute and/or 1 hour increments
Stage 1 & 2 upgrades can now be bought all at once. The upgrade durations will still be applied unless paid for with Diamonds
Engine, Forced Induction, Intake, Exhaust System and ECU upgrades now show a Top Speed bar.
Cars lost in Pink Slip races now can be bought back
The first race that the player has with a bot every day will now bet up to $2,500 when challenged. Bots will always bet until the player wins the race.

Raising the bet will still result in the bot chickening out. This does not count as a race bet being won

The performance rating for all cars have been changed
Forced Induction now requires a turbo or supercharger to be installed first before any other upgrades can be bought.

Installing one type of FI will have the other's upgrade bars be covered up.

Placing cash or Pink Slip bets now award additional Champions Clash points.
When wagering a pink slip, both sides must have 2 cars and had won 2 nornal bets beforehand.
Purchasing Gift Boxes in a bulk of 10 now has a 10% discount
The following cars were buffed:
The following cars were nerfed:
v1.3.4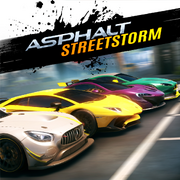 Released on September 25, 2017, the hotfix makes the following changes:
Bugs
Negative Currency Balances: On iOS, players could have a negative Diamond balance. This was fixed shortly after.
Extremely long repair duration: Also on iOS, engine repairs could have an excessively long duration. This was also fixed shortly after.
Game crashes on Android: Similar to the iOS bugs, this has since been fixed.
Community content is available under
CC-BY-SA
unless otherwise noted.