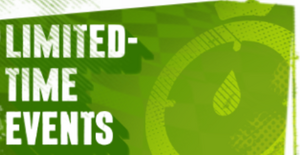 A Limited-Time Event, often shortened to LTE, is an internet based competition in Asphalt Xtreme and the equivalent to Time-Limited Events in Asphalt 8: Airborne and other games of the Asphalt series. Each event is only available for a limited amount of time, ranging from 1 to 4 days, after which players who competed can claim their rewards. All events start at 12:00 UTC.
Events usually have a recommended upgrade level, but players can also participate with a lower level than recommended.

Currently running events as of November 26, 2021, 9:26 UTC:
Entry fee
Events cost

 Tickets to play. Tickets are refilled automatically (

 1 every 10 minutes). Players can also watch an ad to get

 1 or buy a complete refill of up to

 10 with

 Tokens (

 1 =

 8.52; the price for a refill is calculated based on the time left until a complete automatic refill. See Currencies in Asphalt Xtreme § Tickets for details.).
Rewards
Rewards are grouped in two categories:
Milestones (Time X:XX, Finish 1st, Finish race)
Leaderboard (Top 5, 10, 20, ...)
The

 Credits output of LTE races is low and not suitable for farming.
Event types
Solo Challenge
Main article: Solo Challenge
Only one archetype is allowed, for example buggies for a "Buggy Solo Challenge". There are two types of Solo Challenges at the same time, one for level 5 and one for level 10 vehicles with better rewards but faster opponents.
Duration: 24 hours
Possible rewards (milestones only):

Blueprints for a vehicle not necessarily of the same archetype as the event archetype
Championship
A Championship in the broader sense is a combination of three event types: a Test Drive, Warm-Ups and the Championship event itself. Each Championship series lasts seven days.
Calendar
There are seven Championships which take place in the following order.
Status icon explanation:

: Not running –

: Running –

: Starting today
Schedule
Each Championship series has the following schedule of events:
Day 1
Day 2
Day 3
Day 4
Day 5
Day 6
Day 7

Test Drive

Championship vehicle (free try)




Championship

Any vehicle (class restrictions) and featured vehicle of Warm-Up events















Test Drive
A Test Drive is an event where players can drive the Championship vehicle at the starting upgrade level also if they do not own it. Players who already own the Championship vehicle can also participate and drive it with the upgrade level it currently has in their garage.
Duration: 3 days
Possible milestone rewards:
Possible leaderboard rewards:

Blueprints for a vehicle most probably other than the Championship vehicle
Championship Warm-Up
Before and during Championships there are additional "Championship Warm-Up" events with more valuable rewards than Solo Challenges, but no blueprints for the featured Championship vehicle.
Duration: 24 hours
Possible milestone rewards:
Possible leaderboard rewards:

Blueprints for several vehicles other than the Championship vehicle
Championship
This event rewards blueprints for the Championship vehicle. Players can participate with any vehicle they want, also the Championship vehicle if they already own it.
Duration: 4 days
Possible rewards (leaderboard only):

Blueprints for the Championship vehicle
History