The Lotus Evora Sport 410 is a high-performance version of the Lotus Evora 2+2 sports coupe.
Description
The Lotus Evora Sport 410 is the result of Lotus' philosophy of continuous improvement. With a lower centre of gravity, and a kerb weight slashed to just 2921 lb (1325 kg), the car provides an impressive 309 hp/tonne, and builds on the achievements of the excellent Evora 400. In addition to boosting straight-line speed, the significant reduction in mass has allowed sharper, more agile and intuitive handling - with even greater accuracy and feel.
Complementing the weight savings is a higher-output version of the supercharged, 3.5-litre V6 engine, developed through the Lotus 3-Eleven project which has beaten Nürburgring records. As a result, the car boasts 410 hp (306 kW) at 7000 rpm and 310 ft·lb (420 N·m) of torque at 3500 rpm.
The high-performance, carbon fibre components have played the single biggest role in the evolution of the Evora Sport 410. These include front splitter, roof panel, tailgate, and rear diffuser as well as race-derived sports seats and a revised front access panel. The one-piece carbon tailgate incorporates a louvered section, inspired by some of Lotus' most-famous heritage models, and together with carbon rear quarter-light panels help provide the car with a sleeker, fastback-style trailing roofline. These changes have also improved the car's aerodynamic downforce by 15% with no increase in drag.
The car's reduced curb weight has allowed the recalibration of the suspension, with improved geometry and completely revised damping, as well as a ride height 5mm lower than the Evora 400. As a result, handling is sharper, along with better body and roll control, yet ride comfort and composure is retained. Ultra light-weight, 10-spoke forged aluminium wheels, and optional Michelin Cup 2 tyres, complete the car's dynamic revisions.
Asphalt 8: Airborne
Summary
The Lotus Evora Sport 410 was added in the Car Blueprints Update as a high-end Class B R&D car with the following statistics:
Performance
The Lotus Evora Sport 410's performance is built on that of the Savage Rivale GTR, albeit more nitro-efficient and with a slightly lower total speed.
The Lotus Evora Sport 410's acceleration, while not the best in its class, is still very fast, as it accelerates to its maximum speed faster than the Falcon F7 and Kepler Motion. As the Evora Sport 410 has a high nitro stat, despite gaining more speed from upgrading the top speed than upgrading the nitro, it is somewhat lacking, as it can only top out at 237.8 mph (383.0 km/h) at MAX+PRO with a Tuning Kit. The Evora Sport 410 is much more nitro-efficient than normal, with 6/11/16.
The Lotus Evora Sport 410 also boasts responsive and sharp handling/drifting capabilities, although due to its low top speed stat, it isn't as fast as most other Class B cars ranked above 1660 when drifting.
The Lotus Evora Sport 410 has a total speed of 282.2 mph (454.4 km/h) at MAX+PRO with a Tuning Kit; while higher than the McLaren MP4/8's 278.6 mph (448.7 km/h), the MP4/8 has far better acceleration and handling to make up for this difference in total speed.
Usage
Unfortunately, due to the car's low top speed and slower acceleration compared to the McLaren MP4/8, the Lotus Evora Sport 410 is merely a collector's item. At MAX+PRO, the Evora Sport 410 is unable to effectively take on the Class B kings, not even the TVR Sagaris and Lamborghini Estoque (in most cases). At best, the Evora Sport 410 can only compete with the Lamborghini Asterion and Savage Rivale GTR.
In Multiplayer, even the best Multiplayer-friendly upgrade configurations available do not offer the Lotus Evora Sport 410 much competitiveness against the Chevrolet 2016 Camaro SS, McLaren MP4/8, Audi R8 e-tron Special Edition and Apollo Intensa Emozione.
Price and Availability
According to internal game files, the Lotus Evora Sport 410 had an original buying price of

 7,250, which made it the most expensive tokens-purchasable Class B car in the game after its release. Alternatively, the car can be assembled for 10 of its Legendary-rarity Blueprints. Assembly takes 10 hours but can be skipped for up to 

 390. 
The Evora Sport 410 is part of the 43rd Multiplayer Season, Holiday Rush Season 4, as a Champion League reward. Players who already own the Evora would win a Free Class A Upgrade instead.
As of the Sixth Anniversary Mini Update, the car no longer requires Blueprints to be assembled and has a full purchase price of

 4,750.
The Evora Sport 410 was on sale for a limited time during the following dates:
Upgrades cost

 ? while Pro Kits require 15 each of

Rare Tires,

Rare Suspension,

Rare Drivetrain, and

Rare Exhaust, 60

Rare Tech, 60

Rare Engine, and

 2,976,000.
Research & Development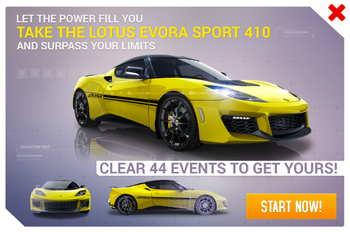 Main article: Research & Development/Lotus Evora Sport 410
The Lotus Evora Sport 410's Research & Development event was launched on April 25, 2017, as the 20th R&D event in the game, after the Sbarro Sparta's EDD. It was revived as the 60th R&D event on February 22, 2019, as part of the Fast Lane Update's Asphalt Moments Series, with a prerequisite of VIP Level 3. It has a total of 44 Tests spanning 4 Labs with a time limit of 9 days once the event is started.
Asphalt 9: Legends
The Lotus Evora Sport 410 now appears as a low Class C car with the following statistics:
The car is available in a unique TIM (an Italian mobile operator) livery in addition to standard colors; this is considered a decal by the game.
Performance
The Lotus Evora features a decent top speed with mediocre other stats. It is not particularly useful, except for career. It is better than the Dodge Challenger SRT8 and BMW 3.0 CSL Hommage, but not as good as the Mercedes-Benz AMG GT S and BMW M4 GTS.

Vehicles in Asphalt 8: Airborne