"Mastery" redirects here. For the Asphalt Xtreme equivalent, see Mastery (Asphalt Xtreme).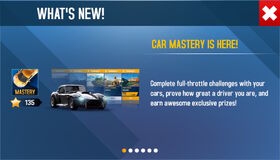 Introduced in the Car Mastery Update and removed in the Eighth Anniversary Update, Car Mastery (or just Mastery) is a game mode in Asphalt 8: Airborne. It offers 15 single-lap races with traffic, called Challenges, for each car of the game, with the possibility to earn Credits, Tokens, Car Upgrades, Pro Boxes, Boosters, and

Licenses. This mode is only available for players with at least 135 stars (this was increased to 150 stars in the Fifteenth Anniversary Update) in the Career Mode.
A similar version, called Moto Mastery, is used for motorcycles. Some Moto Mastery's are free try, meaning that the player can use the motorbike without obtaining it first.
Challenges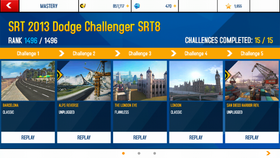 For each car in the game there are 15 Mastery Challenges available. These races increase in difficulty: the ranks of the cars of NPC opponents will gradually increase from the initial car rank for Challenge 1 to MAX+PRO rank for Challenge 15. To be able to accept a certain Challenge, i.e. take part in the race, each previous Challenge must have been completed. Each Challenge also requires the car to have a certain rank; challenges 1 and 2 being available without upgrades (challenges 3, 4 and 5 were also available without upgrades prior to the Research & Development Update), and increasing until Challenge 15, which requires a MAX and PRO car.
Challenges are races either one of these types: Classic, Unplugged, or Flawless. All of these race modes require a first place finish in order to be successfully completed. The Unplugged and Flawless modes, however, come with a twist: in an Unplugged race no nitro tanks appear on the track, whilst in the Flawless mode, the player is not allowed to wreck their car. A wrecked car results in immediate disqualification and the race ending with no credits awarded.
According to the in-game database, the AI racers are actually ranked higher than what the game shows (except at the first Mastery Challenge). For example, a Mastery Challenge with a required rank of 1725 actually has the AI racers ranked at 1777, despite the game saying otherwise. Because of this, in the later Mastery Challenges, the player must not make mistakes in order to finish first, especially as of the 2018 Spring Update, where the AI racers have become even more aggressive and relentless than before.
Licenses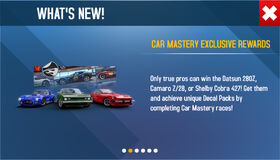 Main article: Mastery rewards (Asphalt 8)

Licenses, also sometimes called Mastery Points, are permanent collectable items which work as an experience level, similar to the star system, which you cannot buy but only earn. However instead of giving you access to new levels, the Licenses give you access to various rewards such as new Decal packs, and cars exclusively available through Licenses: Geely GC9 (

 100) Camaro Z/28 (

 300), Datsun 280Z (

 650), Shelby Cobra 427 (

 1,050) and Cadillac 16 Concept (

 1,600). Licenses are represented as a rectangular blue icon with a beige steering wheel on it.
Credits Grinding
Main article: Credits#Obtaining Credits
Challenge Rewards
For each race you play in the Mastery mode, you get a number of rewards. Similar to events, you can cash in those rewards after the race, or you can decide to leave them for later.
Each Challenge grants a Credits reward. Challenges 4, 8, 12 and 15 grant additional rewards according to the following tables.
Cars
Class
Challenge
4
8
14
15
D
Specialist Kit Box
Engine Box 3
 

Licenses

 

50

C
Specialist Kit Box
Engine Box 5
 

Licenses

 

100

B
Specialist Kit Box
Champion Kit Box
Engine Box 5
 

Licenses

 

100

A
Champion Kit Box
Engine Box 5
 

Licenses

 

100

S
Champion Kit Box
Engine Box 5
 

Licenses

 

100
Bikes
Class
Challenge
4
8
14
15
D
Special Offer: Bike Box
1 Four-Stroke Engine Box
1 V-Twin Engine Box
1 Forced Four-Stroke Engine Box
(depending on bike)
 

Licenses

 

50

C
Special Offer: Bike Box
 

Licenses

 

100

B
Special Offer: Bike Box
 

Licenses

 

100

A
Special Offer: Bike Box
 

Licenses

 

100

S
Special Offer: Bike Box
 

Licenses

 

100
Pre-v.4.1 Challenge Rewards)
Trivia
The graphic language of the Car Mastery is new to the game. While the car overview has a close resemblance to that of Season 9: Beyond, the Challenge selection screen, the Challenge loading screen and the Challenge completion / fail screen have graphic elements and colors which are new to the game. See the gallery below for examples.
On the iOS version of the game, there was a glitch in the pre-race cut-scene which is visible sometimes, it shows the name of the car in a distorted layer. It seems this was supposed to look like the end screen but hasn't been finished in time for the release. This has since been fixed.
After the Research & Development Update, many Car Mastery Rewards were reduced. See the Research & Development Update page for detailed information.

Some of the rewards that were reduced included multiple Free Upgrades of the same class being reduced to just 1 Free Upgrade, and Free Upgrades of a higher class being reduced to 2x Nitro Starters.

When collecting the Racer Kit Box from Challenge 5 for the Ferrari F430, it displays the image of a Random Box without a number, and the name is glitched. As soon as you collect the box from the challenge, it morphs into a Random Box 4. This may be due to the fact that the Racer Kit Box has been removed from the game, but Gameloft neglected to update the rewards for Challenge 5 to give a Random Box 4
The car featured in the icon for Car Mastery is a fully-orange version of the Arrinera Hussarya.

The motorcycle featured in the icon for Motorcycle Mastery is a fully-orange version of the KTM 1290 Super Duke R.