Description
Text originally from Ultimatecarpage.com
McLaren has completed its three tier model strategy with the global reveal of the first in its Sports Series family: the McLaren 570S Coupé. This pure sports car, with driver optimised layout and electrifying performance, shares its DNA with the McLaren Super Series and Ultimate Series that sit above it in the range hierarchy. The Sports Series introduces McLaren race-derived technologies and design values to a new segment and audience.
Like every McLaren, the performance of the 570S Coupé is breathtaking. It combines, as its names suggests, a power output of 570PS (562bhp) with light weight construction to give a class leading power-to-weight ratio of 434PS per tonne. The 570S accelerates from 0 to 100km/h (62 mph) in 3.2 seconds, while 200 km/h (124 mph) is reached in just 9.5 seconds with the pace not letting up till the car reaches a top speed of 328 km/h (204mph).
The Sports Series features an evolution of the 3.8-litre V8 twin turbo engine, named M838TE, with 30 percent of components bespoke to the new model. Engineered by McLaren, it produces 570PS (562 bhp) at 7,400 rpm, and 600Nm (443 lb ft) of torque at 5,000-6,500 rpm. Power is delivered through a seven-speed SSG transmission, and transferred to the road through the rear wheels. This power is brought under control with standard-fit carbon ceramic brakes, fitted behind a newly designed range of forged alloy wheel options with P Zero Corsa tyres as standard from McLaren technical partner, Pirelli - 225/35/R19 on the front and 285/35/R20 on the rear.
Asphalt 8: Airborne
Summary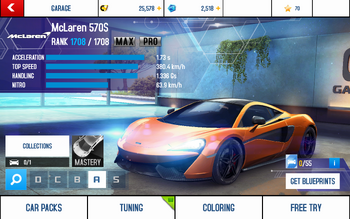 The McLaren 570S was added in the Research & Development Update but released in the Santa's Gift Update as a high-end Class A car with the following rank statistics
Starting rank: 1406
MAX rank: 1591 (+185)

This was changed to 1549 (+187) in the Fast Lane Update

MAX+PRO rank: 1708 (+117)

This was changed to 1678 (+129) in the Fast Lane Update

Tuning Kit bonus: +41

This was changed to +49 in the Fast Lane Update

Stock to MAX+PRO rank difference: 302

This was changed to 316 in the Fast Lane Update

Upgrade rank percentages: 2/55/2/41
Nitro Efficiency: 7/12/17
Similar to the Mitsubishi Lancer Evolution X, the 570S had its stats and/or performance significantly changed in the updates after their debut updates.
The McLaren 570S mainly rivals the Falcon F7, Lamborghini Asterion, McLaren MP4/8, and the Lamborghini Huracán.
Performance
Unlike the McLaren 675LT and McLaren 12C Spider, the 570S has a larger nitro boost but with only above average nitro durations. Its drifting capabilities are superb, being capable of handling the spiral turn on Sector 8 without hitting a wall. The biggest advantage of the 570S is its acceleration, being the 3rd fastest accelerating McLaren in the game, after the McLaren Mercedes MP4-25 and McLaren MP4/8.
Despite its well rounded stats, the 570S is largely a collector's item, but does count towards the McLaren collection, which awards a total of

 1,500,000.
Price
Prior to the Car Blueprints Update, the McLaren 570S would cost

 900,000 to purchase whenever on sale.
As of the 2019 Spring Update, upgrades cost

 1,912,000 while Pro Kits require

 637,600, 30 of each Class A Part, 16 Early & Initial Techs each, 32 Mid-Techs, 16 Advanced Techs, and 56 Forced-Induction V8 engines.
As of the 2019 Halloween Update, the car no longer requires Blueprints to be assembled, and has a full purchase price of 

 4,275. As of the 2019 Holiday Update, the price was increased to

 6,000.
Availability
v2.1.0
The McLaren 570S was added to the game, but could only be accessed by illegitimate means.
v2.2.0 onwards - Since this update, the McLaren 570S can be obtained legitimately.
December 31, 2015 → January 4, 2016
February 19, 2016 → February 22, 2016
May 20, 2016 → May 23, 2016
August 25, 2016→ August 27, 2016
Prize for finishing in the Elite League of the Nightshade Season between November 2016 to December 2016
Mid-December 2016
As part of the Ultra Premium Car Pack IAP (US$99.99)
As of the Car Blueprints Update (55 common Blueprints needed, 4 hours to assemble, maximum skipping cost of  

262

)
Blueprints awarded during Winter Wonder MP Season 2
Blueprints awarded for finishing in Champion League during Lunar MP Season 2
Car awarded for finishing in Champion League during Frostbite MP Season 3, players who already own the car will instead be awarded with a Free S Class Upgrade
With the Rio de Janeiro Update, the 570S can now be unlocked by reaching VIP Level 12. If the player already has the car, they will instead receive

 400,000 as compensation.

Vehicles in Asphalt 8: Airborne
Community content is available under
CC-BY-SA
unless otherwise noted.