The McLaren 600LT is a limited-run variant of the McLaren 570S, and is the ultimate model of the Sports Series.
Overview
Brace yourself for that moment. When it's just you. The car. Raw and uncompromised. An empty road ahead. Calling you. Total focus. Pure adrenaline. This is the moment to push yourself. To the very edge of your ability.
This is the McLaren 600LT. The next chapter in the storied history of the McLaren 'Longtail'. Only the fourth McLaren in two decades to receive the LT – or 'Longtail' – name. It lives and breathes the relentless spirit of its 'Longtail' predecessors. United by the same singular focus. To push performance and driving to the absolute edge.
This is not a car for the faint-hearted. This is a track animal let loose on the road. Our new sportscar benchmark. The fastest, most powerful and most extreme – yet road legal – Sports Series. Ever.
This is the next McLaren 'Longtail'.
Summary
The McLaren 600LT was added in the 2019 Spring Update as a high-end Class S car with the following statistics:
Starting rank: 1321
MAX rank: 1639 (+318)
MAX+PRO rank: 1860 (+221)
Tuning Kit bonus: +68
Stock to MAX+PRO rank difference: 539
Upgrade rank percentages: 1.6/72.3/1.6/24.5
Nitro Efficiency: 6/12/15
Performance
The 600LT has a total speed of 317.4 mph or 511.2 km/h at MAX+PRO+Tuning Kit. At MAX PRO, it has rapid acceleration, good handling & drift radius, and decent nitro efficiency. However, the 2018 McLaren X2 has faster acceleration, making the 600LT only competitive against the Apollo Intensa Emozione and Lamborghini Centenario LP 770-4.  However, it is worth noting that the 600LT's acceleration only becomes extremely fast when acceleration upgrades are applied; thus, without acceleration upgrades, the 600LT accelerates extremely slowly. 
Usage
Though inferior to the 2018 McLaren X2, it is competitive in Multiplayer and Time-Limited Events with to its well-rounded performance at MAX+PRO. Should a McLaren-only event appear, the 600LT will be among the best choices, alongside the 2018 McLaren X2.
Price
The McLaren 600LT is only obtainable from its R&D event.
Upgrades cost

 4,126,000 while Pro Kits require

 1,375,200, 50 of each Class S Part, 96 Mid-Techs, 64 Advanced Techs and 92 Forced-Induction V8 Engines.
Research & Development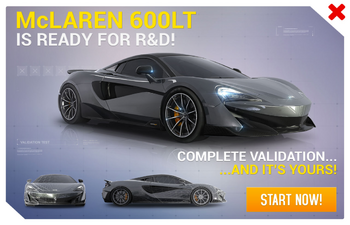 Main article: Research & Development/McLaren 600LT
The McLaren 600LT's R&D event was launched as the 71st event on May 17, 2019 after the Pininfarina H2 Speed's R&D. Players are given 4 days to start and 12 days to complete the event.
Community content is available under
CC-BY-SA
unless otherwise noted.