The McLaren 650S GT3 is a GT3 race car based on the road-going McLaren 650S supercar.
Overview
The McLaren 650S GT3 was revealed at the 2014 Geneva Motor Show, intended as a replacement for the 12C GT3. The road car packs a 3.8 L twin-turbocharged, race-homologated V8 producing a healthy 493 hp (368 kW) and 369 ft·lb (500 N·m), on its way to 60 mph (96.5 km/h) in a stealthy 2.9 seconds, and thrusts its way to its 207 mph (333 km/h) top speed.
Asphalt 8: Airborne
Summary
The McLaren 650S GT3 was added in the Munich Update as a high-end Class A car with the following statistics:
Starting rank: 1465
MAX rank: 1623 (+158)
MAX+PRO rank: 1726 (+103)
Tuning Kit bonus: +37
Stock to MAX+PRO rank difference: 261
Upgrade rank percentages: 2/55/2/41
Nitro Efficiency: 7/11.5/16
As of the Fifteenth Anniversary Update, the 650S GT3 is now a high-end Class B car.
Performance
The McLaren 650S GT3 shares some traits with the Mercedes-AMG C 63 Touring Car 2014, having fair acceleration and smooth handling. However, during the Munich Update, it had the tendency to have "glitch bumps", causing sudden skids and wrecks. This was mostly remedied as of the Fall Out Boy Update. The Halloween Update further increased the 650S GT3's stability.
The 650S GT3 has a maximum total speed of 285.7 mph/460.1 km/h, similar to the Bugatti Veyron 16.4 Grand Sport Vitesse and Lamborghini Estoque.
Official review
This is the official review of the McLaren 650S GT3 on the Asphalt YouTube channel, made by ReV_Tez and published on Nov 13, 2017:
Time to reach end of Tokyo straight: 7.524s
Perfect nitro duration: 8.778s
Triple nitro duration: 6.336s
French Guiana lap time: 59.169s
Final verdict: "The McLaren 650S GT3 falls in the mid-low tier of A class. It's great handling will make it easy for players to maneuver through all the tracks. However, this car has a tendency to skid but can be controlled fairly easily. It is best to upgrade this car suited for Multiplayer!"
Usage
The McLaren 650S GT3 doesn't have any use in either TLEs and Multiplayer. In multiplayer, it is not advisable to Multiplayer tune it, because at 1500-1600 rank there are several cars that are much faster than the 650S GT3, such as Aston Martin Vulcan, Apollo Intensa Emozione, Arrinera Hussarya GT, McLaren Mercedes MP4-25 and many more; and in TLEs, almost no brackets feature it, and in A Class Heat it is unable to reach the top 1000, due to the great affluence of cars like Mercedes-Benz SLK 55 AMG SE, Chevrolet Corvette Grand Sport and Rezvani Beast Alpha.
This car main usefulness was in Mastery, giving x2 Champion Boxes. The boxes have since been replaced in the Asphalt Moments Update with x2 Professional Blueprint Boxes, further diminishing any utility.
The McLaren 650S GT3 counts towards the Gran Turismo collection which awards a total of

 1,000,000 and 35 Tuning Kits when both versions are completed.
Price
As of the 2020 Halloween Update, the McLaren 650S GT3 can be purchased for

 4,000,000. The 650S GT3 was a blueprint car which could be assembled by collecting 20 of its Rare-rarity BP cards. Assembling the 650S GT3 takes 4 hours but could be skipped for up to

 262. Initially, the 650S GT3 was one of three

only upgrade cars that were added in the Munich Update; this was subsequently changed on October 31, 2017 to allow for payment of upgrades via

or

following strong negative feedback from many players over the "conversion" of several existing cars to

only upgrades.
As of the Sixth Anniversary Mini Update, the car no longer requires Blueprints to be assembled and has a full purchase price of

 7,000.
The 650S GT3 was on sale for a limited-time during the following dates:
Upgrades cost

 1,912,000 while Pro Kits require 15 of each

Rare Drivetrain,

Rare Exhaust,

Rare Suspension,

Rare Tires, 60

Rare Engine, 60

Rare Tech and

 2,976,000.
The McLaren 650S GT3 is part of the 46th Multiplayer Season, Octane Season, as a Champion League reward. Players who already own the car would win a Free Class A Upgrade instead.
The 650S GT3 is a reward for reaching Tier 8 with the Premium upgrade in the McLaren Elva Festival. Players who already own the car would win 7x

McLaren Elva Kit instead.
Research & Development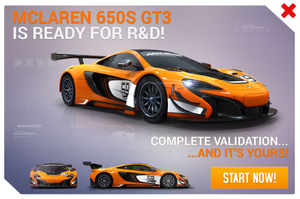 Main article: Research & Development/McLaren 650S GT3
The 650S GT3's R&D event was released on October 30th, 2017. Players are given 3 days to participate and 14 days to complete the event.
It was revived on the following dates:

Vehicles in Asphalt 8: Airborne
McLaren vehicles


Automotive
F1 (Standard • XP-5 • LM) • M-B SLR (Standard • 722) • 12C (Standard • Spider) • 650S (675LT) • P1™ (Standard • GTR) • 570S (Standard • Spider • 600LT) • 720S • Senna • Elva • Speedtail

Racing
#4 M14A • #8 MP4/8 • #1 MP4-25 • #59 650S GT3 • #14 MP4-31 • #14 X2