The McLaren 675LT (with "LT" standing for Long Tail) is a lightweight, track-focused, limited-production version of the McLaren 650S supercar made by McLaren Automotive.
Description
The McLaren 675LT, introduced at the 2015 Geneva Motor Show, is a track-focused, lightweight version of the 650S. Its name comes from "675", the car's power output (in metric horsepower), and "LT", a reference to the "Long Tail" 1997 McLaren F1 GT which was the final incarnation of the F1 road car built to comply with FIA homologation regulations for the 1997 F1 GTR. The F1 GT featured extended front and rear overhangs that produced similar downforce to the previous homologation special, the F1 LM, without the use of a drag-inducing fixed rear wing.
The 675LT uses a single-piece carbon fiber monocell weighing 165 lb (75 kg), with extensive carbon fiber usage in the car to further reduce weight and increase rigidity. The 675LT is supplied with new carbon ceramic brake discs to increase braking performance over the 650S. Disc sizes are 394 mm (15.5 in) at the front and 380 mm (15.0 in) at the rear. Six-piston calipers grip the front discs with four-piston calipers used for the rear discs. Braking performance is also aided by the air brake ability of the new, wider rear wing. The car has a length of 179 in (455 cm), width of 82 in (208 cm), and height of 46.8 in (119 cm), along with a 105.1 in (267 cm) wheelbase.[1]
The 675LT uses a new 10-spoke wheel design, each weighing 800 g (28.2 oz) less than the alloy wheels found on the McLaren P1™, with the front wheels being 19 inches and rear wheels being 20 inches. The new wheels are enclosed in Pirelli P-Zero Trofeo R track-focused, road legal tires which increase grip by a maximum of 6% over the 650S's P-Zero Corsa. Its weight is at least 220 lb (100 kg) less than the 650S, consequently standing at 2712 lb (1230 kg) dry, although it has a curb weight of 2993 lb (1358 kg).[1]
The 675LT uses a 3.8 L (3,799 cc) twin-turbocharged M838TE V8 engine, producing 666 hp (497 kW) at 7,100 rpm and 516 ft·lb (700 N·m) at 5,500 rpm, all achieved through the addition of new lightweight connecting rods, bespoke camshaft, an electronic recirculation valve, and a lightweight titanium exhaust system, alongside revised turbocharger compressor wheels and an optimized fuel pump. The 675LT uses the 650S's seven-speed McLaren SSG dual-clutch automatic gearbox, with reduced shift times thanks to improved software.
The 675LT can accelerate from 0 - 60 mph (0 - 97 km/h) in 2.9 seconds, 0 - 124 mph (0 - 200 km/h) in 7.9 seconds, 0 - 186 mph (0 - 300 km/h) in 25.9 seconds, and 0 - 200 mph (0 - 322 km/h) in 31.2 seconds, continuing on to a top speed of at least 205 mph (330 km/h).
Summary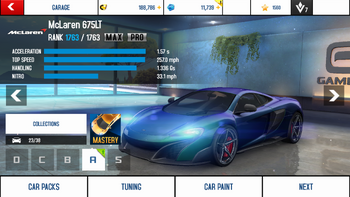 The McLaren 675LT was added in the Car Mastery Update as a high-end Class A car with the following statistics:
Starting rank: 1388
MAX rank 1625 (+237)

This was changed to 1592 (+246) in the Fast Lane Update

MAX+PRO rank: 1763 (+148)

This was changed to 1764 (+172) in the Fast Lane Update

Tuning Kit bonus: +47

This was changed to +65 in the Fast Lane Update

Stock to MAX+PRO rank difference: 385

This was changed to 418 in the Fast Lane Update

Upgrade rank percentages: 2/55/2/41
Nitro Efficiency: 5/10/15
Performance
The 675LT's main advantage is its high total speed for its rank, with 300.8 mph/484.4 km/h. The 675LT works best in tracks with long straights and/or non-complex corners (e.g. French Guiana, Alps, Tokyo).
It has identical performance to the 9FF GT9 VMAX. Its closest rivals are the Mosler GT3, Audi R8 e-tron Special Edition, Ferrari 330 P4, Bentley EXP10 Speed 6, McLaren F1 XP-5, Jaguar XJ220S, Aston Martin One-77, and 2015 GTA Spano.
Usage
As the 675LT's performance is almost exactly identical to that of the 9FF GT9 VMAX (when taking its speed multiplier of 88.60% into account), the 675LT is a cheaper, Class A counterpart to the 9FF GT9 VMAX. At ranks above 1700, the 675LT's competitiveness greatly decreases due to the presence of cars like the Rezvani Beast Alpha, Chevrolet Corvette Grand Sport, Apollo Intensa Emozione, and 2018 McLaren X2.
The McLaren 675LT was regarded as the best budget alternative to faster and/or more expensive Class A cars like the Mosler GT3, Chevrolet 2016 Camaro SS (a tokens car that costs

 6,000), BMW 3.0 CSL Hommage (an Research & Development-unlockable car), and even the Jaguar XJ220S (an Elite Car). With the 675LT's price increase on March 23, 2018, the Mosler GT3, which now costs

 985,000 or 

 5,325, may be a slightly better choice, being dominant on very short or technical tracks, however, the Mosler GT3's credit option has been removed as of the 2019 Holiday Update.
The McLaren 675LT was the best easy choice for grinding Credits in Mastery prior to the Fast Lane Update, as it uses Dubai Reverse as its final track with the Unplugged race mode, as opposed to Flawless race mode. While the 2018 McLaren X2 did replace the 675LT as the best choice with a bigger payout and faster race; this race was an advanced option, as it was only available for players who have completed its Championship and had enough Custom Racing Engine cards.
In addition, the Audi R8 e-tron Special Edition was also more efficient for farming, although similar the X2, it had a drawback of restrictive availability, albeit slightly mitigated with Blueprints. The Lamborghini Centenario LP 770-4 was more profitable than the 675LT, but faced the problem of requiring V12 MPI Engines and

-only upgrades in addition to its restrictive availability.
As of the Fast Lane Update, Mastery races can no longer be replayed, thus removing the 675LT's major niche. Its Season 9 race in Alps is still viable for grinding credits. However, an update in March 2020 significantly reduced the credit rewards.
As of the Car Blueprints Update, the 675LT is no longer able to reach the top 500 in most events due to the increased presence of the Chevrolet Corvette Grand Sport, Mercedes-Benz SLK 55 AMG Special Edition, and Rezvani Beast Alpha.
Price
The McLaren 675LT costs

 11,800 to purchase as of the Fifteenth Anniversary Update. The McLaren 675LT had an original buying price of

 1,200,000 that has since been increased to

 4,850 then to

 5,250.
The 675LT was made available for purchase for a limited-time during the following periods:
Upgrades cost

 ? while Pro Kits require 15 of each

Epic Tires,

Epic Suspension,

Epic Drivetrain, and
Epic Exhaust, 60

Epic Tech, 60

Epic Engine and

 3,348,000.
The 675LT was part of the 22nd and 29th Multiplayer Seasons, Earth Season 2 and Nightshade Season 3 respectively as a Champion and Elite League reward. Players who already had the 675LT would win

 100,000 instead.
References

Vehicles in Asphalt 8: Airborne
McLaren vehicles


Automotive
F1 (Standard • XP-5 • LM) • M-B SLR (Standard • 722) • 12C (Standard • Spider) • 650S (675LT) • P1™ (Standard • GTR) • 570S (Standard • Spider • 600LT) • 720S • Senna • Elva • Speedtail

Racing
#4 M14A • #8 MP4/8 • #1 MP4-25 • #59 650S GT3 • #14 MP4-31 • #14 X2