The McLaren F1 XP-5 is one of the five McLaren F1 prototypes and the one used in McLaren's famous top speed run to 243 mph (391 km/h).
Description
The McLaren F1 was unveiled at The Sporting Club in Monaco, on May 28, 1992. In all, 106 cars were manufactured, with some variations in the design. Five prototypes were made: XP-1, XP-2, XP-3, XP-4, and XP-5.
The McLaren F1's engine is a BMW M-built 6.1 L (6,064 cc) V12 engine named the BMW S70/2. Gordon Murray, a designer of the car, insisted that the engine be naturally aspirated. The S70/2 produces 618 hp (461 kW) at 7,400 rpm and 480 ft·lb (651 N·m) at 5,600 rpm and weighs 586 lb (266 kg). It also features an aluminum alloy block and heads, with 3.4x3.4 in (86x87 mm) bore/stroke, quad overhead camshafts with variable valve timing, and a chain drive for the camshafts. The engine has its rev limiter set to 7,500 rpm.
The normal McLaren F1 features no wings to produce downforce, although the overall design of the underbody of the McLaren F1, in addition to a rear diffuser, exploits ground effect to improve downforce which is increased through the use of two electric Kevlar fans to further decrease the pressure under the car. At the rear of the car is a small dynamic rear wing, which adjusts dynamically and automatically attempts to balance the car's center of gravity under braking, shifting the center forward with the brakes applied.
The McLaren F1 is a mid-engined car that uses a transverse six-speed manual gearbox with an AP carbon triple-plate clutch contained in aluminum housing. The McLaren F1 has an aluminium flywheel that has only the dimensions and mass absolutely needed to allow the torque from the engine to be transmitted. This is done in order to decrease rotational inertia and increase responsiveness of the system, resulting in faster gear changes and better throttle feedback. This is possible due to the F1 engine lacking secondary vibrational couples and featuring a torsional vibration damper by BMW. The F1 is rear-wheel-drive and contains a unique seating configuration with the driver in the front center and the two passengers on both left and right, slightly behind the driver, thus making the F1 a 3-seater.
The McLaren F1 has a 0-60 mph (0-97 km/h) acceleration time of 3.2 seconds, 0-100 mph (0-161 km/h) in 6.3 seconds, 0-200 mph (0-322 km/h) in 28 seconds, and a quarter mile time of 11.045 seconds at 138 mph (222 km/h).
The McLaren F1 remains one of the fastest production cars by top speed ever made. On March 31, 1998, Andy Wallace drove the XP5 prototype at Volkswagen's test track in Ehra-Lessien, setting a then-new production car world record of an independently measured top speed of 240 mph (386 km/h), averaged from a minimum of 237 mph (382 km/h) and a peak speed of 243 mph (391 km/h) measured by McLaren. This was done with the rev limiter raised to 8,300 rpm.
Since then, the McLaren F1 has gone on to become the fastest naturally aspirated car in the world, while there are cars like the Koenigsegg Agera RS, Bugatti Veyron Super Sport, Hennessey Venom GT, and even the McLaren P1 that are faster than it but instead use forced-induction.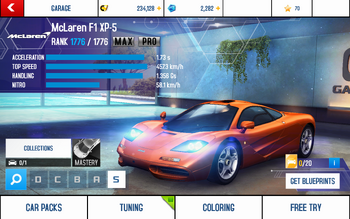 Summary
Files for the McLaren F1 XP-5 were added in the Research & Development Update and was eventually released in the Santa's Gift Update, as a mid Class S car with the following rank statistics:
Starting rank: 1497
MAX rank: 1669 (+172)
MAX+PRO rank: 1776 (+107)
Tuning Kit bonus: +37
Stock to MAX+PRO rank difference: 279
Upgrade rank percentages: 2/55/2/41
Speed Multiplier: 91.60%
Nitro efficiency: 5/10/15
The McLaren F1 XP-5's main rivals are the Mosler GT3, Weber Faster One, Jaguar XJ220S, and Aston Martin One-77.
Performance
The McLaren F1 XP-5's performance is almost exactly the same as the McLaren 675LT and 9FF GT9 VMAX, but with faster acceleration, slightly better total speed, and better handling, as well as a lower risk of random wrecks. Due to its Speed Modification of 91.60%, the XP-5 has an actual maximum speed of 301.7 mph (485.8 km/h).
Usage
The McLaren F1 XP-5 is not a good choice for use in Time-Limited Events, though, as its placement in its class means that it has no chance of hitting Top 1000 in Class S events. It also doesn't beat the McLaren P1™ GTR, McLaren Mercedes MP4-25, and McLaren 720S in terms of overall performance, making the F1 XP-5 nothing more than a collector's item, especially given that the 675LT performs almost exactly the same but for a much lower cost (although the latter now costs

 4,850​ as of March 23, 2018).
Additionally, just like the 9FF GT9 VMAX, the events with a limited car selection that feature the F1 XP-5 as a possible choice are rare, and even then, the Mosler Super GT, Lamborghini Egoista, and Ferrari Enzo Ferrari are preferred over this car.
Furthermore, the F1 XP-5 requires 52 V12 Engine cards in its Pro Kits, which are best saved for the Aston Martin Vulcan and Apollo Intensa Emozione, which require 32 and 48 V12 Engines, respectively. The F1 XP-5 also requires the most Advanced Tech cards for any car, with 44, making it one of the most demanding cars in terms of Pro Kit requirements.
If upgraded to MAX+PRO, the McLaren F1 XP-5 is the eighth best car for farming Credits in Car Mastery, with its 15th Mastery Challenge being an Unplugged race in Dubai Reverse that lasts approximately 46 seconds and nets a base Credits reward of
 5,805​ for finishing in 1st place. With this race, at least
 325,000​ is expected to be made per hour (excluding VIP Permanent Race Bonuses and Double Credits). This is, however, rendered moot by its steep upgrade costs and Pro Kit requirements.
As of the Porsche Update, the McLaren F1 XP-5 is now even harder to obtain due to the difficulty of obtaining a Legendary McLaren F1 XP-5 BP card, let alone 20 of them. Players who bought the car prior to said update need not worry about having to collect McLaren F1 XP-5 BP cards. The only use the F1 XP-5 has aside from Credits farming is the "McLaren" collection, which can award
 1,500,000​ if fully completed. As of Munich Update, it is also required to complete Season 7 & Season 8 as it has replaced the RUF CTR 3 in Career Mode.
Price
The McLaren F1 XP-5 was priced at
 3,500,000​ (same as the Ferrari Enzo Ferrari) for purchase and
 3,178,750​ for maxing out (same as the Cadillac 16 Concept). From the Multiplayer League Update, the McLaren F1 XP-5 was changed to be priced at
 3,000,000 or 

 14,250​ for purchase. As of the Porsche Update, the McLaren F1 XP-5 is obtainable only through 20 Legendary McLaren F1 XP-5 BP cards. Assembly takes 11 hours to finish and can be skipped for up to

 405​. The F1 XP-5 requires
 1,798,975​, 20 of each Class S Parts card, 52 V12 Engines, 24 Mid-Tech cards, and 44 Advanced Tech cards, for its Pro Kits.
It was the eleventh car to be released as a Multiplayer League reward, being part of the eleventh Multiplayer Season, Solar Season, which started on July 6, 2017. Players who finished in Elite League would get all 20 McLaren F1 XP-5 BP cards.
The McLaren F1 XP-5, simply renamed to McLaren F1 for unknown reasons, appears as a Class S car, but with the maximum rank reduced to 1743. It is only accessible via the Luxury Pack, available for US$99.99.
It is unique in that it has a permanent, forced Absolute Armor booster on, even if the player already activated one; subsequently, the F1 cannot be wrecked, although AI-controlled F1s can be knocked down or wrecked.
The F1 is not useful in most Events in this game, although like with any other car in the game, the F1 is useful for Multiplayer and Career Mode races.