The McLaren M14A is a Formula One racing car built and raced by McLaren in the 1970 World Championship and the 1971 World Championship.
Description
The M14A was an evolution of the previous M7A and M7C, with the primary change being the rear brakes were mounted inboard instead of outboard. As with the M7, the M14A was powered by a Cosworth DFV V8 and a Hewland 5-speed manual gearbox.
The 1970 Formula 1 season started out with two second places, a fourth, and three retirements for Bruce McLaren and Denny Hulme. Bruce McLaren was killed on 2 June 1970 at the Goodwood Circuit while testing the new M8D Can-Am car. McLaren withdrew their entries to the Belgian Grand Prix, which was run five days after the fatal accident. Hulme had also been injured the month before in a methanol fire while practising for the Indianapolis 500.
McLaren resumed racing at the Dutch Grand Prix, with Dan Gurney and Peter Gethin driving. Hulme came back for the next race in France, replacing Gethin. Gurney ran one more race, then was replaced by Gethin for the rest of the season. Hulme was able to score three third places, but McLaren finished fifth in the 1970 Constructor's Championship.
Peter Gethin started the 1971 season driving a 14A, while Denny Hulme raced the only 19A that had been built at that point. Following two retirements and an eighth place at the Spanish Grand Prix, Gethin was also given a 19A to race. The 14A was brought out of retirement for Jackie Oliver to race, who finished with a retirement, a ninth, and a seventh place to cap off the career of the McLaren 14A.
Summary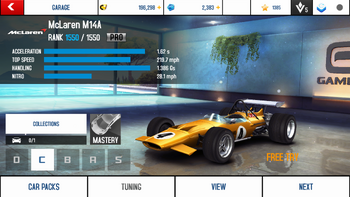 The McLaren M14A was added in the Championship Update as a high-end Class C car with the following statistics:
Starting rank: 981
MAX rank: 1351 (Hidden theoretical)
MAX+PRO rank: 1550
Tuning Kit bonus: +65
Stock to MAX+PRO rank difference: 579
Upgrade rank percentages: 2/55/2/41
Nitro Efficiency: 7/12/16
Performance
The M14A competes primarily with the Toyota Supra RZ (Mark IV), Ferrari F40, Lamborghini Gallardo LP 560-4 2013, ED Design Torq, and Jaguar F-TYPE Project 7, but can also compete with low Class A cars and mid-high Class B cars.
The McLaren M14A primarily excels in handling, top speed, and acceleration. It has a unique nitro efficiency of 7/12/16, which makes it appropriate to take on DS Survolts in multiplayer. It is adept at most tracks and is a great car.
As of the Fast Lane Update, the McLaren M14A is now one of the best cars for Multiplayer around the 1200-1400 rank range. It is occasionally rivaled by ED Design Torqs and Ariel Atom V8s. 
Availability
Following its debut in the Championship, the McLaren M14A was made available between January 20-23, 2017 and March 24-27 2017.
Price
The McLaren M14A had an original buying price of

 3,500. 
From the Car Blueprints Update to the Showdown Update, it is available for 12 Rare McLaren M14A BP cards. Assembly takes 4 hours to finish and can be skipped for up to 

 262.
As of the Sixth Anniversary Mini Update, it no longer requires Blueprints to be assembled, and has a full purchase price of 

 6,400.
As of the 2019 Spring Update, Pro Kits require

 1,760,000, 25 of each Class C Part, 22 Early & Initial Tech each, 16 Mid-Techs and 40 Serial Racing Engines.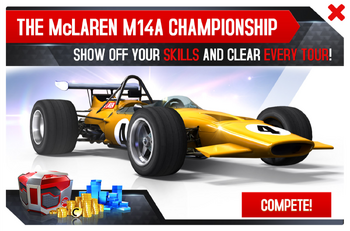 Main article: Championship/McLaren M14A
The McLaren M14A Championship was held as the first Championship event on December 14, 2016 and rerun on February 22, 2019. Players are given 20 days to start and 8 days to complete the event during its debut. The rerun event has a time limit of 4 days to start and 10 days to finish.
Vehicles in Asphalt 8: Airborne
Community content is available under
CC-BY-SA
unless otherwise noted.