The McLaren Senna is a mid-engined track-focused hypercar that was named after the late Brazilian Formula One driver and three time World Champion, Ayrton Senna.
Overview
Text originally from the McLaren Senna's Wikipedia page.
McLaren's main focus while designing the Senna was to achieve faster lap times. In order to do so, McLaren developed a lightweight design that incorporated aerodynamic elements.
The Senna is largely based on the McLaren 720S, using a modified version of its carbon fiber monocoque and engine. The Senna is powered by a modified version of the McLaren 720S' 3,994 cc (4.0 L; 243.7 cu in) twin-turbocharged V8 engine codenamed the M840TR. It utilizes a seven-speed dual-clutch transmission that delivers all 800 PS (588 kW; 789 hp) at 7,250 rpm and 590 lb⋅ft (800 N⋅m) of torque at 5,500 rpm to the rear wheels. Unlike the previous offering in the Ultimate Series, the P1, the Senna does not use an electric motor in favour of its low claimed dry weight of 1,198 kg (2,641 lb), which allows for a maximum power-to-weight ratio of 667 PS (491 kW; 658 hp) per ton.
The car constitutes of aerodynamic elements, those being a large adjustable double-element rear wing (that is operated electronically and has various settings in order to provide optimum performance while also acting as an airbrake), double-element diffuser, Formula One-inspired roof scoop, front and side air intakes, rear air louvres, and large front fenders. Inside the panel beside the intakes is a small set of mini-canards. Areas of low pressure are accompanied using high-performance radiators that ensure improved engine cooling. The car uses dihedral doors, like the previous offerings in the Ultimate Series, and also has optional windows applied on the lower area of its doors.
The Senna uses a new generation of Brembo's carbon ceramic brakes, containing a compound that has three and a half times better thermal conductivity than before, making the brakes smaller and lighter. It also features a new set of lightweight center-lock alloy wheels designed for Pirelli P-Zero Trofeo R tyres. Its central design is a new generation of McLaren's carbon fibre monocoque named MonoCage III, which contributes to the car's relatively low dry weight. The car utilises a top mounted (hot-vee) inconel-titanium exhaust system with three outlet pipes in order for a more aggressive exhaust note and engine emissions.The interior consists largely of exposed carbon fibre and Alcantara, with seats that can be upholstered in Alcantara or leather, depending on the customer's preference. Behind the two seats is room large enough for two helmets and race suits, reflecting the car's minimalist and track focused design. The car utilises McLaren's hydraulic RaceActive Chassis Control II (RCC II) suspension along with double-wishbone control arms.
Asphalt 9: Legends
The McLaren Senna was added in the Tune It Up Update as a mid Class S car with the following rank statistics:
Usage
The McLaren Senna has the best handling in the game, being the only vehicle to have a handling stat of over 100 at max. However, it also has the lowest top speed in Class S.
The Senna excels on twisty and technical tracks such as The Caribbean or Osaka, but will quickly fall behind on tracks such as The Himalayas or New York due to the straight sections allowing faster cars to accelerate up to high speeds.
The Senna can be considered the 'Corvette Grand Sport of Class S', with its good handling and nitro but low speed.
Availability
Main article: McLaren Senna (Special Event)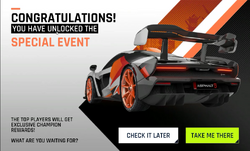 The Mclaren Senna Special Event was launched on September 6, 2019 and lasted until October 4, 2019. Players are given 28 days to complete the event that spans 24 stages. The Special Event was the first to introduce condition requirements to access daily stages.
Asphalt 8: Airborne
The McLaren Senna was added in the 2020 Lunar New Year Update as a high-end Class S car with the following statistics:
Performance
The McLaren Senna, being a Festival car, has very poor performance in respect to its rank until it reaches the full-PRO upgrade level. At full-PRO with a Tuning Kit, the Senna features a very high maximum top speed of 315.5 mph (508.1 km/h), very fast acceleration, good handling, a very sharp drifting radius and good nitro efficiency.
The Senna is one of the best vehicles in the game, with only the Lamborghini Centenario LP 770-4 being decisively superior to the Senna (due to its slightly faster acceleration and slightly better nitro efficiency). The Koenigsegg Jesko and 2018 McLaren X2, offering significantly different performance models from the Senna, are the two biggest rivals of the Senna apart from the Centenario. The Senna's main strength among its competitors is its good nitro efficiency. Other competitors of the Senna include the Ferrari FXX K, McLaren 600LT, Pagani Huayra BC, Aspark Owl, Koenigsegg Regera, McLaren MP4-31, Apollo Intensa Emozione, Zeus Twelve Sigma , Rimac C_Two and Bugatti Chiron.
Usage
The Senna is a middle-of-the-road option for multiplayer as it does not have any performance aspect that stands out from its rivals. The X2 has faster acceleration, the FXX K has better handling & drifting capabilities, the Centenario has a better perfect nitro duration and the Jesko has a higher top speed.
The Senna had some use for credits grinding as its Season 9 race is set on Rapido Park with a race time of ~48 seconds for a payout of

 5,570 prior to the March 2020 hotfix.
Price
As of the 2020 Halloween Update, the McLaren Senna can be purchased for

 4,000,000 which was originally obtainable by reaching Tier 8 of its Festival. If viewed in the Tag Racing car selection menu, it showed a price of ​

 18,000, however the option to buy the car was unavailable.
Pro Kits require

 3,720,000 and 220 Kit cards.
Special Event

Event
Featured Vehicle
Other Featured Cars
Bugatti Chiron

Bugatti Chiron
Maserati Alfieri • McLaren 570S Spider
Koenigsegg Regera

Koenigsegg Regera
Apollo N • Vencer Sarthe
Lamborghini Huracán EVO Spyder

Lamborghini Huracán EVO Spyder
N/A
Lamborghini Terzo Millennio

Lamborghini Terzo Millennio
Lamborghini Aventador J
Ferrari LaFerrari Aperta

Ferrari LaFerrari Aperta
Porsche 911 Targa 4S • Mercedes-Benz SLR McLaren
McLaren Senna

McLaren Senna
Arrinera Hussarya • Aston Martin Vantage GT12
Zenvo TS1 GT 10th Anniversary Edition

Zenvo TS1 GT 10th Anniversary Edition
Artega Scalo Superelletra • Porsche 911 GT3 RS (991.2)
Pininfarina Battista

Pininfarina Battista
Aston Martin DBS Superleggera • Vanda Electrics Dendrobium
Lotus Evija

Lotus Evija
Honda Civic Type-R (FK8)
Porsche Carrera GT

Porsche Carrera GT
*Porsche 718 Cayman GT4 Clubsport • Porsche 911 GT1 Evolution • *Porsche 911 GT2 RS Clubsport
Lamborghini Veneno

Lamborghini Veneno
*Lamborghini SC18
Lamborghini Sián FKP 37

Lamborghini Sián FKP 37
*Lamborghini SC18 • Lamborghini Gallardo LP 560-4 2013
BXR Bailey Blade GT1

BXR Bailey Blade GT1
Chevrolet Corvette Stingray
SSC Tuatara (2020)
*Ford GT MK II • *Chevrolet Corvette C7.R
Aston Martin Valhalla
N/A
McLaren Speedtail

McLaren Speedtail
Bentley Mulliner Bacalar • *McLaren F1 LM
Ferrari F8 Tributo
Ferrari F40 • *Ferrari 599XX Evo
Ferrari SF90 Stradale
Ferrari F40 • *Ferrari 599XX Evo • *Ferrari 488 GTB Challenge Evo

* - Released in seperate events

Vehicles in Asphalt 8: Airborne
Community content is available under
CC-BY-SA
unless otherwise noted.