The Mercedes-Benz CLA 45 AMG Racing Series is a racing version of the Mercedes-Benz CLA 45 AMG.
Overview
The Mercedes-Benz CLA-Class is a compact premium car developed and manufactured by Mercedes-Benz, based on the platform of the Mercedes-Benz W176 A-Class and W246 B-Class compact cars, formally launched at the January 2013 North American International Auto Show. The vehicle was previewed as the 2012 Concept Style Coupe at various international locations.
The CLA first went on sale in Europe in April 2013, and was subsequently introduced in the United States in September 2013. Its largest markets being those of Western Europe and the United States. Global cumulative CLA sales reached 100,000 during its first year, called as "our best launch in 20 years" by Mercedes-Benz. In 2015, Mercedes-Benz expanded the CLA family to include the Shooting Brake, a station wagon configuration.
The vehicle is a race car version of CLA 45 AMG for the CLA 45 AMG Racing Series, with carbon-fiber reinforced plastics doors. The vehicle was unveiled in 2013 Frankfurt International Motor Show.
Summary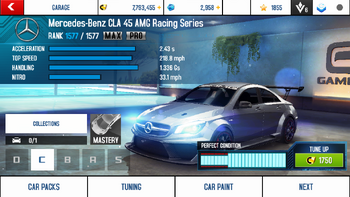 The Mercedes-Benz CLA 45 AMG Racing Series was added in the Multiplayer League Update as a high-end Class C Elite car with the following rank statistics:
Starting rank: 1309
MAX rank: 1472 (163)
MAX+PRO rank: 1577 (105)
This was changed to 1533 in the Showdown Update
Tuning Kit bonus: +37
0808 Elite Tuning rank: 1557
Stock to MAX+PRO rank difference: 268
Nitro Efficiency: 5/10/15
Performance
The CLA 45 AMG serves as an upgraded, Elite version of the Mitsubishi Eclipse. Both have similar acceleration, handling and nitro stats but the CLA 45 AMG has a higher total speed.
However, its biggest and only downfall is its wide drifting radius, which gives the Eclipse and Renault Alpine Celebration the upper hand on technical tracks like Sector 8 and Dubai.
The Mercedes-Benz CLA 45 AMG is currently the third best C class car, only behind the Sbarro Sparta and Maserati Alfieri. It can beat the Mitsubishi Eclipse, Jaguar F-TYPE Project 7 and the Renault Alpine Celebration on simple tracks with its superior top speed and nitro duration.
Just like the NanoFlowcell QUANT FE and NanoFlowcell QUANTINO, mapping an elite configuration of 0808 will decrease the CLA 45's rank due to its Upgrade Rank Percentages.
Usage
Being a good C Class car, the CLA can achieve a top 200-300 on most Class C exclusive TLEs, given the presence of the Alfieri, and is hence very useful for Events.
The CLA 45 isn't a practical option for Multiplayer tuning and will struggle against the Audi R8 e-tron Special Edition.
Price
The CLA 45 costs 
 495,000 or 

 2,400 to buy. As of the 2019 Spring Update, upgrades cost
 1,561,000 while Pro Kits require
 520,800, 40 of each Class C Part, 36 Initial & Early Techs each, 28 Mid-Techs, and 60 i4 Engines.
Tune-ups cost
 1,750 and takes 1.5 hours to complete.
Community content is available under
CC-BY-SA
unless otherwise noted.