The Motorcycles Update (also known as the Motorbike Update) is the 22nd update of Asphalt 8: Airborne, released on August 23, 2017. It reintroduces motorcycles to the series for the first time since Asphalt 6: Adrenaline, more than 6 years ago.[1]
Announcement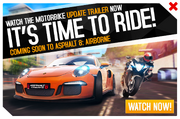 MOTORCYCLES ARE HERE
Join us in welcoming the Suzuki GSX-R750, KTM 1290 Super Duke R, Ducati Monster 1200, and many more!
EXPERIENCE THE BLITZ
We're also introducing 'MOTO BLITZ', a special career mode where you can test the limits of your new hog in a series of races and challenges!
FUSION SYSTEM
Getting Boxes just got even easier, now you can exchange the spare cards in your inventory for special Pro Boxes
NEW RIDES
We haven't forgotten our 4-wheel fans! The Mercedes-Benz SLR McLaren 722 Roadster and the Peugeot RCZ R are coming in this update! Stay tuned!
SPECIAL EVENTS
A new set of action-packed special events are now available! Race for the chance to win five new vehicles. The Suzuki Hayabusa, Mercedes-Benz SLR McLaren 722 Edition, Peugeot RCZ R, and more could be yours!
New Vehicles
The new vehicles will need the following engine cards:
Four-Stroke Engine

Suzuki GSX-R750 (x4)
Suzuki Hayabusa (x12)

V-Twin Engine

KTM 1290 Super Duke R (x4)
Ducati Monster 1200 (x4)
Ducati SuperSport S (x4)

Hybrid Engine

Forced Induction V8

Mercedes-Benz SLR McLaren 722 Edition (x32)
Game Changes
Gameplay Changes
New motorcycle only Pro Kit cards:

Bike Tires

Fork Tubes

Transmission

Bike Exhaust

Four-Stroke Engine

V-Twin Engine

Common Tech

Rare Tech

Pro Tech
New Pro Kit Boxes, obtained with Fusion System points:

Starter Box: 5,000 points - Grants 2 random cards
Extra Box: 12,500 points - Grants 4 random cards, 1 Rare
Ultra Box: 22,000 points - Grants 4 random cards, 3 Rare / Legendary

'Car Parts' Boxes now also include motorcycle parts
'Tech Card' Boxes now also include motorcycle tech cards
3 Classic events for Class D vehicles in Season 2 of Career have had their lap numbers changed to 3:
The Porsche 918 Spyder with Weissach Package's handling has been made sharper.
New Blueprint cars:
New prices for the following vehicles:
Model
Original Price(s)
New Price
Audi R8 e-tron
 

2,250

 

7,000

Tesla Model S
 

3,750

 

7,500

Cadillac ATS
 

5,250

 

8,000

Cadillac XTS
 

7,500

 or  

120

 

10,000

 or  

160

Ford F-150
 

71,000

 

11,000

Scion FR-S
 

11,250

 

12,000

Alfa Romeo MiTo GTA
 

18,000

 or  

285

 

20,000

 or  

315

Renault CLIO R.S. 200 EDC
 

60,000

 

25,000

Volkswagen Beetle Turbo
 

75,000

 

26,000

Audi S4
 

42,000

 

28,000

Nissan 370Z
 

64,000

 

50,000

Audi RS 3 Sportback
 

2,925

 

18,000

Mercedes-Benz SLS AMG Electric Drive
 

9,000

 

26,000

Audi TTS Coupé
 

13,500

 

27,000

Chevrolet Camaro GS
 

20,250

 

28,000

Ford Focus RS
 

24,000

 or  

330

 

37,000

 or  

330

Lamborghini Urus
 

33,750

 

38,000

Infiniti FX50
 

50,250

 or  

630

 

42,000

 or  

630

Lotus Exige S Coupe
 

55,000

 

44,000

Audi RS 4 Avant
 

63,000

 

45,000

DS Survolt
 

12,750

 

45,000

Aston Martin DB9 Coupé
 

21,750

 

53,000

Lamborghini Countach 25th Anniversary
 

31,500

 

55,000

Maserati GranTurismo Sport
 

37,500

 

60,000

Lotus Evora Enduro GT
Changed back to  

95,000

after the hotfix
 

95,000

 

56,000

Bentley Continental GT V8
 

52,500

 

62,000

Aston Martin V12 Zagato
 

57,500

 

61,000

Nissan GT-R (R35)
 

69,000

 

67,000

Ferrari 458 Italia
 

73,500

 

71,000

Ford Shelby GT500
 

85,000

 

76,000

Ford 2006 GT
 

64,000

 

75,000

Cadillac CTS-V Coupe Race Car
 

60,000

 

72,000

Mercedes-Benz SL 65 AMG Black Series
 

66,500

 

76,000

Dodge Viper SRT10 ACR-X
 

68,000

 

77,000

Mazzanti Evantra
Temporary, between 28 Sept - 10 Oct 2017 for the price change
 

3,250

 

900,000

 or  

3,250

Ferrari F40
 

575,000

 

575,000

 or  

2,950

Mercedes-Benz CLK GTR AMG
 

375,000

 

375,000

 or  

2,500

Rimac Concept One
 

750,000

 

750,000

 or  

3,850

Savage Rivale GTR
 

750,000

 

750,000

 or  

5,000

Volkswagen W12
 

825,000

 

825,000

 or  

5,300
Cosmetic Changes
Motorcycles vs Cars Changes

New loading screen of a KTM 1290 Super Duke R and Suzuki GSX-R750 on Tokyo.
Motorcycles now have their own separate Masteries, with a new Mastery Icon of a Motorcycle being used for their Masteries.
The zoom level on a vehicle changes when switching between a car and motorcycle, both in the Garage and in the game. Motorcycles also do not have an "Immersive" camera option.
The green button used to enter the Garage now has a motorcycle and car silhouette.
On the garage, there's a new filter which shows only available motorcycles.
When viewing a vehicle unavailable for purchase, a new message "Vehicle is not on sale at the moment" has replaced "Car is not on sale at the moment" to accommodate for the multiple vehicle types now present in the game.
After entering the race without a maxed-out vehicle, a new message "Maxed-out vehicle required" has replaced "Maxed-out car required" to accommodate for the multiple vehicle types now present in the game.

However, there are no Season 9 races for bikes.

After falling into water, a new message "Your ride is not a submarine!" has replaced "This is a car, not a submarine!" to accommodate for the multiple vehicle types now present in the game.
In "My Profile" and also when viewing other profiles in Multiplayer lobbies, instead of displaying "Cars Owned", there is now "Vehicles Owned" to accommodate for the multiple vehicle types now present in the game.
In Research & Development, the text that reads "COMPLETE ALL TESTS AND GET THIS CAR FOR FREE" has been changed to have the word "ride" instead of "car".
In Enduro Double Downs, the section which previously said "Enduro Cars" now reads "Enduro Vehicles" to accommodate for the multiple vehicle types now in the game.
All special event types have been changed to replace all references to cars changed to either rides or vehicles. The same occurs with the race mode types and respective their tutorial pages.

Miscellaneous Garage Changes

Car Paint has been renamed to 'Coloring' (the U.S. spelling is used for non-U.S. English-speaking platforms as well).
The RUF RT 12 S is now placed between the Lucra L148 and Ferrari FF.
The Renault DeZir's and Chevrolet Corvette C3's MAX+PRO rank has been reduced from 1262 to 1261 & from 1759 to 1758 respectively, on some platforms.

The DeZir's & Corvette C3's statistics still remain unchanged.

The Toyota Supra RZ (Mark IV) and Scion FR-S are no longer available for purchase for players who do not have them. This is due to licensing issues surrounding Toyota that have blocked non-Japanese racing game developers from using Toyota road cars in racing games released from August 2017 onwards, this mostly affected those games that promote illegal street racing, and are not made by Japanese developers.

The Old School collection is now impossible to complete until the Halloween Update, in which the Supra was replaced by the Acura NSX 2005.
In terms of Mastery Rewards,  

47 (11 + 36)

,  

129,905 (58,400 + 71,505)

, 3 Nitro Starters, 1 Double Credits, and 1 Class D Free Upgrade are now unobtainable.
Season 4 of Career Mode cannot be completed, rendering the achievement Four of a Kind becoming unobtainable until the Hot Wheels Update where the Scion FR-S is replaced by the Porsche 718 Boxster S.
The car and career event together means that the achievements "D is for Drift" (for Scion FR-S), "King of the Garage" (Scion FR-S), "Fully Armed" (Scion FR-S), "Four of a Kind", and especially "The Finish Line" are no longer obtainable.

In the Car Mastery screen, the selection menu will remain "scrolled" after leaving Car Mastery and returning to it, instead of rolling back to the top.

The Marussia B2's badge was restored, along with its bumper texture.

Previously, according to community speculation, the badge had been removed possibly due to the company Marussia Motors becoming defunct in April 2014.

The McLaren P1™ GTR now has a "Richard Mille" sponsor decal on the rear wheel arches and front bumper, and the "Mobil 1" logo has been removed. There are a few exceptions when certain decals are used on the car which feature both the "Richard Mille" and "Mobil 1" logo on it at the same time.

This is presumably a nod to the watchmaking company's sponsorship of McLaren's Formula One racing team, given the game's use of 4 such cars.
However, much like the Ferrari 599XX and Peugeot Onyx, which were changed in the Winter Update, the P1 GTR's banner does not reflect this change.
This makes the in-game rendition of the car closer to the Assetto Corsa and Project CARS 2 renditions of the car, which also feature Richard Mille sponsor decals.

Other Cosmetic Changes

A red "X" indicator appears above an opponent vehicle when it is wrecked or knocked down.
The 918 Spyder's engine note has been changed to the "Corvette_V8" engine note from the original "electric_silverlightning"

The note also plays at constant redlining even when the car is still accelerating.

Windows (desktop) exclusive changes:

Mouse wheel scrolling is now supported.
Keyboard controls can now be remapped (Arrow Keys remain standard but the alternative WASD-controls can be changed).
Even if the auto-acceleration is disabled from the custom control menu, the control selection screen uses "Auto-accelerate" label.

The season dedicated for McLaren race cars, known as "Season 10: Future" or "McLaren Legends Season" is now named "McLaren Legends Season".
Default radio stations for Sector 8, Tenerife, and Patagonia have changed from Rock and Bass respectively to a mixed radio station.
For Android device users, the game now displays your Google Play Games™ account name in Multiplayer races and Time-Limited Event leaderboards, as opposed to Facebook™ or Google+™ name.
The Nitro icon buttons used in the 'Tap To Steer' control system have been slightly increased in size.
From this update onwards, all Research & Development events except for the Peugeot RCZ R's have generic ads (pictured are the ones for the KTM 1290 Super Duke R and the later-added McLaren 650S GT3) that feature the following text:

"[Vehicle name] is ready for R&D! Complete Validation... ...and it's yours!"

The word "ultimate" in the R&D intro screens is now replaced with "optimal".
v3.2.2 hotfix
A hotfix was released on the week of September 18, 2017 and fixed the following[2]:
Bikes Career: Career re-balance.
Bikes Career: Events selector improvement to move to the next available event.
Bikes behavior: Fixed 180 degree turn after circle ramp.
Bikes behavior: Perfect focus nitro zone should disappear after tapping a nitro button before it.
Bikes animations: Added back the tilt jump animation for the KTM 1290 Super Duke R.
Bikes tutorial: Re-phrased slide about invincibility.

Said slide now states that invincibility while under Charged Nitro applies only against other vehicles.

Main Menu camera: Adjusted the main menu cameras for bikes.
Fixed an issue when Backflip didn't count towards the Profile progress.
Other minor issues were addressed.
The McLaren logo has been updated, from black text, red logo to all white.
The Mercedes-Benz SLR McLaren 722 Edition manufacturer is changed from Mercedes-Benz to McLaren, at the request of Mercedes-Benz and McLaren.

This change was changed back from McLaren to Mercedes-Benz as of the Munich Update.

The "S" in the Ducati Monster 1200 S has been removed.
The 1967 Chevrolet Impala's tune-up cost and time have been reduced to  

800

and 40 minutes respectively.
Events
Trivia
The icon for this update features a Porsche 911 GT3 RS with a Suzuki GSX-R750, marking the first time the game receives an icon featuring more than one vehicle in it.
The addition of motorcycles to Asphalt 8: Airborne contradicts Gameloft's earlier official statements that motorcycles would not be added to the game.[3]

However, the 2016 investor presentation document (meant to prevent Gameloft from being taken over by Vivendi) suggested Gameloft had planned motorcycles to be in the game in a certain stage.[4]

The update makes Asphalt 8 the first mobile racing game to have 200 vehicles.
This is the last update of 2017 to add a new Enduro Double Down event.
This is also the first update since the Elite Cars Update in which no new Elite Vehicles are added, effectively ending the 8 update-long trend of new updates adding such vehicles.
The concept of exchanging Pro Cards with a Pro Box was previously used in Asphalt Nitro.
This is the first update to relaunch a past Championship event.
This is also the first update to relaunch an event whose car became blueprint-buildable in Car Blueprints Update. In this case, Lamborghini Aventador LP 750-4 SV's EDD event was revived.
This is the first update in 2017 to add a car that was in a previous Asphalt game.
This update marks the last time a vehicle is available for purchase for either credits or tokens. All other vehicles released after this update are event-only and require blueprints to obtain or become unavailable once their event ends.
This update also marks the end of the 12 update-long trend of new updates adding at least one new vehicle with a V6 engine note started by the Tenerife Update.
Bugs / Glitches
Inaccessible R&D: If the KTM 1290 Super Duke R is built with blueprints obtained from Fusion Boxes, its R&D will not be accessible anymore. It is highly recommended that the player completes the event first.
Time Attack glitch: In motorcycle Time Attacks, the player will sometimes cross the finish line without triggering a "Finish" sequence, thus failing the test as the timer still counts down.
Sector 8:

On the half loop of Sector 8, cars will now slow down when the loop is used.
For motorcycles, firing a Focus boost before the loop will end up exiting it in the wrong direction.
This bug was fixed in the Munich Update.

UI dragging: If the player is attempting to drag a menu via swiping, they can accidentally trigger buttons, which can cause  

tokens

and other resources to be spent carelessly. This affects only the Windows Store version using a mouse.
On some platforms, destructible items for city havocs are missing.

This was fixed in the September 18th 2017 hotfix

No graphics for retroactive Blueprint cars: When blueprints are collected for the DS3, L148, or Enzo, the banner for the Audi R8 e-tron appears instead in the "Blueprint Collected!" pop-up.
No Video Ads: As of late September 2017, the "Play Ad" buttons to watch video ads for Tokens, Season Tickets, and Fuel no longer appears.
Bike Physics: Due to the different handling physics of the motorcycles, unexpected crashes and change in riding direction are frequent. In addition, the tunnel / raised sections of Nevada, Tokyo, The Great Wall, Sector 8 and Tenerife are much harder to navigate with the motorcycle providing no steering response. Hard and / or sudden steering inputs will also cause the motorcycle to drastically change its direction, often perpendicular or in reverse of the track's direction. This was fixed in the Fall Out Boy Update.
The following bugs / glitches have been fixed:
When redoing a Research and Development test with incomplete Quality Checks, Quality Checks from previous successful attempts do not appear in the test result screen.
Cars Switching Places
Post-Update Screen
Videos & Trailers
References