The Multiplayer League Update (v2.7.0) is the seventeenth update of Asphalt 8: Airborne, released on October 12, 2016 for iOS and the following day for Android and Windows. The Multiplayer League multiplayer format was added, along with Multiplayer Seasons and ReplayKit broadcasting on iOS 10.
Announcement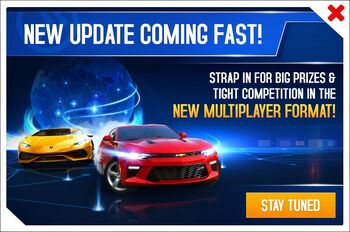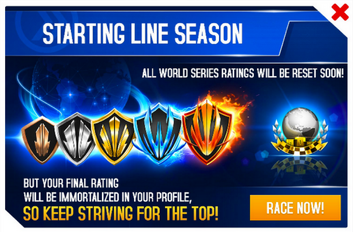 MULTIPLAYER SEASONS:

Multiplayer just got a nitro boost of competition and rewards! Race your best against other players to score points and unlock prizes in limited-time Racing Seasons.

MULTIPLAYER LEAGUES:

Your skills behind the wheel will be fully recognized as you score high ratings and make your way into higher leagues. The better your leagues, the bigger your rewards at the end of the Season!

REPLAYKIT BROADCASTING:

Now you can show off your incredible skills to the world in real time with live broadcasting support thanks to ReplayKit on iOS 10.

NEW CARS:
Hungry for more speed machines? The Falcon F7, Mercedes-Benz CLA 45 AMG Racing Series, GT by CITROEN, Icona Vulcano V12 Hybrid, and more will be added regularly, so check back often!
NEW EVENTS:

Are your skills sharpened and your engine revved for the new R&D event and 2 new Enduro Challenges? Be among the first to claim some of the most powerful cars ever added to the game!
New Cars
Class D:
Class C:
Class B:
Class A:
Class S:
The new cars will need the following engine cards:
i4 Engine

Mercedes-Benz CLA 45 AMG Racing Series (x12)

V6 Engine

Alfa Romeo Giulietta 2016 Veloce (x4)

V8 Engine

TVR Sagaris (x16)
Falcon F7 (x16)
Chevrolet Corvette C3 (x16)

Hybrid Engine

V12 Engine

Icona Vulcano V12 Hybrid (x12)
Game Changes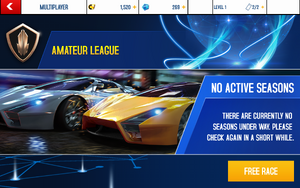 Players are now rewarded  

20

for completing all daily tasks instead of just  

8

previously. The rewards for completing daily tasks now include Season Tickets for Multiplayer League races.

Events will also have tickets as a reward.

The loading screen of the SSC Tuatara that was removed in the Rio de Janeiro Update has been brought back but now as a mirrored image and only shows up when there is no Multiplayer League season.
ReplayKit now supports live broadcasting on iOS 10.
The Fenyr SuperSport's name is now correctly W Motors Fenyr Supersport.
Exclusive Metal Events added for the Rio de Janeiro tracks. They once again reuse their recommended rank numbers from their Sector 8 counterparts.
Area 51 and Rio de Janeiro have been visually improved to have better lighting and greater visibility.

Some nitro pickup locations for Rio de Janeiro and Area 51 have also been changed.

The Multiplayer post race screen and lobby have been redesigned to show the current Multiplayer League season.
'Classic' Multiplayer has been renamed to 'Free Play' and win streaks have been removed.

In 'Free Play,' no increase in Rating points can be earned, but rank points could be lost during the initial MP Season.
In an announcement entitled "Poll Results & New Season Changes," dated November 10, 2016, in response to a poll they conducted, Gameloft announced Rating points would no longer be lost in 'Free Play' races: "...Starting next season (Nightshade Multiplayer Season), you will not risk losing your Rating if you race without a ticket ("free" race)."
Credits are still awarded after 'Free Play' races.

The player's final position and rating in the World Series and each Multiplayer League Season has a commemorative plaque in the 'Hall of Fame' section.
The World Series level cap has been extended.
The Daily Bonus button 'i' has been replaced with 'calendar'
The Daily Bonus has replaced several credits multipliers with Multiplayer League Tickets.
An additional 'i' button has been placed in the top left corner of the VIP System and repeats the tutorial slides.
The lightning graphical effects on Sector 8 which were mistakenly removed in the Rio de Janeiro Update have been restored.
The graphic effects that show whenever collecting a collectable Quality Check in an R&D event, which were also erroneously removed in the Rio de Janeiro Update, have been restored as well.
The acceleration for the BXR Bailey Blade GT1 has been improved; it is now shown as 3.20 s at stock instead of 5.80 s.
Two races in Season 2 have been changed. One of them now takes place in Dragon Tree while another one now takes place in Barcelona. Any ghosts set for these races have been removed.
The credit sum for owning the 2015 GTA Spano before reaching VIP Level 15 has been increased to  

400,000

from  

7,200

.
Last compatible update for users with an iOS version below 8 and also the last compatible update for iPhone 4 and iPod touch 4th generation users, as the next update (v2.8.0) requires iOS 8 or later.
Price changes for the following cars:
The Renault DeZir and Acura NSX 2005 now allow tokens for their upgrades.
After the conclusion of the Falcon F7's EDD, the Mosler Super GT had its R&D event revived.
Bugs / Glitches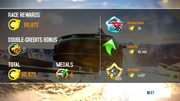 Multiplayer Level Reset: In both ranked and free races, the player's level will be reset to Level 0 and races will not award XP. Rebooting the game may restore the level and XP count prior to, or in some cases after, the update.

The game may also award a sizeable credit sum as it considers the restoration to be a legitimate cumulative level up bonus.

No Daily Tasks Notifications: The notification that appears upon completing a daily task will not show up. Sometimes, the accompanying sound effect will not play either.

This has since been fixed as of the Championship Update.

Unexplainable token loss: There have been reports that either playing a Multiplayer race or simply installing the update will cause a sum of tokens to deducted for no apparent reason. The only solution is to contact Gameloft Customer Care and wait for the missing amount to be compensated.
Multiplayer Level Reversion: Despite the World Series level cap extension, the game may revert back to the player's level prior to the update. This is especially so for Level 85 players, even if the game awards the XP and level up bonus for reaching Level 86.
Multiplayer Goal Error: A common error is for the game to tell you that you have failed to place at least fourth when you in fact have, giving you only 5 points or the option to pay  

200

to save your points.
Missing AI in

Ultimate AI Challenge

: In the GT by CITROEN's R&D event, the final Ultimate AI Challenge may sometimes occur without the AI, thus making it impossible to win the Challenge without having to use Auto-Test for  

2,400

. This has been reported only on the Android version of the game.[1]
Huge car rank difference in Multiplayer: Prior to this update, players would only face cars with extremely large rank gaps if their car is tuned near or above 1586, but now, players will face cars with extremely large rank gaps no matter what rank the player's car is (eg: using a stock Sbarro Alcador (A1321) against a TVR Sagaris and a BMW 3.0 CSL Hommage which may be ranked well above 1400) due to an unknown bug in the new Multiplayer system. Therefore, if the player wants to use a car for low rank Multiplayer, it is highly advised to use cars which can hit high speeds at any possible low rank. This bug has never been fixed.

Risking Multiplayer points would reduce the risk of this bug from occuring.
The Fifth Anniversary Update changed the multiplayer system to match cars with similar top speed as opposed to performance rating, indirectly clearing the bug.
Unusual token reward in Chevrolet Corvette C3

Mastery Challenge 10

: The Chevrolet Corvette C3 claims to award  

12,550

for its tenth Mastery Challenge, unusual given that the amount of tokens that can be won from a single Mastery Challenge never exceeds the price of the token car that awards tokens and that all Mastery Challenges always award credits. Players who have hacked the game to get the Corvette C3 to claim the unusually huge token reward will only receive a credits sum and be banned shortly after.[2]

This has since been fixed as of the Championship Update.
The following bugs/glitches have been fixed:
Missing Manufacturer Name
Missing Graphics Effects
Trivia
Post-Update Info Screen
The last screen shows up only for iOS 10 users.
References