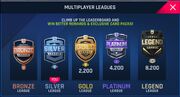 Multiplayer World Series is a gameplay feature in Asphalt 9: Legends. It is similar to Multiplayer League in Asphalt 8. 
Leagues
There are five leagues in total:
Bronze League: Every player starts each season in this league after a race.
Silver League
Gold League
Platinum League
Legend League
Rating requirements for each league change each season.
Rating
At the end of each race, the player's rating will go up or down depending on where they placed in the race. In regular seasons, placing in the top half results in a rating increase, and placing in the bottom half results in a rating decrease.
In rush seasons, only the player who finished last will have their rating decreased, and in races with many players the player who finished second last will not have their rating changed.
Game Modes
Rewards
Every Multiplayer world series has the same rewards. Rewards are given depending on the league the player is in once the season ends, and also their global position.
See Also
Community content is available under
CC-BY-SA
unless otherwise noted.