The Munich Update (briefly known as the Pay to Win Update) is the 23rd update for Asphalt 8: Airborne.
Released on October 23, 2017 for all platforms, the Munich Subway track was introduced.
Announcement
The latest update of Asphalt 8: Airborne carries with it the duty to fulfill two celebrations of season. Not only does it deliver new vehicles, but it also lets you show your love for Halloween and Oktoberace. Get ready for a Very Special and Spooky event and a new track on Update 23!
NEW LOCATION
Experience a breathtaking ride through the sunny streets and dark underground of Munich in limited time events, multiplayer, and all new special events!
This new track will have you accelerating through the European city. It is a diverse track that will have you accelerating through the sunny urban roads, before plunging into its dark underground tracks. Do not let the change distract you from shortcuts and jumps!
TRICK OR RUN!
Asphalt 8 celebrates the launch of its new track located in Munich with what we affectionately know as "Oktoberace"! Celebrate this Oktoberace by entering limited events, multiplayer races and new special events throughout the month (and beyond).
For those hoping to celebrate the witch season, the Asphalt team has a spooky event! Beat and escape the Jack-o-Lantern monsters on two themed tracks at this Halloween Special Event.
UNIQUE MOTO BLITZ SEASONS
In addition to the mind-blowing new bikes, check out the special new seasons and masteries featured in MOTO BLITZ.
BRAND-NEW CHAMPIONSHIPS
Check back often to beat the Final Races and grab their exclusive new rides. Collect all Trophies for pro upgrades and other goodies.
WILD RIDES
Awesome selection of new rides will be released in the coming weeks: Arrinera Hussarya GT, McLaren 650S GT3, and more!
SPECIAL EVENTS SERIES
5 new special events are waiting to be conquered by you! Don't miss your chance to compete and win cool prizes.
iOS 11 SUPPORT
The game now supports the latest operating system and their most recent iterations of hardware products.
New Vehicles
The new vehicles will need the following engine cards:
i4 Engine

V8 Engine

Arrinera Hussarya GT (x56)

Four-Stroke Engine

Forced Four-Stroke Engine

Aprilia Tuono V4 1100 RR my2017 (x8)

Forced Induction V8
Game Changes
Gameplay Changes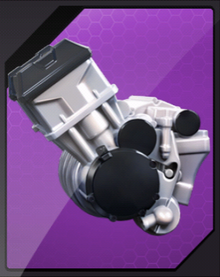 New Location: Munich Subway
New Engine Card: Forced Four-Stroke Engine
only Upgrades are re-introduced from the Elite Cars Update
The RUF CTR 3's Knockdown event in Season 7 of Career mode set in Tokyo has been replaced with the McLaren F1 XP-5.

The same car also replaced the CTR 3 in the Versus event against the Lamborghini Veneno in Season 8 of Career mode set in Venice Reverse.

The RUF RT 12 S' Elimination event in Season 8 of Career mode set in French Guiana has been replaced with the Mazzanti Evantra.

The same car also replaced the RT 12 S in the Versus event against the Lamborghini Sesto Elemento in Season 8 of Career mode set in London.
Despite this, the starting ranks of both RUF cars still remain. Also, for both cases, if the player has owned both RUF vehicles, the RUF vehicles will appear as AI racers.

Season 9 events can now be filtered by class or manufacturer

The events are also rearranged to be chronological by update

Pro Kits inventory limit has been extended
The RUF-only events in Season 8 of Career mode have been replaced with McLaren.
The Season 9 races for the RUF RT 12 S, RUF CTR 3 and the 9FF GT9 VMAX have been removed. Any career stars previously earned at these races are discarded as well.

However, the Masteries for the three cars remain for those who have owned them.

The RT 12 S, CTR 3 and the 9FF are also excluded from their respective collections. The Euro Aces, German Steel and Winter Came collections can now be completed with no reduction in rewards.
New collection: Gran Turismo
New Blueprint vehicles:
Restoration time for the Proto Keys of McLaren 650S GT3's R&D duration is 6 hours.
Restoration time for the Championship Tires of Arrinera Hussarya GT's Championship & Hot Wheels Championship (available in Hot Wheels Update) duration is 12 hours.
Attempting the Great Wall Reverse shortcut glitch by going beyond the added rock pillars will now respawn the player at where they left the path.
Random Blueprints can now be won from Events, under name of Beginner Blueprint Box or Advanced Blueprint Box, which each award one blueprint.
Daily Bonus has been reverted back to the original one car giveaway schedule.
Player accounts made after November 13, 2017, now have different vehicle prices
Model
Original Price(s)
New Price (if account was made after November 13, 2017)
Renault DeZir
 

180

 

200

2015 Ford Mustang
 

1

 

1

BMW M3 Sedan
 

950

 

1

NanoFlowcell QUANTINO
 

975

 

1

Mitsubishi Lancer Evolution X
 

1

 

2

SUBARU IMPREZA WRX STI
 

300

 or  

2

 

200

Mazda RX-8
 

1

 

2

Donkervoort D8 GTO
 

325

 or  

2

 

2

Buick Avista Concept
 

335

 or  

2

 

3

Range Rover Evoque Coupe HSE Dynamic
 

125

 

1

Mercedes-Benz GLC Coupe
 

1

 

45

Lotus Exige S Coupe
 

44

 

525

Acura NSX 2005
 

525

 

100

BMW M1
 

375

 

65

SRT 2013 Dodge Challenger SRT8
 

95

 

1

Jaguar F-Type R
 

2

 

2

Felino cB7
 

275

 

250

 or  

2

Lamborghini Miura
 

325

 or  

2

 

250

Volkswagen Golf Design Vision GTI
 

2

 

2

Mitsubishi Eclipse
 

2

 

2

Mercedes-Benz CLA 45 AMG Racing Series
 

405

 or  

3

 

3

Lotus Evora Enduro GT
 

56

 

630

Bentley Continental GT V8
 

62

 

1

Ferrari Testarossa
 

295

 

70

Aston Martin V12 Zagato
 

61

 

75

Aston Martin V12 Vantage
 

65

 

1

BMW M6
 

175

 

80

Nissan GT-R (R35)
 

67

 

90

Mazda Furai
 

500

 

2

Ferrari 458 Italia
 

71

 

2

Mercedes-Benz Biome
 

450

 

150

Lamborghini Gallardo LP 560-4 2013
 

285

 

2

Ferrari F40
 

575

 

200

Audi R8 LMS Ultra
 

625

 

2

Spada Codatronca TSS
 

1

 

230

Ford Shelby GT500
 

76

 

2

Nissan Skyline GT-R (R34)
 

3

 

250

Ferrari 599XX
 

215

 

270

Mercedes-Benz CLK GTR AMG
 

375

 

300

Rimac Concept One
 

750

 

350

 or  

3

Arrinera Hussarya
 

2

 

3

Chevrolet SS
 

890

 or  

6

 

400

 or  

4

Kepler Motion
 

3

 

5

TVR Sagaris
 

900

 or  

6

 

1,500,000

 or  

7

Lamborghini Estoque
 

950

 or  

6

 

7

Ferrari GTC4Lusso
 

3

 

7

Mercedes-AMG GT3
 

1,000,000

 or  

6

 

7

2010 Bentley Continental Supersports
 

1,100,000

 or  

7

 

7

Cadillac CTS-V Coupe Race Car
 

72

 

720

Ferrari F430
 

300

 

1

Dodge Viper SRT10 ACR-X
 

77

 

85

Chevrolet Corvette C7
 

85

 

90

Mercedes-Benz SLS AMG GT Coupé Final Edition
 

2

 

1

McLaren 12C Spider
 

90

 

100

Lamborghini Sesto Elemento
 

175

 

2

Savage Rivale Roadyacht GTS
 

225

 

175

Ferrari FF
 

450

 

250

Jaguar C-X75
 

3

 

2

Ferrari LaFerrari
 

350

 

3

McLaren P1™
 

475

 

3

Mazzanti Evantra
 

3

 

350

Savage Rivale GTR
 

750

 or  

5

 

4

Nissan GT-R NISMO
 

650

 

450

Volkswagen W12
 

825

 or  

5

 

550

Tramontana XTR
 

5

 

650

Ferrari 330 P4
 

6

 

750

Lamborghini Aventador LP 700-4
 

1,000,000

 

5

Chevrolet Corvette C3
 

6

 

850

McLaren 675LT
 

1,200,000

 

7

Mosler GT3
 

1,500,000

 

7

Chevrolet 2016 Camaro SS
 

6

 

7

Jaguar XJ220S
 

1,600,000

 or  

6

 

8

Lamborghini Veneno
 

140

 

1

Pagani Huayra
 

420

 

1

W Motors Lykan HyperSport
 

550

 

4

SSC Tuatara
 

950

 

700

NanoFlowcell QUANT FE
 

1,200,000

 or  

7

 

900

 or  

5

Chrysler ME412
 

5

 

1,100,000

Hennessey Venom GT
 

2,250,000

 

1,350,000

Koenigsegg One:1
 

2,850,000

 

1,650,000

HTT Pléthore LC 750
 

3,250,000

 or  

14

 

9

Renault Sport R.S. 01
 

3,500,000

 or  

17

 

1,950,000

 or  

10

Mosler Land Shark
 

3,750,000

 or  

18

 

2,250,000

 or  

18

TRION NEMESIS
 

4,000,000

 

4,000,000

 or  

14
Cosmetic Changes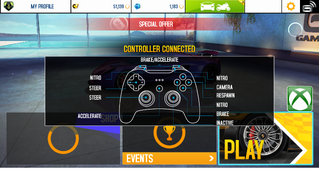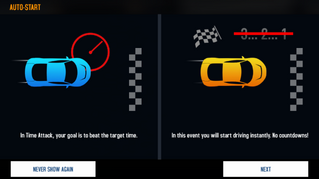 The logo for Arrinera has been updated.
The manufacturer logo for the Mercedes-Benz SLR McLaren 722 Edition has been reverted back to Mercedes-Benz.
The height of the radio station selection in the pause menu has been lowered
The menus for Pro Boxes, Car Mastery races, MAX upgrades, and post-race Multiplayer options have been reduced in size.
Car Mastery now shows if the race is on a reverse direction of the track
The rims of the GT by CITROEN have been changed.

The new rims are not based on any real life or virtual models and look poorly made

When playing with motorcycles, the camera now remains static when the player drives the bike on tilted areas (The Great Wall, Tokyo, Sector 8, Tenerife, and Patagonia), allowing the player to control the bike more easily in those areas.
When the game detects that a controller is connected, the message that appears is renamed from "Controller Detected" to "Controller Connected" and has been moved to the center of the screen. In addition, it now displays a diagram showing the controller controls, replacing the message "A controller has been connected.".
In Career races, Enduro races & Moto Blitz races, if the selected car has been purchased and has a rank lower than the recommended rank, an exclamation mark will appear to the right of the recommended rank and on the top-right corner of the "Next" button. This change was used also in the Championship.
Multiplayer lobbies no longer show a "You" with the player's username being shown instead
Championship location unlock screens now show a progress bar on the featured car's BP count
The introduction screen for Time Attack & Grand Finale events has changed from a Formula One car's silhouette to a normal car's (possibly an Audi R8 e-tron's) in the R&D and Championship.
Events
Bugs / Glitches
Reset Upgrades: Any vehicle that the player has upgraded but does not own will have its MAX upgrades reset. Gameloft released a hotfix[3] which "allow(s) Gameloft to run scripts to get the upgrades back as they were, and this will happen over the upcoming days".
Unusable Fusion Boxes: Attempting to fuse cards will show a full fusion bar. Upon tapping the "Claim" button, the game will show player's actual Fusion Points counter. The boxes depicted is also different, it is now a green BP offer box and the source code for the box's name and description are also shown. This was fixed shortly after the update's release
Missing Events: There have been reports that the R&D event for the McLaren 650S GT3 are not available to players even though an advert for the event and the car are shown. This was fixed during the release of the Windows version update.

The same case also happened with the Kawasaki Z800 Championship.

Game crashes on Android: The game will crash on Android when certain breakable objects are destroyed on the new track. The only solution is to remove the game cache from the SD card and re-download the game. This bug was fixed in the Hot Wheels Update.
Persistent Steering: On various versions of iOS 11 & 10.3 and type of device, the game will have the vehicle constantly steering in one direction even if the device's gyroscope is calibrated. Rebooting the game only temporarily fixes the problem for a limited duration; at most, only the entirety of the first race is problem free. The only permanent solution is to restore an earlier iOS version. This is also present in Asphalt Xtreme

It is strongly recommended to have a backup of the device's contents as well as the game progress as an iOS reversion is considered to be a factory reset.

No "Synchronizing Data..." or "Synchronization Complete" in R&D: The "Synchronizing Data..."/"Synchronization Complete" disappears during R&D events (EDDs and Championships are not affected), meaning if there are synchronization problems, the entire R&D race must be re-run from scratch as it prevents the re-sync button from appearing. This was fixed in Hot Wheels Update.
Non-stop Out of Bounds: After a Time Attack in Alps Sprint 4, the AI will often cause the player's vehicle to repeatedly go out of bounds.
Pro Card Arrangement: The arrangement of the player's inventory is similarly garbled with the card's rarity and type being disregarded. This was also fixed shortly after.
Sound on opening boxes (Android): When a pro kit box is opened, the sound effect for the opening sequence will play twice: The first is when the box is shown, the second is when the cards are presented.
Missing date on Daily Rewards: For October's daily rewards calendar, the 31st was missing. Whenever the game was loaded up, the sound effect would play but no reward was given, nor would the calendar be shown. This was fixed shortly after.
The following bugs/glitches have been fixed:
Sector 8 loop glitch
The "Championship" bug where Championships would end up being replaced with the McLaren M14A's Championship.
No Horizon Tilt.
Missing Events
Pro Card Arrangement
Missing date on Daily Rewards
Unusable Fusion Boxes
Trailer
Post-Update Screen
Trivia
This update marks the firsts of the following:

To have manufacturer-neutral Championships.
To postpone a bike for more than one update because of possible licensing issues.
Not to add new Class B vehicles.
Not to add Enduro Double Down reward vehicles.

This update is the second update in the year 2017 to add a new track.
This update once again reuses the Research & Development Update icon for the seventh time featuring the McLaren P1™ GTR.
With a total of 4 relaunched events, this update has the highest number of relaunched events in 2017.
Notes
↑ The prices charged are still the same from previous updates. The only difference is the lack of Credit prices.
↑ While the October 31, 2017 hotfix addressed this, it is unknown as to how extensive the reversion was.
References
Community content is available under
CC-BY-SA
unless otherwise noted.