The Nepal Update (v1.6.0) is the sixth update of Asphalt Xtreme
 Announcement
The following text was published on the Apple Store:
Go beyond your limits in this new update! Check out the wild new roadster, more ways to maximize their power, and an even wilder new place to race them!
Take the high road in the frosty Nepal mountain track
Get in gear with 3 new off-road speed machines:

GMC Vandura
Mercedes-AMG C 63 Touring Car 2016
GMC SIERRA 2500HD

Take on a new Mastery challenge for each of the new cars
Break the limits of any vehicle by Ranking it up beyond its current max level stats.
Overclock your beastly machines to gain a powerful performance boost for a limited time.
Collect Blueprints and Tokens to Rank Up or Overclock your rides.
Subscribe to the Monthly Card to get tokens every day.
Overall UI adjustments and system enhancements.
New Vehicles
Class C
Class B
Class A
Game Changes
New track: Nepal
New booster: Overclock
Upgrades:

All vehicles, regardless of class, can now be upgraded to Level 50
New upgrade card: Rank-Up Tools
The number of Tools needed and duration for upgrades have been reduced

For instance, the Class A upgrades will only need 7 tool cards, as opposed to 19-21 tools from before.

Opening a Box now gives the offer of watching an advertisement for another vehicle blueprint

Currency:
Cosmetic changes:

New loading screen of a Mercedes-AMG C 63 Touring Car 2016 in Nepal.
The Performance Class and Category icons now also show the Green upgrade icon if an upgrade can be installed.

The Garage button in the main menu now has an orange banner with "Ready!"
In-Game Update
An in-game content update mechanism was launched with the addition of the Lynx Raider and its Special Project on September 6, 2017. As the game is booting up, a pop-up mentions the new content and requires its download to continue while a post update screen shows the change(s).
Trivia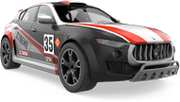 Files for a Maserati Levante were included in the update but the vehicle is not announced in the update, nor is it available in the garage. It is possible that the Levante was meant to be part of the update but delayed for unknown reasons, as suggested by artwork of it in Nepal.
Similar to the Coachella Update, the Windows version of the game bundles the Black Market Update and Nepal Update with the Porsche Update
Post-Update Screens
Main Release
Soft Update