This is an old booster version. See Nitro Starter (Asphalt 8) for the current version.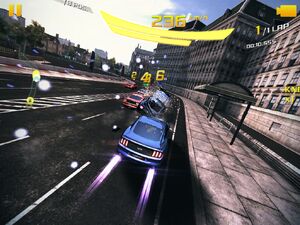 The Nitro Starter is a booster in Asphalt 8: Airborne, which allows the player to start a race with a full Nitro bar.
As with other boosters, the Nitro Starter powerup is effective for a certain time during which all the races a player starts are affected.
Usage
The Nitro Starter can be used before a race using a booster selection before starting a race. Each unit lasts 10 minutes and costs 3,000 to 7,500 credits depending on the player's level.
During this period, the player will start every race with a full nitro bar. If the Extra Tank boost is used, the added extra tank will also be full. The Nitro Starter powerup can be replenished by winning cups or finishing certain collections.
The Nitro Starter was also one of the alternating prizes in the original Multiplayer, when having a nine game winning streak (finishing in the top 3 in nine Multiplayer games in succession) - the other alternative prizes were a Class C Upgrade or 7,500 Credits.
If the Nitro Starter boost is activated, a boost icon will appear in the main menu along with a timer indicating how long the boost will last. A timer will also appear on the Boosts-screen indicating the remaining time of the activated boost.
For the efficiency and power ratings of Nitro in different Car classes, see the Asphalt 8 Nitro Efficiency Index page.
Trivia
Three boosters (Double Credits, Nitro Starter (simply called "Nitro" at that time) and Tuning Kit) were added in Update 1 in November 2013, when the game was made freemium and new cars were added along with Time-Limited Events and customizable controls. (source 1, source 2)
In earlier stages of the game (around February 2014, pre-The Great Wall Update) the Nitro Starter powerups received as trophies in the Time-Limited Events lasted for 2 hours. At that time the Tuning Kit would last for 8 hours and Extra Tank for 4 hours. So, Nitro Starter powerups' duration has been reduced to 1/12 of the original values (a ~91.7 % reduction in duration) and Tuning Kit powerups' duration has been reduced to 1/32 of the original values (a ~96.9 % reduction in duration).
The cost of one booster minute before and after the latest booster update:

Old Nitro Starter: 15,000 credits / 120 min = 125 credits/minute
New Nitro Starter: 7,500 credits / 10 min = 750 credits/minute

Old Tuning Kit: 40,000 credits / 480 min = 83.33 credits/minute
New Tuning Kit: 10,000 credits / 15 min = 666.67 credits/minute


The cost of one Nitro Starter booster minute has increased by 600 % and the price of one Tuning Kit minute has increased by ~800 %.
Source: Touch Arcade: Universal Asphalt 8: Airborne - (by Gameloft), page 1317 (the duration of the Nitro Starter in the calculations on that page is (erroneously) stated as 15 min).
REDIRECT Template:Booster navbar a8