The ONUK Sazan LM is a supercar made by ONUK Competition Development.
Description
It is named after the nickname of Kaan Onuk, son of founder Ekber Onuk, who was also the launcher of the project, who came to an untimely end, who brought the STC16 team together after 40+ years.
The Sazan is powered by a 7-liter Chevrolet LS7 V8, giving it 505 hp and a top speed of nearly 300 km/h.
Summary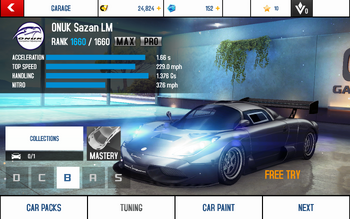 The ONUK Sazan LM was added in the Tenerife Update as a high-end Class B car with the following statistics:
Performance
The ONUK Sazan LM has very good top speed, average nitro efficiency, good handling, and good acceleration. However, the ONUK Sazan LM suffers from a wide drifting radius, albeit not as wide as the drifting radius of the Shelby Cobra 427, TVR Sagaris, and Mercedes-Benz Biome.
Usage
Due to its low starting rank and large Tuning Kit bonus, the ONUK Sazan LM is decent for Multiplayer. However, it is nowhere near as good as the Shelby Cobra 427, TVR Sagaris or Audi R8 e-tron Special Edition because it has an upgrade rank weighting of 60% for raw top speed, instead of the 30% weighting which the Shelby Cobra 427 and TVR Sagaris possess. So, even though it has a very low starting rank, the ONUK Sazan LM can't get extremely fast at low ranks.
The ONUK Sazan LM was once commonly used in Multiplayer. However, similarly to how the Lamborghini Asterion and Mercedes-Benz Biome are now obsolete, the ONUK Sazan LM is no longer extremely competitive. It is still usable, to some extent, running at ~250 mph (~400 km/h) at a rank of around 1400, similarly to the Rinspeed zaZen and the Mercedes-Benz Biome. However, the Shelby Cobra 427 reaches the same speed at a rank below 1250, while the TVR Sagaris runs at 270.6 mph (435.6 km/h) at rank 1390.
The ONUK Sazan LM counts towards the Hot Summer collection. A total of
 1,125,000 is awarded when both versions are completed.
Price
The ONUK Sazan LM had an original buying price of

 2,600 that was updated in the Car Blueprints Update to require 35 Blueprints. Assembly takes 3 hours to finish but can be skipped for up to 

 232.
Upgrades cost
 1,595,400 while Pro Kits require
 1,027,275, 10 of each Class B Part, 8 Early & Initial Techs each, 12 Mid-Techs and 12 V8 engines.
It is the tenth car to be released as a Multiplayer League reward and is part of the tenth Multiplayer Season, Bloom Season, which started on June 8, 2017. Players who finished in the Elite League received all 35 BP cards; players who finished in lower leagues received some Blueprints for the car.