Not to be confused with (or related to) the Color Customization system, also known as "Car Paint".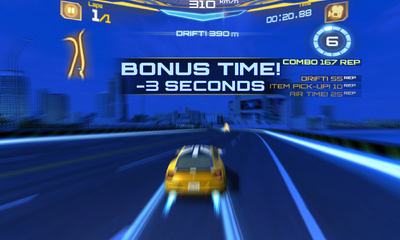 Paint Job is a race type in Asphalt 7: Heat.
Overview
Paint Job is a type of event the player can encounter during the Career Cup events. It is a time-trial like event that requires the player to crash the least and make a good record at the same time, and every time the player collides into an object (like a traffic car), 2 second is added to your record, and time bonuses can be grabbed in a track which deducts 3 seconds to your record. It differs from Old-School Arcade mode as it only lasts 1 lap(while Old-School Arcade lasts 2 laps) and does not have checkpoints to add time limit. It appears since Career Cup 5, which requires a Tier 4 car. Paint Job is only playable in Single Player modes, as it is a time trial.
Winning
The requirement for winning is simple; just finish the race quickly. Stars are graded with your record.
Powerups
The following powerups can be used:
Alutec(Boost nitro supply while drifting)
Furious Fuel(Time stops at Adrenaline Rush)
Greedy Pig Bank(Time stops when the player grabs a cash, time, or nitro item)
Quantum Engines(Extra EXP gain)
Gallery
See also
Community content is available under
CC-BY-SA
unless otherwise noted.