Description
In the late 1980s, Perlini began competing in various sporting events, which included Rallye des Pharaons (French for "Pharaohs Rally), the infamous Dakar Rally, and the Paris-Moscow-Peking Rally in 1992. The Perlini 105F Red Tiger was introduced in 1990 with the sole purpose to compete in rally championships, and was homologated into FiA's Group T4 from August 2nd, 1992 to January 1st, 1995. According to it's technical sheet, the Perlini 105F Red Tiger produces 600HP, has a top speed of 170 km/h (105.6 mph). The Red Tiger also has 4WD, as well as self-ventilated disc brakes, and hydro pneumatic suspension to deal with harsh environments. Fully loaded, The Red Tiger was approximately 12 tons. Notable achievements Perlini achieved with the 105F Red Tiger was securing 5 podium finishes in the Dakar Rally from 1990 to 1994, with 1990-1993 being 1st place finishes. After 1994 no wins were recorded, and the 105F Red Tiger was eventually decommissioned from use.
Asphalt Xtreme
Overview
The Perlini 105F Red Tiger is a Class-B Truck that was an original car available since the game's Soft Launch. It was removed from the game in August 2019. Players who already owned the car could still use but not upgrade it, while players who had installed the game after the removal could not see the Perlini in the garage.
Gameloft then displayed the following in-game message for owners of the car (Russian example):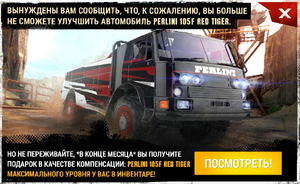 Translation:
We are forced to inform you that, unfortunately, you will no longer be able to upgrade the Perlini 105F Red Tiger. But don't worry, at the end of the month you will receive a gift as compensation: the Perlini 105F Red Tiger at maximum level in your garage!
The
Perlini 105F Red Tiger Blueprint, however, is still granted in Limited-Time Events and can be used for the
Overclock booster if a player owns the car. Players who do not own the car cannot use the blueprint in any way.
Prior to being removed from the game, the Perlini required 20 blueprints to unlock, it started at a rank of 11, and requires 30 minutes to change the oil, and costs

 200 each time.
Performance
The Red Tiger shares the abysmal acceleration and excellent nitro duration that all the other trucks have. It has the highest all-in top speed in it's archetype, and has surprisingly responsive handling, although it's actual drift radius is not very impressive without the use of drift-boosting. It's extremely slow acceleration can be remedied to a significant degree through it's all-in nitro power, although not as powerful as the Unimog U 4023 or the MAN TGX D38. Drift-boosting can help both the acceleration and the handling by a reasonable amount, although it again is not as powerful as the aforementioned trucks.
Since Red Tiger owners were gifted it's maximum level, the only possible rank a player can drive the Red Tiger is Level 50. At this level, the Red Tiger is overall the best truck in the game. While it's stats are mostly average in terms of it's archetype, it's all-in ground top speed is unrivaled, and is capable of getting decent amounts of airspeed to make it even faster. As a result, the Perlini can pull away from the other trucks on straight-line speed oriented tracks with a lot of barriers and obstacles. High Altitude, Off-Piste Race, Emerald Forest, and Autumn Winds are examples of tracks where the Perlini dominates not only it's archetype, but every other car in the game. The Perlini can occasionally be matched by the MAN's better acceleration and slightly lower top speed, or very rarely, the Unimog U 4023's extreme acceleration and even lower top speed. The Red Tiger's poor acceleration, less than ideal drift radius, and huge size does mean that it can be outclassed severely on tracks like Gobi and Coachella Valley, where more nimble cars can utterly destroy the Red Tiger.
The displayed and approximate fake speed of the Level 50 Perlini 105F Red Tiger are:
(Speed Modifier is ~102.5% when using the Land Rover Defender as a benchmark.)
Top Speed w/o boost: 134.4 mph (~140.3 mph)
Top Speed w/ Level 1 long nitro: 155 mph (~158.7 mph)
Top Speed w/ Level 2 long nitro: 161 mph (~165.0 mph)
Top Speed w/ Level 3 long nitro: 169.9 mph (~174.1 mph)
Top Speed w/ Level 4 ET long nitro: 174 mph (~178.4 mph)
Top Speed w/ All-in nitro: 182.7 mph (~187.3 mph)
Top Speed w/ All-in nitro & ET: 189 mph (~193.7 mph)
Max Air Speed: 206 mph (~211.2 mph)
Max Air Speed w/ ET: 211 mph (216.3 mph)
While the long nitro speed is nothing to scoff at, the real power is the all-in nitro speed. Although rally cars like the Mini All4Racing X-Raid and Ford Focus RS have higher all-in speeds, ~187 mph is still potent, especially considering that maintaining all-in nitro is much easier with trucks than it is with rally cars. Extra Tank closes the gap further, nearly being on par with the aforementioned rally cars. Since trucks are actually viable with extra tank, the Perlini can see a 1-2 second improvement on it's best tracks, although maintaining all-in nitro will be slightly more difficult. In terms of multiplayer, the Perlini is one of the most popular cars driven among players that own it at Level 50 due to it's relative ease of use, however the Perlini can be severely countered by certain map choices and drivers that destroy obstacles, stealing the nitro gain and potentially killing a run due to running out of nitro. The Perlini is an excellent choice for time-limited events as it sets the benchmark on certain tracks, and is available for a good amount of events.
Tragically enough, due to the permanent removal of the ability to unlock the Perlini 105F Red Tiger, the best truck in the game is impossible to legitimately own if a player had not unlocked it prior to it's removal. If the player owns the Perlini at max, then it is an extremely useful vehicle that is very difficult to replace in terms of what it can offer in performance, viability in multiplayer, and usefulness in time-limited events.
Blueprint
Career
The Perlini 105F Red Tiger is required for a

 Star goal in the following career races:
Race 170 (Class A, levels 28–30)
Race 247 (Class S, levels 45–47)
Note that it may be impossible to complete these tasks if a player does not have the Perlini 105F Red Tiger unlocked prior to it's removal from the game.