The Peugeot RCZ R is the high performace version of the RCZ sports car.
Description
Text originally from the Peugeot RCZ Wikipedia article.
In November 2012, Peugeot announced their intention of building a more powerful, performance oriented RCZ. In July 2013, the first official pictures of the car were released. The RCZ R has a turbocharged 1.6l engine capable of producing 270 bhp and 330NM of torque, allowing it a 0-62 time of 5.9 seconds and a top speed limited to 155 mph. It also features uprated 380mm Alcon brakes and suspension, a significantly reduced curb weight and a Torsen front differential.
Originally from a concept car shown in 2010, it was originally not expected to make production (similar to its close rival, the Audi TTS Coupe). However, it was given the green light for production in 2012 amidst plans for a "reniassance" in Peugeot's car models. The RCZ was joined by the RCZ-R a few months later, which boasted the most bhp per litre in any car when it first came out. It is also the most powerful production French car to be released in the 21th Century.
Asphalt 8: Airborne
Summary
The Peugeot RCZ R was added in the Motorcycles Update as a mid Class D car with the following statistics:
Starting rank: 1011

This was changed to 1026 in the Showdown Update.

MAX rank: 1166 (+155)

This was changed to 1180 (+154) in the Showdown Update.

MAX+PRO rank: 1276 (+110)

This was changed to 1285 (+105) in the Showdown Update.

Tuning Kit bonus: +41

This was changed to +28 in the Showdown Update.

Nitro Efficiency: 5/8/10
Performance and Usage
The RCZ R, while not the worst car, does not excel in any stat. It has mediocre acceleration, handling and top speed, making it what is was meant to be: a mid-end D Class car.
The RCZ R, however, does possess a stellar nitro efficiency of 5/8/10, in comparison to the 4/8/11 that the Donkervoort D8 GTO possesses, making it the most nitro-efficient car in the entire game.
Given its otherwise average performance, the RCZ R does not have any use in events, Multiplayer, or career mode.
Price and availability
After its initial release, the Peugeot RCZ R was made available to players, save between October 4-10, 2017.
When available, it requires 8 common blueprints to be constructed. Assembling the RCZ R takes 2 hours but can be skipped for

 195. As of the 2019 Spring Update, the Peugeot RCZ R costs 

 342,000 to MAX and 

 113,600 to PRO.
As of the Showdown Update, the car no longer requires Blueprints to be assembled.
Research & Development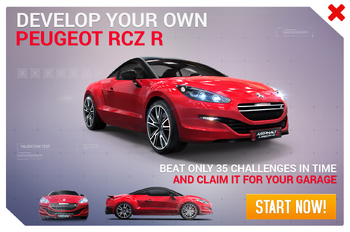 Main article: Research & Development/Peugeot RCZ R
The Peugeot RCZ R's Research & Development was published as the 26th R&D event on September 24, 2017 with 3 Labs spanning 35 Tests. It was revived as the 56th R&D event on February 22, 2019, as part of the Fast Lane Update's Asphalt Moments Series, with a prerequisite of VIP Level 1. Players are given 5 days to complete it once they start the challenge.
Asphalt 7: Heat
Erroneously named as the Peugeot RCZ-R, the RCZ R is a Tier 1 car, and was added in update 1.1.0. It can only be unlocked through its own special event.

Vehicles in Asphalt 8: Airborne
Community content is available under
CC-BY-SA
unless otherwise noted.