The Porsche 918 Spyder is a limited production, mid-engined plug-in hybrid hypercar by Porsche.
Overview
The Porsche 918 Spyder was designed by Michael Mauer. The 918 Spyder is powered with a 4.6L (4,593 cc) naturally aspirated V8 engine built on the same architecture as the one used in the Porsche RS Spyder LMP racing car without any engine belts.
According to Porsche, the V8 weights 298 lb (135 kg) and delivers 608 hp (453 kW) at 8,500 rpm and 389 ft·lb (527 N·m) of maximum torque and is supplemented by two electric motors delivering an additional 279 hp (208 kW), with one 154 hp (115 kW) electric motor driving the rear wheels in parallel with the engine and also serving as the main generator. This motor and engine deliver power to the rear axle through a seven-speed gearbox using Porsche's own PDK dual-clutch system. The front 125 hp (93 kW) electric motor directly drives the front axle and is decoupled by an electric clutch when not in use. The total power output comes out as 887 hp (661 kW) and 940 ft·lb (1274 N·m) of torque. Weighing at most 3757 lb (1704 kg), the 918 has a minimum power-to-weight ratio of 4.24 lb/1.92 kg per hp or 521 hp per tonne.
A 312-cell, liquid-cooled 6.8 kWh lithium-ion battery is situated behind the passenger cell. In addition to a plug-in charge port at the passenger-side B-pillar, the batteries are also charged by regenerative braking and excess output from the engine when the car is coasting. The V8 petrol engine can recharge an empty battery on about two liters of fuel (0.53 US gallons). The supplied Porsche Universal Charger requires seven hours to charge the battery on a typical 110V household AC socket or two hours on a dedicated Charging Dock installed with a 240V industrial supply. An optional DC Speed Charging Station can restore the battery to 100% in 25 minutes.
The 918 Spyder can operate under five different driving modes: E-Drive, which allows the car to run solely under battery power using the electric motors, giving an official all-electric range of 12 mi (19 km) according to the US EPA. Under the E-Drive mode, the car can reach only 93 mph (150 km/h). Two hybrid modes (Hybrid and Race) use both the engine and electric motors to provide desired levels of economy, efficiency, and performance. In Race mode, a push-to-pass button initiates the Hot Lap setting, which delivers additional electrical power for use on the track. The 918 Spyder's chassis is a carbon fiber-reinforced monocoque, while the car uses electromechanical brakes.
Porsche provided the 918 Spyder's performance figures as 0-60 mph (0-97 km/h) in 2.4 seconds, 0-124 mph (0-200 km/h) in 7.2 seconds, 0-186 mph (0-300 km/h) in 19.95 seconds, and a tested top speed of 218 mph (351 km/h). During an independent test by Car and Driver, C/D tested 0-60 mph in 2.2 seconds (with rollout), 0-100 mph in 4.9 seconds, and the quarter mile (400 m) in 9.8 seconds.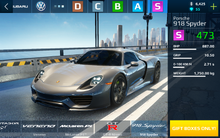 The Porsche 918 Spyder was added in the Asphalt Street Storm Racing Porsche Update, as a high-end Class S car.
The Porsche 918 Spyder can only be obtained through Gift Boxes.
This section of an article is missing some information. Please try to add some relevant content.
See also
Community content is available under
CC-BY-SA
unless otherwise noted.