The Porsche 918 Spyder with Weissach Package (also known as Porsche 918 Spyder Weissach in Asphalt 9: Legends) is a limited production, mid-engined plug-in hybrid hypercar by Porsche. It acts as a performance package for the regular Porsche 918 Spyder.
Description
The 918 Spyder is powered with a 4.6 L (4,593 cc; 280.3 cu in) naturally aspirated V8 engine built on the same architecture as the one used in the Porsche RS Spyder LMP racing car without any engine belts.
According to Porsche, the V8 weights 298 lb (135 kg) and delivers 608 hp (453 kW) at 8,500 rpm and 389 ft·lb (527 N·m) of maximum torque and is supplemented by two electric motors delivering an additional 279 hp (208 kW), with one 154 hp (115 kW) electric motor driving the rear wheels in parallel with the engine and also serving as the main generator. This motor and engine deliver power to the rear axle through a seven-speed gearbox using Porsche's own PDK dual-clutch system. The front 125 hp (93 kW) electric motor directly drives the front axle and is decoupled by an electric clutch when not in use. The total power output comes out as 887 hp (661 kW) and 940 ft·lb (1274 N·m) of torque. Weighing at most 3757 lb (1704 kg), the 918 has a minimum power-to-weight ratio of 4.24 lb (1.92 kg) per hp or 521 hp (389 kW) per tonne.
A 312-cell, liquid-cooled 6.8 kWh lithium-ion battery is situated behind the passenger cell. In addition to a plug-in charge port at the passenger-side B-pillar, the batteries are also charged by regenerative braking and excess output from the engine when the car is coasting. The V8 petrol engine can recharge an empty battery on about two liters of fuel (0.53 US gallons). The supplied Porsche Universal Charger requires seven hours to charge the battery on a typical 110V household AC socket or two hours on a dedicated Charging Dock installed with a 240V industrial supply. An optional DC Speed Charging Station can restore the battery to 100% in 25 minutes.
The 918 Spyder can operate under five different driving modes: E-Drive, which allows the car to run solely under battery power using the electric motors, giving an official all-electric range of 12 mi (19 km) according to the US EPA. Under the E-Drive mode, the car can reach only 93 mph (150 km/h). Two hybrid modes (Hybrid and Race) use both the engine and electric motors to provide desired levels of economy, efficiency, and performance. In Race mode, a push-to-pass button initiates the Hot Lap setting, which delivers additional electrical power for use on the track. The 918 Spyder's chassis is a carbon fiber-reinforced monocoque, while the car uses electromechanical brakes.
Porsche provided the 918 Spyder's performance figures as 0-60 mph (0-97 km/h) in 2.4 seconds, 0-124 mph (0-200 km/h) in 7.2 seconds, 0-186 mph (0-300 km/h) in 19.95 seconds, and a tested top speed of 218 mph (351 km/h). During an independent test by Car and Driver, C/D tested 0-60 mph in 2.2 seconds (with rollout), 0-100 mph in 4.9 seconds, and the quarter mile (400 m) in 9.8 seconds[1][2].
The Weissach Package is an optional lightweight performance package for the 918 Spyder. It includes a visible carbon exterior, with a carbon roof, rear wing, mirrors, and front window frame, as well as a different rear diffuser. The interior now uses both carbon and Alcantara in place of leather, with Alcantara steering wheel rim, center console, and door pad. Carbon is used for the interior trim parts, and the steering wheel uses CFRP paddles. Seat upholstery uses a nonflammable cloth in black or piping silver/acid. Seats are equipped with a six-point seatbelt and the door opening straps are in black. Wheels are made out of magnesium, while the car's body color is done in foil instead of paint. The car can come with an optional Martini Design livery or Salzburg Design livery. Weight is reduced by 88 lb (40 kg) in total.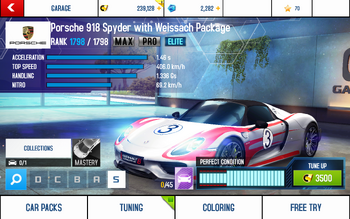 Summary
The Porsche 918 Spyder with Weissach Package was added in the Porsche Update as a high-end Elite Class S car with the following rank statistics:
Starting rank: 1482
MAX rank: 1677 (+195)
MAX+PRO rank: 1798 (+121)
0808 Elite Tuning rank: 1796 (-2)
Tuning Kit bonus: +43
Stock to MAX+PRO rank difference: 316
Upgrade rank percentages: 25/30/10/35
Nitro Efficiency: 7/11/15.5
Performance
The Porsche 918 Spyder with Weissach Package is the highest-performing Porsche vehicle in the game. The 918 Spyder excels in top speed, being the 12th-fastest vehicle in the entire game with a total speed of 312.7 mph (503.6 km/h). The 918 Spyder otherwise has fairly balanced stats, but it is still inferior to the Apollo Intensa Emozione and 2018 McLaren X2 in all aspects of performance. It is marginally slower than the Ferrari 488 Pista, which has a strong advantage in raw top speed.
The 918 Spyder's most prominent trait is its very large nitro, which is the largest in Class S, larger than that of the Ferrari Enzo Ferrari only due to Elite Tuning. However, the 918 Spyder has a larger upgrade rank weighting on nitro compared to top speed so it's better to tune it for top speed if the player wants to use the 918 Spyder in Multiplayer at a low configuration.
The 918 Spyder's large nitro gives it a low raw top speed, which can sometimes be an issue, especially when compared to the Carrera GT, which is capable of up to a raw top speed of 289 mph/466 km/h. The 918 Spyder's acceleration is also above-average for its rank. However, its acceleration still doesn't compete with the Apollo IE's, Aston Martin Vulcan's, McLaren X2's, and Arrinera Hussarya GT's, which are all considered to be "balanced vehicles" as well. The 918 Spyder has mediocre handling (i.e. steering capacity) so its good drifting must be used to compensate for this. 
Usage
In Class S TLEs, the Porsche 918 Spyder with Weissach Package is capable of achieving a rank in the top 1000.
In mid-rank Multiplayer, a good upgrade configuration for Multiplayer races with the 918 Spyder is 0500 5050 0800, which gives a total top speed of 286.8 mph/461.8 km/h @ S1595. While this is inferior to an Aston Martin Vulcan upgraded at 1502 5052 (301 mph/485 km/h @ S1597) and a McLaren Mercedes MP4-25 upgraded at 10/2/10/0 (291 mph/468 km/h @ A1600), this still makes the 918 Spyder faster than most vehicles at this rank, including the Sbarro Alcador. When tuned to 0504 5052 [-4,+4,-4,+3], the 918 Spyder can reach a speed of 303.2 mph/488 km/h with Tuning Kit at a rank of 1679. This gives it a better chance of winning against McLaren Mercedes MP4-25s, although it will still most often lose to the BMW 3.0 CSL Hommage, Apollo Intensa Emozione (in all ranks), 2018 McLaren X2, and Rezvani Beast Alpha.
Being an Elite vehicle, the 918 Spyder requires tune-ups after only a few games, making it not very viable for Multiplayer mode (it can be used occasionally, but not heavily, without speeding up the tune-ups). This Elite status also renders the 918 Spyder nearly useless for farming. Notably, the 918 Spyder is still the newest Elite Vehicle (and Elite Car) in the game, despite being released halfway through 2017. Additionally, the 918 Spyder's Exceptional Engines are extremely rare, making it borderline useless for anyone who didn't participate in its Enduro Double Down.
The 918 Spyder is featured in the Porsche collection. Completing both versions awards a total of
 1,350,000.
Price
According to the game's internal data, the Porsche 918 Spyder with Weissach Package costs

 13,500 to buy. Outside of purchase, the 918 Spyder can be obtained through its Enduro Double Down, which awards 45 Rare Porsche 918 Spyder with Weissach Package BP cards.
Upgrades costs
 3,145,650 or 

 21,480 while Pro Kits require
 1,456,275, 23 of each Class S Part, 28 Exceptional Engines, 36 Mid-Techs, and 24 Advanced Techs.
Tune-ups cost
 3,500, take 2 hours to finish, and can be skipped for up to

 221. Assembly takes 16 hours and can be skipped for up to

 475.
Availability
Main article: Asphalt 8: Airborne/Licensing Issues
The Porsche 918 Spyder with Weissach Package was featured as one of five brand-new "real" Porsches in the Porsche Motor Series. Within the sequence of five Special Events, the Porsche 918 Spyder was unlockable via an Enduro Double Down which appeared as the last Event in the series.
When the five Porsches were added to Asphalt 8: Airborne, four "imitation Porsches" (the Rinspeed zaZen, RUF RT 12 S, RUF CTR 3, and 9FF GT9 VMAX) were removed from the Garage.
The 918 Spyder was made available in the Garage for Blueprints on July 20, 2017. Notably, the Porsche Events were the first to reward Blueprints during the Event, rather than after the completion of the Event.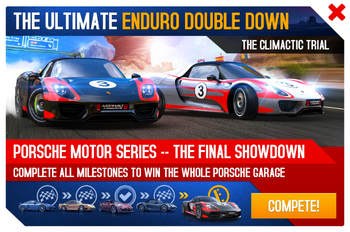 The Porsche 918 Spyder with Weissach Package's Enduro Double Down event was held on July 20, 2017, following the Porsche 718 Boxster S's Championship event as the final event in the Porsche Motor Series. Players were given 9 days to win all 45 Blueprints for the vehicle by banking

 75,000. Along the way, missing Blueprints for other Porsche vehicles could be won at random.
The event was relaunched in the Halloween Update on November 13, 2018, following the Ferrari 488 Pista's Championship. However, the car itself is only awarded by banking

 75,000, while the Porsche 718 Boxster S and Porsche Cayman GT4 are awarded instead of the EDD Rookie and Advanced BP Boxes.
Initially shortened just to Porsche 918 Weissach Package and later renamed as the Porsche 918 Spyder, it now appears as a high-end Class A car with the following rank statistics:
Starting Rank: 2,843 (35 BPs)
1* Rank: 2,988
2* Rank: 3,180 (12 BPs)
3* Rank: 3,420 (15 BPs)
4* Rank: 3,743 (24 BPs)
5* Rank: 4,099 (36 BPs)
A total of 122 blueprints are required.
Performance
The 918 Spyder's performance is balanced, featuring decent top speed, acceleration and powerful nitro. Its handling is however subpar; similar to its pre-patched version in Asphalt 8.
References
Enduro

Double Down
Event
Boss Vehicle
Other

Enduro Vehicles

Weber Faster One

Weber Faster One
SRT 2013 Dodge Challenger SRT8 • Jaguar F-Type R • Nissan Skyline GT-R (R34) • Honda Integra Type-R • Nissan GT-R NISMO • Lamborghini Aventador LP 700-4 • W Motors Lykan HyperSport • Chrysler ME412
Aston Martin One-77

Aston Martin One-77
AC 378 GT Z • Aston Martin DB9 Coupé • Aston Martin V12 Zagato • Aston Martin V12 Vantage • Lucra L148 • Bentley EXP10 Speed 6 • Pagani Huayra • Peugeot Onyx
BXR Bailey Blade GT1

BXR Bailey Blade GT1
Alfa Romeo MiTo GTA • Mazda 6 • Ford Focus RS • Mitsubishi Eclipse • Nissan GT-R (R35) • Holden Coupe 60 • Dodge Viper SRT10 ACR-X • Mazzanti Evantra
Icona Vulcano V12 Hybrid

Icona Vulcano V12 Hybrid
Lotus Exige S Coupe • Felino cB7 • BMW M6 • Mazda Furai • Marussia B2 • Mercedes-Benz SLS AMG GT Coupé Final Edition • Mercedes-Benz Silver Lightning • Hennessey Venom GT
Falcon F7

Falcon F7
Audi S4 • Mitsubishi Lancer Evolution X • Infiniti FX50 • Ferrari 612 Scaglietti • Ferrari 458 Italia • Arrinera Hussarya • McLaren 12C Spider • Savage Rivale GTR
1967 Chevrolet Impala (Canceled)
1967 Chevrolet Impala
Camaro Z/28 • BMW M1 • Ferrari Testarossa • Maserati MC12 • Savage Rivale Roadyacht GTS • Chevrolet Corvette C3 • RUF CTR 3 • 9FF GT9 VMAX
Lamborghini Aventador LP 750-4 SV

Lamborghini Aventador LP 750-4 SV
Lamborghini Urus • Lamborghini Miura • Lamborghini Gallardo LP 560-4 2013 • Lamborghini Estoque • Lamborghini Sesto Elemento • Lamborghini Asterion • Lamborghini Huracán • Lamborghini Egoista
Sbarro Sparta

Sbarro Sparta
DS 3 Racing • Nissan Juke Nismo • Mercedes-Benz GLC Coupe • BMW M2 • Audi R8 LMS Ultra • Ferrari F50 • Savage Rivale Roadyacht GTS • Sbarro Alcador
Chevrolet Corvette Grand Sport

Chevrolet Corvette Grand Sport
1967 Chevrolet Impala • Volkswagen Golf Design Vision GTI • Maserati MC12 • Chevrolet SS • Chevrolet Corvette C7 • Chevrolet Corvette C3 • Chevrolet 2016 Camaro SS • 9FF GT9 VMAX
Porsche 918 Spyder with Weissach Package

Porsche 918 Spyder with Weissach Package
Scion FR-S • Porsche 959 • Audi RS 3 Sportback • Porsche 718 Boxster S • DS Survolt • Porsche Cayman GT4 • Dodge Viper SRT10 ACR-X • Porsche 911 GT3 RS
Mercedes-Benz SLR McLaren 722 Edition

Mercedes-Benz SLR McLaren 722 Edition
Mini Cooper S Roadster • Alfa Romeo MiTo GTA • Chevrolet Camaro GS • Ford Focus RS • Maserati GranTurismo Sport • Ferrari 458 Italia • Cadillac CTS-V Coupe Race Car • Mercedes-Benz SL 65 AMG Black Series
Yamaha FZ-10

Yamaha FZ-10
Suzuki GSX-R750 • Kawasaki Z800 • KTM 1290 Super Duke R • Yamaha YZF-R6 • Ducati Monster 1200 • Ducati SuperSport S • BMW S 1000 RR • Suzuki Hayabusa
Zenvo ST1

Zenvo ST1
Geely GC9 • Donkervoort D8 GTO • Volkswagen Golf Design Vision GTI • Jaguar F-TYPE Project 7 • 2010 Bentley Continental Supersports • Ferrari F50 • Lamborghini Aventador LP 700-4 • Jaguar XJ220S

Italics denote reward vehicles obtainable from the event.