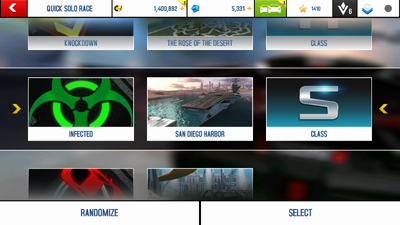 Quick Solo Race is a quick race mode in the Asphalt series where the player can choose which track to race on with what race mode and what car. Its name has varied over the series.
Quick Solo Race allows the player to practice any selectable track or play just for fun.
Asphalt 8: Airborne
Quick Solo Race always sets the following default basic parameters for normal races (Classic or Versus):
In an Elimination race:
Elimination Warm-up: 15 seconds
Elimination Period: 30 seconds
In a Knockdown race:
In an Infected race:
Infected Warm-up: 15 seconds
Initial Infected Time: 30 seconds
In a Gate Drift race:
Time: 3 minutes
Target scores:

3rd: 5,000 points
2nd: 10,000 points
1st: 15,000 points
Asphalt Nitro
Quick Solo Race remains largely unchanged from the previous game, but with the addition of Catch and Escape.
Asphalt 9: Legends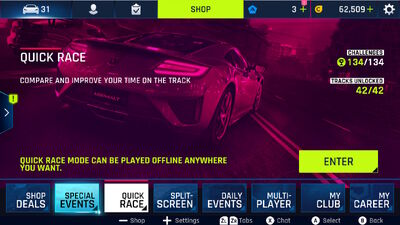 Referred to as Quick Race, it is only available for the Nintendo Switch version of the game. Tracks are unlocked for this mode by completing 2-5 challenges for each track.
Quick race has the following tracks available by default: