The Rezvani Beast X is a limited-run production model of the Beast lineup of cars, and is the ultimate model of that lineup.
Overview
The Beast X is the most powerful variant of the Beast, priced at US$159,000 to US$270,000. The prices differ because there are two variants; one for the Beast, another for the Beast Alpha.
Only five of these cars will be produced. The convertible X contains the 2.5-liter Cosworth I4 but is turbocharged this time by a pair of BorgWarners. This pushes out 700 hp (522 kW; 710 PS). Combined with a curb weight of 750 kg (1,653 lb), the car has a power-to-weight ratio of 933.3 hp (696.0 kW; 946.2 PS) per ton. The car's design has been slightly changed for aerodynamic purposes. There are new added aero gaps, and fender grilles, and also a new split spoiler that loosely resembles the Pagani Zonda C12. The front and rear have been revised to add extra downforce, along with the gaps, grilles, and spoiler. This power is sent to the rear wheels by a 6-speed manual transmission, with a semi-automatic as an option for the X. The car is good for a 0–60 mph (0–97 km/h) time of 2.5 seconds, the fastest for a Beast.
Asphalt 8: Airborne
Summary
The Rezvani Beast X was added in the 2019 Spring Update as a high-end Class A car with the following statistics:
Starting rank: 1144
MAX rank: 1528 (+384)
MAX+PRO rank: 1797 (+269)
Tuning Kit bonus: +89
Stock to MAX+PRO rank difference: 653
Upgrade rank percentages: 2.5/75/2.5/20 
Nitro Efficiency: 6/12/16
Performance
As a continuation of the McLaren Mercedes MP4-25 and Rezvani Beast Alpha, the Rezvani Beast X has rapid acceleration, excellent handling with a tight drift radius, decent nitro efficiency and a maximum speed of 500.2 km/h/ 309 mph.
Usage
The Rezvani Beast X's excellent all-round stats makes it a strong competitor in Time-Limited Events, but it usually loses out to both the Ford GT (2017) and Lamborghini Terzo Millennio if all three cars are featured. The Beast X is also near-dominant in multiplayer races if it is tuned below rank 1740, although such tunes are usually insufficient to legitimately complete its R&D, meaning that the player must pay

to skip certain tests.
Multiplayer
In Multiplayer, the Beast X's high acceleration and handling stat means it often has strong starts and performs well on shorter, technical maps with sharp turns, such as San Diego Harbor, Sector 8 and Dubai. Because it relies on its modest nitro boost and average nitro efficiency to keep its speed up, the Beast X may struggle against other vehicles at a similar rank on longer tracks, such as Transylvania and Azure Coast, as well as races lasting more than 1 lap, especially if it is at MAX+PRO or tuned to a high rank.
Below rank 1740, the Rezvani Beast X sees competition mainly from the Audi R8 e-tron Special Edition, with occasional competition from its Alpha variant, the Mazda RX-8 Special Edition, McLaren Mercedes MP4-25, SSC Tuatara, Koenigsegg Agera R and TRION NEMESIS. Between rank 1740-1750, the Beast X is non-competitive due to it typically being matched up against other Beast Xs of a higher rank. Above rank 1750, the Beast X contends with high- and top-end cars, such as the SIN R1, Lamborghini Terzo Millennio and Apollo Intensa Emozione. These other competing vehicles are usually driven by players already in Champion and Elite League, so the Beast X is capable of reaching Champion League assuming it finishes at least third in most races.
Due to the Rezvani Beast X's upgrade rank percentages being slanted mainly towards top speed, it is not possible to fully upgrade its top speed and keep its rank below 1740 unless all PRO kit upgrades to nitro are ignored.
The following are some non-MAX+PRO multiplayer tunes for the Rezvani Beast X:
5424 5555 = rank 1686 = 476 km/h
5425 5455 = rank 1698 = 479 km/h
5425 5555 = rank 1706 = 481 km/h
5505 5050 = rank 1738 = 484 km/h
5504 5255 = rank 1753 = 490 km/h
5505 5055 = rank 1765 = 492 km/h
5505 5255 = rank 1773 = 494 km/h
5505 5355 = rank 1778 = 496 km/h
5525 5455 = rank 1787 = 498 km/h
5525 5555 = rank 1794 = 500 km/h
Price
The Rezvani Beast X is only obtainable by completing its R&D event. It could be purchased during the following dates:
Upgrades cost

 1,900,000 +

 8,000 while Pro Kits require

 944,800, 45 of each Class A Part, 22 Early & Initial Techs each, 60 Mid-Techs, 36 Advanced Techs and 80 i4 Engines.
Research & Development
Main article: Research & Development/Rezvani Beast X
The Rezvani Beast X's Research & Development event was launched on April 10, 2019 after the Ferrari F60 America's R&D. Players are given 5 days to start and 14 days to complete the event with 50 tests spanning 4 labs.
The event was revived on the following dates:
Asphalt 9: Legends
The Rezvani Beast X appears as mid Class C car with the following rank statistics:
Usage
The Rezvani Beast X features excellent acceleration, responsive handling, stable drifting, and decent nitro efficiency. Its main disadvantage, however, is its low top speed of only 312 kph when maxed out.
The Beast X is excellent in multiplayer on short and technical tracks as its acceleration and nitro boost will give it a head start. However, on long straight tracks, it will struggle to keep up with the Ford GT, Vencer Sarthe, Arrinera Hussarya, and Ferrari F12tdf due to their higher top speeds.
The Beast X is required to obtain an extra pack for the Exclusive: Cadillac Cien Concept event which has a chance to drop a Cadillac Cien Concept Epic Import Part.
Exclusive: Rezvani Beast X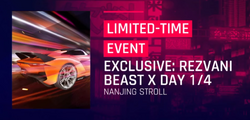 The Exclusive: Rezvani Beast X event was available as a TLE every 2 weeks for 4 days with Beast X blueprints and epic imports being obtainable from the event. Using the BMW M4 GTS allowed for all 3 packs to be obtained.
After the Grand Prix Update, the event is now available between every Monday and Tuesday. Obtaining all of the packs now requires the Porsche 911 Targa 4S and the Porsche 718 Cayman S to be used.

Vehicles in Asphalt 8: Airborne
Community content is available under
CC-BY-SA
unless otherwise noted.