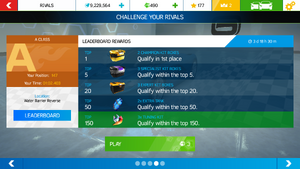 Rivals is a race mode with its own type of Time-Limited Event in Asphalt Nitro. In Rivals events, players do not race against computer opponents but against the ghost of a player they have challenged. This principle was later taken over and modified by the Gauntlet mode of Asphalt 8: Airborne.
There are five competitions per week, one for each vehicle class. The timer for the competitions ends at 11:00 UTC.
Races have traffic, so extra attention must be paid.
Unlike other Time-Limited Events in the game,
the results of races do not contribute to the player's rating.
Choosing opponents
After paying the entry fee, players can challenge an opponent at a position above them in the leaderboard. There are five opponents to choose from: At the beginning, four of them are at the positions directly above the player, and one is 12 positions higher than the second one. The gap between the opponents increases with every won race, so players get the opportunity to jump to higher positions. The race times of opponents are not shown, only rank and brand of the vehicle they used.
As players cannot immediately challenge players from the top of the leaderboard, they have to work their way up and pay for several races until they can reach higher positions.
Winning and losing races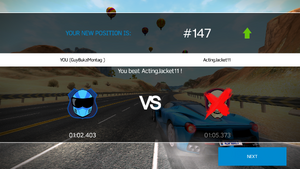 If a race is won, the player takes the leaderboard place of the opponent who lost. This means that the leaderboard is not ordered by race time but by wins. It is sometimes possible to beat an opponent who had a bad race even with a vehicle that would have lost otherwise.
If a race is lost, the player stays at the previous rank. The challenged opponent cannot be challenged again, so for example, after failing to win against all opponents in the top 5, a player cannot advance further until a new opponent enters the top 5 and can be challenged.
Rewards
The

 Credits output of Rivals races is minimal, even lower than the entry fee. Nonetheless, these races are worth playing if the entry fees are regarded as a price for the rewards which are usually of higher value. Attention should be paid to A and S Class events as they cost

 3 and

 5 per race and should be abandoned if players realize they will be unable to reach higher ranks.
Rivals races only have Leaderboard rewards (Top 1, 10, 50, ...) and no race rewards (Finish 1st, Finish race). Leaderboard rewards are not accumulated. Reaching a reward tier only grants the prize for this single tier, not for the ones below!
Competitions
All competitions start and end at the same time.
Duration: 7 days, starting on Mondays
Laps: 1
Mode: Classic
Traffic: yes
Rivals events stay the same every week, except for the track which follows a monthly repeated pattern. If a month has only four Mondays, the fifth track is skipped.
D Class
C Class
B Class
A Class
S Class
See also
Gauntlet, a race mode in Asphalt 8: Airborne which has taken over many Rivals elements