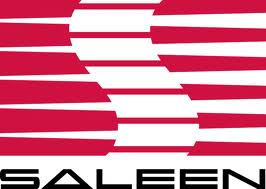 Saleen is an American high-performance car manufacturer located in Corona, California, United States.
Overview
Saleen Automotive, commonly known as Saleen, is an American manufacturer of specialty high-performance sports cars and high-performance automotive parts.
Saleen's flagship car is the Saleen S7, introduced in 2000. The S7 was wholly built by Saleen and features a mid-engine design in a high-performance supercar package. It is also currently the only Saleen production car not based on an existing design or chassis.
Saleen currently manufactures the S302 (Mustang-based), S620 (Camaro-based), the S570 (Challenger-based), the ST (Tesla Model S-based) and most recently have announced that they are in development of a new Saleen supercar, a successor to the S7 supercar (currently dubbed the S8).
Vehicles
Trivia
In 1985, Steve Saleen's secretary miscounted the vehicles produced that year, omitting vehicle number 6 as a result of confusing it with 9. Since 1985, Saleen has had the tradition of not issuing the #6 bumper number on any of its vehicles. Sometimes, a Mustang equipped with a Saleen aftermarket bodykit will bear 6 as its bumper number, signifying it as a "Fake" Saleen Mustang.
In keeping with the family name of founder Steve Saleen, the company's name is pronounced /səˈliːn/ sə-leen, rhyming with "machine".
The Saleen S5S Raptor won in the 2016 Community Car Poll for Asphalt 8: Airborne but Saleen declined on licensing the car and brand for the game.