The San Diego Harbor Update, also the Metal Update, is an update in Asphalt 8: Airborne. It was released in September 2014. This update added a new track, San Diego Harbor, as well as Metal graphics effects initially available only on iOS 8+ versions of the iPhone 5S, iPad Air, and iPad mini with Retina display.
Announcement
The following text was published on the Apple Store:
Discover the BIGGEST update for Asphalt 8: Airborne since it launched!
Push the pedal to the Metal!

Play on an iPhone 6, iPhone 6 Plus, or on iOS 8-updated versions of iPhone 5s, iPad Air, and iPad mini with Retina display to enjoy AMAZING visual enhancements and enter a new gaming dimension!

Discover the high-speed heat of San Diego Harbor.

Take off from an aircraft carrier and dodge helicopters while taking in the sights!

5 new cars to master
Multiplayer Events

You asked for it, and here is it. Race head-to-head for the ultimate rewards!

Exclusive Metal Season

Experience the exhilaration of racing against 3 TIMES as many opponents as any other Asphalt game! A season ONLY accessible on iPhone 6, iPhone 6 Plus or on iOS 8-updated versions of iPhone 5s, iPad Air, and iPad mini with Retina display
For iOS, an additional v1.6.2 Halloween-based update was launched on October 28, 2014:
Brace yourselves: Halloween is coming, and in Asphalt 8, the monsters of speed are ready!
Terrify other players by infecting them in the Infected Mode of our Halloween Special Multiplayer Event!
Crazy about Time-Limited Events? We've got 2 different events every day of the week where you can win awesome prizes!
Test the Koenigsegg One:1 FOR FREE... The fastest car in the game is here to stay!
Twitch broadcasting functionality has been restored. Show off your Asphalt 8 skills on your Twitch channel!
New Cars
Game Changes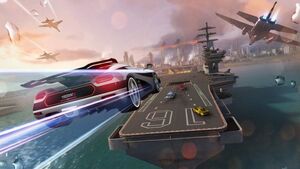 New location added: San Diego Harbor.

New Career Mode events in San Diego Harbor and Dubai added to Seasons 3, 5, 6, 7, and 8.

Dubai tracks added to Quick Solo Race.
AI rank glitches from the Dubai Update fixed.
New Event type: Multiplayer Events. These involve up to 8 or 12 players playing the event as many times as possible to try to win prizes.
Ramp designs on all tracks have been reverted back to their respective original designs instead of using the design used for The Great Wall.
Metal Technology implemented onto the game. It is supported on high-end iOS devices (e.g. iPhone 6/6 Plus, iPad Air, etc.) running iOS 8 or higher and was later made available on high-end Windows devices/PCs and compatible Android devices in the Car Mastery Update and Summer's Over Update, respectively.

Metal Technology introduces new Metal Effects, extra special graphic effects that include Perfect Nitro flame trails, water/snow on lens, blue air trails, rain/snow, etc.
Also introduced along Metal Technology is Exclusive Metal Events. These races take full advantage of the Metal Technology by implementing 24-car races among various tracks (except Tokyo and Westminster Bridge).

The price of the Asphalt Premium Pack consisting of the Jaguar C-X75 and Mercedes-Benz SLS AMG GT Coupé Final Edition has been reduced by 33⅓ to US$19.99.
Another new generic tire compound is introduced in this update, with the markings of "XX-F/Y 2334" and "XXVV4558ZZ".
Metal Effects Examples
NOTE: These screenshots were taken in later updates, but the graphics are still the same as in late 2014.
Trivia
This is the last update to introduce Premium cars, as the Winter Update introduced a new hard currency.
The icon for this update features the Koenigsegg One:1.

This is the first update whose icon features a new car introduced in the update itself as opposed to the update before it.
The One:1 featured on this icon has a red color that is otherwise not selectable in the actual game.
Trailer