The Sbarro GT1 is a mid-engined concept supercar by Sbarro.
Description
The Sbarro GT1 was constructed in 1999 as a tribute to Mercedes-Benz's 1999 24 Hours of Le Mans victory.
The GT1 features a mid-rear-mounted 7.4 L (7,400 cc) Mercedes-Benz V8 with 450 hp (336 kW) and 451 ft·lb (612 N·m) of torque. Power is sent to the rear wheels exclusively by way of a five-speed manual transmission. The GT1 features 18" front wheels and 19" rear wheels. It comes only in Metallic Gray, with red brake calipers. The car has a weight rating of 2976 lb (1350 kg), yielding 333 hp (248 kW) per tonne.
The GT1 is capable of 0 - 60 mph (0 - 97 km/h) in 4.9 seconds and a top speed of 202 mph (325 km/h).
Asphalt 8: Airborne
Summary
The Sbarro GT1 was added in the Asphalt Moments Update as a high-end Class C car with the following statistics:
Starting rank: 1320
MAX rank: 1481 (+161)
MAX+PRO rank: 1580 (+99)
Tuning Kit bonus: +35
Stock-to-MAX+PRO rank difference: 260
Upgrade rank percentages: 20/30/15/35
Nitro Efficiency: 7/12/17
Performance
The Sbarro GT1 can reach a maximum real speed of 419.6 km/h (260.6 mph) at MAX+PRO with Tuning Kit activated. The GT1's overall performance can be considered mediocre, as it has a slow acceleration (reaching maximum speed in approximately 4 seconds) and a very low nitro stat, making it an unsuitable choice for races. On short tracks, it faces competition from the Renault Trezor, which has a lower total speed by 2.7 mph (4.3 km/h) and a much lower raw top speed by 52 mph (84 km/h), but makes up for this with stronger acceleration and nitro efficiency. The only car it can compete with is the BMW M2, which has a similar total speed but better overall nitro efficiency.
The Sbarro GT1 can basically be described as a Class C version of the Zenvo TS1 GT 10th Anniversary Edition and Zenvo ST1, but with sharper handling at lower speeds and a less unique nitro efficiency combination of 7/12/17.
Usage
Due to its very high starting rank, the Sbarro GT1 is too dangerous to even be a good option for Multiplayer. Even for Time-Limited events, the car is never featured in the Top 100 leaderboards due to its speed being 9.7 km/h (6.0 mph) slower than the Maserati Alfieri.
The Sbarro GT1 is only a collector's item due to its lack of performance in Events and Multiplayer. In addition, the GT1's steep Pro Kits costs, especially with its requirement of 40 V8 Engines, means that resources should instead be spent on better cars like the Sbarro Sparta and Maserati Alfieri (for Class C vehicles) or the Chevrolet Corvette Grand Sport and Arrinera Hussarya GT (for efficient V8 Engine use).
Price and Availability
The Sbarro GT1 was originally obtainable only from its Championship event and was on sale during the following dates:
As of the 2020 Christmas Update, the GT1 can now be purchased for

 750,000.
Upgrades cost

 ? while Pro Kits require 15 of each Uncommon component card, 60 Uncommon tech, and

 ?.
Championship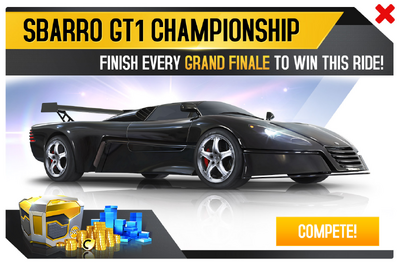 Main article: Championship/Sbarro GT1
The Sbarro GT1's Championship was launched on July 12, 2018. Players are given 4 days to start and 7 days to complete the event.

Vehicles in Asphalt 8: Airborne