Scotland is a country part of the of the United Kingdom. Both Scotland and England share the Anglo-Scottish border to the south. Past the border is the Atlantic Ocean with the Irish sea to the south-west. The country is made up of more than 790 islands including the Northern Isle and the Hebrides. Scotland has an estimated population of 5,424,800 as of 2017. The total area of Scotland is 78,772 km2 (30,414 sq. mi) which is close to the same size of the Czech Republic. The largest city in Scotland is Glasgow which has a population of 621,020.
Asphalt 9: Legends
Scotland is one of the original playable locations in Asphalt 9: Legends.
Variants
30" Variants CR
60" Variants CR
The Enchanted Island
Lighthouse
90" Variants CR
Ancient Ruins
The Path Of The Wind
The Cave
Wildlands
120" Variants CR
Windmills
The Freedom Route

CR = Available in Club Races
Gallery
Tracks Layouts
Trivia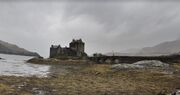 The castle on the track might be partly based off Eilean Donan Castle in Scotland.
In the Chinese version of the game, the track is called "Highlands".
The coordinates in the About section of the Asphalt 9 website leads to Loch Tay, a freshwater lake in Scotland.