The Shop is an in-game store for Asphalt 9: Legends. It is accessed by its green button at the top of the screen or by pressing either the

and

balance.
Overview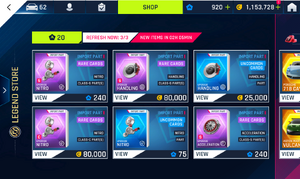 In the Shop, there are 5 different sections to buy items; these consist of Card Packs, Legend Store, Special Offers, Tokens, and Credits. Each section holds its own set of special items to buy and can be bought with

,

, Trade Coins, or real money.
Card Packs
There are 4 different types of Card Packs available to obtain in the store; consisting of the Premium Pack, Ads Pack, Classic Pack, and Special Packs. Ads Pack and Classic Packs are obtained for free while Premium and Special Packs are only purchasable with Tokens. The content of a card pack is determined by the player's Garage Level. See Card Pack for more information.
Legend Store
Legend Store is a market within the Shop where items can be bought before the timer ends. Once the timer ends, new items will be put into the store and the previous items are not available for purchase until it appears again in the next rotation. The items available in the store are randomized and the player is allowed a maximum of 3 refreshes to the store per day for

 20 each. The Legend Store has vehicle and import part blueprints that can be bought using either credits, tokens, or Trade Coins. Epic Import Parts, SIN R1 550, Ford Shelby GR-1, Lamborghini Terzo Millennio, Ferrari 812 Superfast and Nissan Leaf NISMO RC blueprints are only purchasable with Trade Coins.
Special Offers
Special Offers are rewards that have to be bought as a microtransaction. Special Offers are available for a limited time or semi permanent. These offers give players a discount on their items. Prices range from $1.39 – $279.99 USD per item.
During Special Events, Relay Packs may be available, costing

 Tokens. These reward blueprints for a particular car as well as

 Credits. Relay Packs have multiple stages, with each stage granting more blueprints and credits.
Tokens
Tokens are only purchasable as a microtransaction. Like Special Offers, players are given a discount for larger purchases.
Credits
Credits are only purchasable by Tokens or as a special deal that offers credits. Players can receive up to 300% extra credits when making an expensive purchase.
Community content is available under
CC-BY-SA
unless otherwise noted.