The Showdown Update, also known as the 2019 Summer Update, is the 33rd update for Asphalt 8: Airborne.
Announcement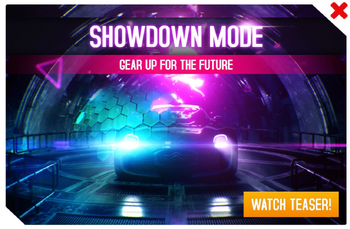 WHAT'S NEW
Gear up for the future with the next generation of racing challenges and technology!
SHOWDOWN MODE
We are proud to introduce a new action-packed, all-out brawl of a game mode! Strategically harness the might of high-tech tools to come out on top. Showdown Mode is available in the TLE section now, and may make more appearances soon!
ASPHALT TOURNAMENT SUMMER 2019
This July, take part in Asphalt Tournament Summer 2019, our first competitive season inspired by eSports competitions! Are you ready for the ultimate skill-driven rivalry?!
3 ABSOLUTE BEASTS
Koenigsegg is back with the CCXR Trevita! The Ford GT finally joins our ranks, together with the Aston Martin Vantage. But wait till you see what we've got up our sleeves for July...
A CENTURY OF BENTLEY
Happy 100th birthday, Bentley! Celebrate a century of excellence in Asphalt 8 by joining our anniversary Special Event. Unlock the Bentley Continental GT3 and play anniversary events this July!
INVENTORY REQUIREMENTS
In our constant quest to improve your experience, you can now manage all of your free upgrades and boosters in a new upgrade section.
Read the full list of changes at https://gmlft.com/UPNotes
New Vehicles
Class D
Class B
Class A
Class S
The new vehicles will need the following engine cards:
V6 Engine

V8 Engine

Aston Martin Vantage 2018 (x48)
Bentley Continental GT3 (x56)
Koenigsegg Regera (x92)
Game Changes
Gameplay Changes
New Game Mode: Showdown
Revived R&D events now have some differences compared to their original runs.
Pro Kit Boxes:

Mid-Tech and Advanced Tech cards have been removed from most boxes with mixed content. Currently, the only common boxes to grant MT or AT are
The drop rates of Pro Kit Boxes with mixed content have changed, probably due to the removal of Mid-Tech and Advanced Tech as well as to a redistribution of common and rare part cards:
 Common:

~ +5 %

 | Rare:

~ −5 %

 | Legendary:

~ ±0 %


Not affected:
The Finish Line Box does not grant i3 or V12 MPI Engines any more.

This means that there is currently no way of obtaining these engines as the Finish Line Box was the only one to grant them.
The box has also stopped granting Mid-Tech and Advanced Tech.
The frequencies of rare and common cards do not match the official drop rates at all.
The box is now VIP-only with this update.

The Specialist Kit Box does not grant a guaranteed Mid-Tech card any more. Contrary to other boxes, its drop rate of rare cards has been reduced by around

10 %

instead of 5, which might reflect the abolished Mid-Tech rule.
After a backlash from players that was caused by the extremely unbalanced card frequencies of the 1 Part - B Box during the Aston Martin Vantage 2018 R&D (it only granted around

0.83 %

Drivetrain and

2.50 %

Exhaust), Gameloft has changed the internal drop rates of the box on June 28, 2019, to a more balanced distribution. Players can now open it for all four kinds of B-Class Parts. The 1 Part - A Box has been corrected as well. It is probable that the other yellow 1 Part Boxes now also have a fairer card distribution.
As of August 1, 2019, the Beginner BP Box † is no longer granted as a Daily Bonus reward. This makes the box de facto unavailable.

The Blueprints that have been made unavailable during the Holiday Update are now available again, but solely in the Exclusive Deals section. They take the slot that formerly offered additional Pro Kit Boxes. The slot now only offers blueprints for vehicles that the player doesn't own yet or previously purchased for credits before they were converted to blueprints. However, the prices have been doubled:
Until July 18, 2019, completing Daily Tasks now only rewarded  

Credits

; the Optimal Shuffle Box and Optimal Split Box rewards had been removed.

This has been changed on July 19, 2019: Optimal Boxes are granted again, together with new rules (the Vehicles task can now grant boxes, too) and new tasks (for example, "Open 5 boxes").

The base Nitro stat of all Class D and C cars have been reduced to 6 mph (10 km/h) in line with the base Nitro stat of the more recent cars added to the game (e.g. Rezvani Beast X, McLaren 600LT).
Most Class D and C vehicles have had certain stats or properties rebalanced. The most common change is a decrease in the Nitro stat with an equal increase in Top Speed or vice versa. The following vehicles are affected:
With a handful of exceptions, the Top Speed-Nitro rebalance of the above vehicles result in no net gain or loss of total speed at MAX+PRO. However, the vehicle's rank increase per upgrade, as well as its MAX+PRO rank, is modified as a result, thus affecting all multiplayer tunes.
The ranks for the following Class D & C vehicles were changed:
All Class A vehicles have their starting ranks increased by 50; their MAX+PRO ranks remain unchanged.
The following vehicles are no longer Blueprint-buildable and are instead purchasable from the garage or obtainable through special events. Players who own some BPs of these vehicles get a discount off the garage cost that varies depending on the number of BPs owned:

The inventory now has an "Upgrades" tab displaying the number of boosters and free upgrades accumulated.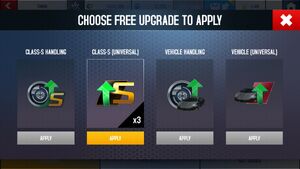 Players are now given up to 4 methods to apply free upgrades when they choose to apply one.
Players can now purchase missing Pro Kit cards with tokens.

This is currently only available for the new events.

"Open 5 Boxes" has been added as a vehicle Daily Task.
The Ford F-150 has its price increased from  

13,000

to  

150

.
Cosmetic Changes
New app icon of a Ford GT (2017).
The speed modification for the following cars has been removed:

The Ford 2006 GT has been renamed to Ford GT 2006.
New loading screen of two DS Survolts in a Showdown race in Barcelona.
The buttons for free and Credits upgrades on the upgrade screens have been swapped. The Credits button is now at the bottom.
When players obtain a Pro Kit Box and have their inventory full or have a Pro kit upgrade ready, the "Inventory" and "OK" buttons on the following screen are swapped.
The VIP icon on the menu bar now also shows the player's current VIP Level.
Exclusive Vehicles
Events
Bugs / Glitches
Buffed Ford GT 2006: If the player has the Ford GT 2006 at MAX+PRO, the top speed and nitro are improved. This is most likely the performance stats of the Ford GT 2017 being erroneously applied on Ford GT 2006.

This was fixed shortly after.

Incorrect Upgrade Ready Screen: If the player has a Championship car that has 10 Pro Kit levels and a free Class Upgrade, the Upgrades tab of the inventory will show said Championship car as being ready to be upgraded.
VIP Level & Licenses Bug: VIP levels, Mastery Licenses and free fuel cans for Time-Limited Events were removed or reset.
The following glitches still persist from the preceding updates:

Unavailable Nitro Starter ads: Some players experience a vanished Play ad! button for Nitro Starters when starting races while the Tuning Kit button is still displayed. Workaround: Playing a Tuning Kit ad first lets the Nitro Starter button reappear (Android).
Pro kit inventory doubled
Old School collection notification if completed prior to being changed in the Halloween Update.

Incorrect R&D Vehicle: The in-game announcement for the Koenigsegg Regera's R&D incorrectly shows a Lamborghini Egoista, Land Rover and the Apollo Intensa Emozione. Restarting the game fixes the glitch.
Post-Update Screen
Trailer