The Sixth Anniversary Update is the 35th update for Asphalt 8: Airborne.
Announcement
Celebrate the Six-Year Anniversary of Asphalt 8 with a NEW TRACK on the moon! Join the Anniversary Festival to win a ton of rewards including the unbelievable Lamborghini Terzo Millennio.
3... 2... 1... LIFTOFF
Strap in for the lunar base and see the world like never before. Ride upside down on magnetic tracks, beware the massive mining machines, and drive straight through the moon's core!
ANNIVERSARY FESTIVAL & EVENTS
Unlock the Lamborghini Terzo Millennio in the Anniversary Festival and get ready for new action-packed events! Race for a chance to get the Rimac C_Two, Lamborghini Aventador SVJ, Acura NSX GT3 Evo and more!
NO MORE ELITE VEHICLES
Starting now, no vehicles will have ELITE status. No more waiting to recharge! All fine-tuned vehicles now have a standard stat distribution.
ASSEMBLY MODIFICATIONS
Several vehicles will no longer require Blueprints, such as the ED Design Torq, McLaren M14A, Sbarro Sparta, and Porsche 718 Boxster S. Check the forum for the full list.
XBOX LIVE INTEGRATION
From now on, you can use your Xbox Live account in Asphalt 8 for authentication, saving progress and completing Xbox Live achievements!
NEW CONTROLLER SUPPORT
DualShock 4 and Xbox One controllers are now supported.
Read the full list of changes at the Gameloft Forum.
New Vehicles
The new vehicles will need the following engine cards:
i4 Engine

Pontiac Solstice GXP (x40)

V6 Engine

Legendary Electric Engine

V12 Engine

Lamborghini Aventador SVJ (x64)

Car-Specific Kit Cards

Lamborghini Terzo Millennio (x220)
Game Changes
Gameplay Changes
New Track: Orbital Loop
New Event Type: Festival (Second Generation)
New Pro Kit card: Car-Specific Kit Cards
Elite Status has been removed with Elite cars being set to the default tune.
All track layouts (except the Orbital Loop tracks) are now available in Quick Solo Race.
The "King's Highway" track is now available in Multiplayer.
R&D Changes:

The recommended rank for several races in R&D are now enforced with races being accessible only if the rank has been met.

However, it is still possible to skip the enforced races with the Auto-Test price.

Tokens are now only awarded for Ultimate AI races.

The total speed (at MAX+PRO with Tuning Kit) for several cars have been reduced:
The blueprints that were made unavailable in the Holiday Update are now available again in the Advanced BP Box †.
The following vehicles are no longer Blueprint-buildable and are instead purchasable from the garage or obtainable through special events. Players who own some BPs of these vehicles get a discount off the garage cost that varies depending on the number of BPs owned:
The speed modifier for the Lamborghini Estoque, Porsche Carrera GT and Aston Martin Vulcan have been removed.
The Tuning Kit boost now provides a universal percentage boost instead of a vehicle specific amont.
Showdown mode medals have been added.
The drop rate of a

Surge Strike

for AI racers has been rebalanced.
The game now supports Dual Shock 4 and Xbox One controllers on iOS.
The Double Credits bonus from ads has been replaced by Multi-Credits at the end of any race. Instead of factor 2, the rewarded Credits are now multiplied with the smallest integer factor such that the result is greater than a defined threshold. The threshold depends on the player's earned career  

Stars

; for advanced players, it is  

25,000

. The amount of rewarded Credits is no longer relevant—the smaller the amount of Credits, the greater the factor.
The Mercedes-Benz GLC Coupe's price was increased from  

45,000

to  

550

.
The extra card option has been removed for boxes containing one single card.
Cosmetic Changes
New songs added:

DJ Gontran - Down to Earth (Menu)
DJ Gontran - Redline (Electronic)

New app icon of a Lamborghini Terzo Millennio.
Some extra visual effects, previously only seen on higher Effects settings in Windows, are now applied on all Effects settings.
The engine note for the Apollo Intensa Emozione has been changed from "Bentley W12" to "Formula One".
New engine sound: "GTR V6" (v6_gtr) which is used by the Acura NSX GT3 Evo.
Events
Bugs/Glitches
Cadillac ATS-V Coupes returned to the garage - Many players that owned the Cadillac ATS-V Coupe reported that their Cadillac ATS-V Coupes were now unowned with a purchase price of  

2,000

.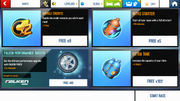 Falken Tyres ad blocking Tuning Kits

(since Oct 16, 2019): For German players, the Tuning Kit panel on the pre-race screen is replaced with an ad by Falken Tyres which deletes the Play ad! button, so players lose 5 Tuning Kits per day. Combined with the persisting "Unavailable Nitro Starter ads" bug (see below), German Android players cannot watch Nitro Starter ads either, which lets them lose 5 Nitro Starters per day.

Missing Pontiac Solstice GXP R&D

: Some players reported that the R&D event of Pontiac Solstice GXP is inaccessible.

This was fixed on October 1st, 2019 and the event was extended by 3 days for the players who encountered the problem.

Automatic Event Participation

: Some players have reported that Special Events are being automatically participated in, even after the time to participate has expired.

Invisible Tokens Rewards

: Tokens awarded when redeeming Daily Task or Multiplayer League Rewards appear with a placeholder icon and no text.
The following glitches still persist from the preceding updates:

System notifications about keys and tires being fully restored appear right after the first key (tire) gets available instead of when all keys (tires) get really available (seen on Android).
Unavailable Nitro Starter ads (since 2019 Spring Update, v4.2.0): Some Android players experience a vanished Play ad! button for Nitro Starters when starting races while the Tuning Kit button is still displayed. Workaround: Playing a Tuning Kit ad first lets the Nitro Starter button reappear (Android).
Update Trailer
Post-Update Screen
Trivia
The update was not mandatory to continue playing (for players who currently have the Sixth Anniversary Mini Update) until September 25, 2019 (for iOS and Android players, the same day the update was released for Windows).
Community content is available under
CC-BY-SA
unless otherwise noted.