Line 50:
Line 50:
 

| style="text-align:center;"|18

 

| style="text-align:center;"|18

 

| style="text-align:center;"|38

 

| style="text-align:center;"|38

−

| style="text-align:center;"|

+

| style="text-align:center;"|

 

|-

 

|-

 

| style="text-align:center;"|Finish a Mastery Race <span style="color: orange;">X</span> times

 

| style="text-align:center;"|Finish a Mastery Race <span style="color: orange;">X</span> times
---
Revision as of 04:10, 26 December 2018
The Snowflurry Festival was a Festival event for Asphalt 8: Airborne as part of the Holiday Update. The event was available between December 24, 2018 and January 3, 2019.
Description
The objective of the event is to collect
​​ Festival Coins and exchange for rewards.
The Festival Coins can be collected by the following means:
Note: Milestone rewards are not granted automatically, but have to be claimed by tapping on them and then tapping on the "claim" button which can easily be overlooked.
Any coins leftover at the end of the event are converted into credits (

 12​​ per coin).
Snowflurry Quests
Each of the 30 Snowflurry Quests has 3 levels to complete and award Festival Coins when a level is completed. Completing all 90 quests awards a total of
 4,500​ and a
 1,000​ completion bonus.
Task
1st Level
 25
2nd Level
 50
3rd Level
 75
Finish a Career race X times
18
38
98
Break X obstacles on the track
58
118
188
Use any booster X times
2
3
8
Finish a Multiplayer race X times
18
38
58
Finish a Mastery Race X times
8
18
28
Finish a Tag race X times
3
8
18
Finish X races without wrecks
3
5
10
Do X Flat Spins
18
58
118
Do X Backflips on a motorcycle
2
5
10
Play Moto Blitz events X times
3
8
18
Available on December 28, 2018
Place first in a race X times in CAREER
Upgrade your vehicle X times
2
Trigger X Perfect Nitros
18
Near-miss other vehicles X times
Be Airborne for X seconds
Perform X Perfect Runs
8
Score  X​
Perform X Perfect Runs in one race X times
|
|
|
Finish in rank 1 in Moto Blitz races X times
Knock down other racers X times
Drift X meters overall
8888
Perform X Perfect Nitros in one race X times
|
|
|
Finish X races without wrecks in Multiplayer
Place first in a race X times in Events
Do X Barrel Rolls
Perform 3 Flat Spins in one jump X times
Pull a wheelie for X meters on a motorcycle
Perform X Stunts on a motorcycle
Place first in a race X times in Multiplayer
Perform X Barrel Rolls in one jump X times
|
|
|
Drive X meters using nitro!
8888
Rewards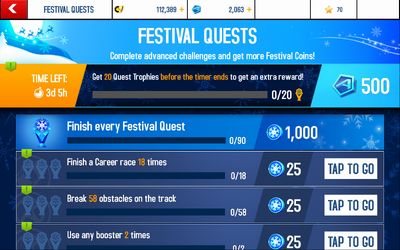 Unlike previous Festivals, the Snowflurry Festival has an additional reward of

 500 for obtaining 20 quest trophies before the timer ends.
Bundles

Starter Snowflurry Bundle

Extra Snowflurry Bundle

Deluxe Snowflurry Bundle
Milestones
Merry Snowflurry Package

Jolly Snowflurry Package

Festive Snowflurry Package
Trivia
Similar to the Halloween Festival, the Snowflurry Festival has a unique sound effect when quests rewards are claimed.
Tips & Tricks
AI drivers in front of you can collect coins will have a blue glow if coins are collected. If you knock them down you get all the coins they have collected. This doesn't apply to knockdown targets in Knockdown events, where they can still collect coins but do not glow.
Tracks with little to no lane variation and short length are recommended to get as many Coins in a single race and complete quests as quickly as possible.
It is best to use vehicles which have Season 9 races that take place on short tracks (eg: MB Silver Lightning in Dubai and Koenigsegg One:1 in San Diego Harbor)  to achieve the "Finish First in career X times" if the player wants to grind and achieve that milestone at the same time.

If the player owns the McLaren MP4-31, its 6th race in the McLaren Legends Season can be used for the same purpose.
In either case, it is best to collect all the  in Career prior to playing the aforementioned races.
In the case of Moto Blitz, time attacks which have a time limit of 50 seconds would be useful. Again, collecting all the  is recommended prior to playing time attacks.