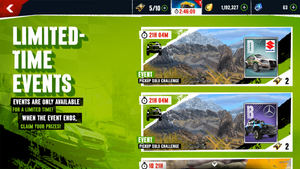 A Solo Challenge is a type of Limited-Time Event in Asphalt Xtreme. Events start at 12:00 UTC, last 24 hours and cost

 2 to play. Since the development stop of the game, all events follow a predefined schedule repeating after three weeks.
There are two versions of Solo Challenges each day, one for level 5 and one for level 10 vehicles with better rewards but faster opponents.
Races are archetype-specific; for example in a "Buggy Solo Challenge", only buggies can be used. Each archetype has its Solo Challenge except Muscle Cars.
Rewards
Solo Challenges only have milestone rewards: a time goal, "Finish 1st" and "Finish race".
The Finish 1st and Finish race goals grant

 Credits,

 Tokens and sometimes

Nitro Rechargers, with level 10 events usually granting the double amount of level 5 events.
The time goal usually grants two Class-D Blueprints for level 5 and one Class-B Blueprint for level 10 events, changing every week.
However, with the removal of the Perlini 105F Red Tiger from the game, the events of week 3 seem to have been inconsistently and inaccurately adapted:
On one day, the Perlini blueprint remained and can be used to overclock the car by players who already owned it prior to its removal. On the other days, it was replaced with
10x Unimog U 4023 Blueprint so that both level 5 and 10 events grant the same card,
3x Class-D Error, apparently the result of a string allocation error which produces a non-existing card with no use at all.
Calendar
Status icon explanation:

: Not running –

: Running –

: Starting today
Week 1
No.
Status
Next
Archetype
Track
Lvl 5
Lvl 10
Details
1
Feb 13, 2022
Pickup
Across Waterfalls
→Details
2
Feb 14, 2022
Buggy
Himalayan Mountains
→Details
3
Feb 15, 2022

Monster Truck

High Altitude
→Details
4
Feb 16, 2022
SUV
Ice Tunnel
→Details
5
Feb 17, 2022
Truck
Racing Blast
→Details
6
Feb 18, 2022
Rally Car
Dry Plains
→Details
7
Jan 29, 2022
Pickup
Autumn Winds
→Details
Week 2
No.
Status
Next
Archetype
Track
Lvl 5
Lvl 10
Details
8
Jan 30, 2022
Buggy
Thai Beach
→Details
9
Jan 31, 2022
Monster Truck
Industrial Downtown
→Details
10
Feb 1, 2022
SUV
Ice Tunnel
→Details
11
Feb 2, 2022
Truck
Desert Dash
→Details
12
Feb 3, 2022
Rally Car
Dry Plains
→Details
13
Feb 4, 2022
Pickup
High Altitude
→Details
14
Feb 5, 2022
Buggy
Across Waterfalls
→Details
Week 3
No.
Status
Next
Archetype
Track
Lvl 5
Lvl 10
Details
15
Feb 6, 2022
Monster Truck
Himalayan Mountains
→Details
16
Feb 7, 2022
SUV
Forbidden Oasis
→Details
17
Feb 8, 2022
Truck
Autumn Winds
→Details
18
Feb 9, 2022
Rally Car
Mountain Village
→Details
19
Feb 10, 2022
Pickup
Aircraft Boneyard
→Details
20
Feb 11, 2022
Buggy
Thai Beach
→Details
21
Feb 12, 2022
Monster Truck
Lost Catacombs
→Details
Event Details
1 - Pickup, Across Waterfalls, Suzuki
Status
Starting in 15 days
Duration
24 hours
Entry
 

2

Track
Across Waterfalls
Mode
Classic
Level
5
Vehicles
Pickup
Status
Starting in 15 days
Duration
24 hours
Entry
 

2

Track
Across Waterfalls
Mode
Classic
Level
10
Vehicles
Pickup
2 - Buggy, Himalayan Mountains, Suzuki
Status
Starting in 16 days
Duration
24 hours
Entry
 

2

Track
Himalayan Mountains
Mode
Classic
Level
5
Vehicles
Buggy
Status
Starting in 16 days
Duration
24 hours
Entry
 

2

Track
Himalayan Mountains
Mode
Classic
Level
10
Vehicles
Buggy
3 - Monster Truck, High Altitude, Suzuki
Status
Starting in 17 days
Duration
24 hours
Entry
 

2

Track
High Altitude
Mode
Classic
Level
5
Vehicles
Monster Truck
Status
Starting in 17 days
Duration
24 hours
Entry
 

2

Track
High Altitude
Mode
Classic
Level
5
Vehicles
Monster Truck
4 - SUV, Ice Tunnel, Suzuki
Status
Starting in 18 days
Duration
24 hours
Entry
 

2

Track
Ice Tunnel
Mode
Classic
Level
5
Vehicles
SUV
Status
Starting in 18 days
Duration
24 hours
Entry
 

2

Track
Ice Tunnel
Mode
Classic
Level
10
Vehicles
SUV
5 - Truck, Racing Blast, Suzuki
Status
Starting in 19 days
Duration
24 hours
Entry
 

2

Track
Racing Blast
Mode
Classic
Level
5
Vehicles
Truck
Milestone rewards
Time 1:37
2x Suzuki SX-4 S-Cross Blueprint
Finish 1st
Nitro Recharger
Finish race
 

1,500
Status
Starting in 19 days
Duration
24 hours
Entry
 

2

Track
Racing Blast
Mode
Classic
Level
10
Vehicles
Truck
Milestone rewards
Time 1:28
Mercedes-Benz Ener-G-Force Blueprint
Finish 1st
2x Nitro Recharger
Finish race
 

3,000
6 - Rally Car, Dry Plains, Suzuki
Status

Running

Duration
24 hours
Entry
 

2

Track
Dry Plains
Mode
Classic
Level
5
Vehicles
Rally Car
Status

Running

Duration
24 hours
Entry
 

2

Track
Dry Plains
Mode
Classic
Level
10
Vehicles
Rally Car
7 - Pickup, Autumn Winds, Suzuki
Status
Starting today
Duration
24 hours
Entry
 

2

Track
Autumn Winds
Mode
Classic
Level
5
Vehicles
Pickup
Status
Starting today
Duration
24 hours
Entry
 

2

Track
Autumn Winds
Mode
Classic
Level
10
Vehicles
Pickup
8 - Buggy, Thai Beach, Jeep
Status
Starting in 1 day
Duration
24 hours
Entry
 

2

Track
Thai Beach
Mode
Classic
Level
5
Vehicles
Buggy
Status
Starting in 1 day
Duration
24 hours
Entry
 

2

Track
Thai Beach
Mode
Classic
Level
10
Vehicles
Buggy
9 - Monster Truck, Industrial Downtown, Jeep
Status
Starting in 2 days
Duration
24 hours
Entry
 

2

Track
Industrial Downtown
Mode
Classic
Level
5
Vehicles
Monster Truck
Status
Starting in 2 days
Duration
24 hours
Entry
 

2

Track
Industrial Downtown
Mode
Classic
Level
10
Vehicles
Monster Truck
10 - SUV, Ice Tunnel, Jeep
Status
Starting in 3 days
Duration
24 hours
Entry
 

2

Track
Ice Tunnel
Mode
Classic
Level
5
Vehicles
SUV
Milestone rewards
Time 1:30
2x Jeep Wrangler Rubicon Blueprint
Finish 1st
Nitro Recharger
Finish race
 

1,500
Status
Starting in 3 days
Duration
24 hours
Entry
 

2

Track
Ice Tunnel
Mode
Classic
Level
10
Vehicles
SUV
Milestone rewards
Time 1:21
Volkswagen Type 2 (T1) Blueprint
Finish 1st
2x Nitro Recharger
Finish race
 

3,000
11 - Truck, Desert Dash, Jeep
Status
Starting in 4 days
Duration
24 hours
Entry
 

2

Track
Desert Dash
Mode
Classic
Level
5
Vehicles
Truck
Status
Starting in 4 days
Duration
24 hours
Entry
 

2

Track
Desert Dash
Mode
Classic
Level
10
Vehicles
Truck
12 - Rally Car, Dry Plains, Jeep
Status
Starting in 5 days
Duration
24 hours
Entry
 

2

Track
Dry Plains
Mode
Classic
Level
5
Vehicles
Rally Car
Status
Starting in 5 days
Duration
24 hours
Entry
 

2

Track
Dry Plains
Mode
Classic
Level
10
Vehicles
Rally Car
13 - Pickup, High Altitude, Jeep
Status
Starting in 6 days
Duration
24 hours
Entry
 

2

Track
High Altitude
Mode
Classic
Level
5
Vehicles
Pickup
Status
Starting in 6 days
Duration
24 hours
Entry
 

2

Track
High Altitude
Mode
Classic
Level
10
Vehicles
Pickup
14 - Buggy, Across Waterfalls, Jeep
Status
Starting in 7 days
Duration
24 hours
Entry
 

2

Track
Across Waterfalls
Mode
Classic
Level
5
Vehicles
Buggy
Status
Starting in 7 days
Duration
24 hours
Entry
 

2

Track
Across Waterfalls
Mode
Classic
Level
10
Vehicles
Buggy
15 - Monster Truck, Himalayan Mountains, Unimog
Status
Starting in 8 days
Duration
24 hours
Entry
 

2

Track
Himalayan Mountains
Mode
Classic
Level
5
Vehicles
Monster Truck
Milestone rewards
Time 1:18
2x Unimog U 4023 Blueprint
Finish 1st
Nitro Recharger
Finish race
 

1,500
Status
Starting in 8 days
Duration
24 hours
Entry
 

2

Track
Himalayan Mountains
Mode
Classic
Level
10
Vehicles
Monster Truck
Milestone rewards
Time 1:09
10x Unimog U 4023 Blueprint
Finish 1st
2x Nitro Recharger
Finish race
 

3,000
16 - SUV, Forbidden Oasis, Unimog
Status
Starting in 9 days
Duration
24 hours
Entry
 

2

Track
Forbidden Oasis
Mode
Classic
Level
5
Vehicles
SUV
Status
Starting in 9 days
Duration
24 hours
Entry
 

2

Track
Forbidden Oasis
Mode
Classic
Level
10
Vehicles
SUV
17 - Truck, Autumn Winds, Unimog
Status
Starting in 10 days
Duration
24 hours
Entry
 

2

Track
Autumn Winds
Mode
Classic
Level
5
Vehicles
Truck
Status
Starting in 10 days
Duration
24 hours
Entry
 

2

Track
Autumn Winds
Mode
Classic
Level
10
Vehicles
SUV
(Bug: No trucks but only SUVs can be used.)
18 - Rally Car, Mountain Village, Unimog
Status
Starting in 11 days
Duration
24 hours
Entry
 

2

Track
Mountain Village
Mode
Classic
Level
5
Vehicles
Rally Car
Status
Starting in 11 days
Duration
24 hours
Entry
 

2

Track
Mountain Village
Mode
Classic
Level
10
Vehicles
Rally Car
Milestone rewards
Time 1:21
3x Class-D Error
Finish 1st
 

6,000

Finish race
 

5
This event has several mistakes:
19 - Pickup, Aircraft Boneyard, Unimog
Status
Starting in 12 days
Duration
24 hours
Entry
 

2

Track
Aircraft Boneyard
Mode
Classic
Level
5
Vehicles
Pickup
Status
Starting in 12 days
Duration
24 hours
Entry
 

2

Track
Aircraft Boneyard
Mode
Classic
Level
10
Vehicles
Pickup
20 - Buggy, Thai Beach, Unimog
Status
Starting in 13 days
Duration
24 hours
Entry
 

2

Track
Thai Beach
Mode
Classic
Level
5
Vehicles
Buggy
Status
Starting in 13 days
Duration
24 hours
Entry
 

2

Track
Thai Beach
Mode
Classic
Level
10
Vehicles
Buggy
21 - Monster Truck, Lost Catacombs, Unimog
Status
Starting in 14 days
Duration
24 hours
Entry
 

2

Track
Lost Catacombs
Mode
Classic
Level
5
Vehicles
Monster Truck
Milestone rewards
Time 1:18
2x Unimog U 4023 Blueprint
Finish 1st
Nitro Recharger
Finish race
 

1,500
Status
Starting in 14 days
Duration
24 hours
Entry
 

2

Track
Lost Catacombs
Mode
Classic
Level
10
Vehicles
Monster Truck
Milestone rewards
Time 1:09
10x H&H Bulldog Extreme 4x4 Blueprint
Finish 1st
2x Nitro Recharger
Finish race
 

3,000