Special Event is an event type in Asphalt 9: Legends.
Overview
Special Events are Time Limited Events that features one unique car that can be obtained from the event. Special Events are usually 2 - 4 weeks long and blueprints of the featured car will not be available when the event is over.
Stages
Stages are races that unlock every 24 hours during the Special Event. Players have to beat a certain time to obtain all rewards for that stage. For some stages, it requires to have a certain car with a required rank to start the race.
Final Stage - Tournament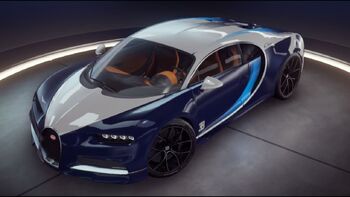 The final stage in a Special Event is a tournament that is 3 days long. Players have to post the fastest time with the featured car. Rewards from this stage include Epic Import parts,

,

and a decal for the featured car. The decals are only obtainable from the tournament. Players who finish in the top 10 will have the decal awarded to them and everyone in their club.
Strategy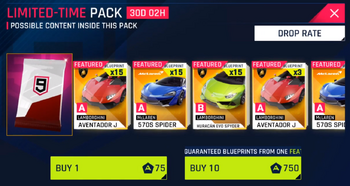 Special Events require the player to carefully choose the cars used in the event. As the stages will require a certain star rating to unlock the race, the player's supply of

can determine how successful they will be; ~ 5000

 5,000 should be saved up to cover any unexpected increases in the required rating.
Since the Koenigsegg Regera Special Event, Car Hunts are now available in Special Events for players to obtain Blueprints without spending tokens and car packs can be purchased from the store. Stages of an event may require the featured car at a certain rating for the player to receive the rewards of that stage while other stages may require the featured car to have a certain number of epic import parts installed or be unlocked and with a certain star rating to run a race.
Events
2018
2019
2020
Special Event

Event
Featured Vehicle
Other Featured Cars
Bugatti Chiron

Bugatti Chiron
Maserati Alfieri • McLaren 570S Spider
Koenigsegg Regera

Koenigsegg Regera
Apollo N • Vencer Sarthe
Lamborghini Huracán EVO Spyder

Lamborghini Huracán EVO Spyder
N/A
Lamborghini Terzo Millennio

Lamborghini Terzo Millennio
Lamborghini Aventador J
Ferrari LaFerrari Aperta

Ferrari LaFerrari Aperta
Porsche 911 Targa 4S • Mercedes-Benz SLR McLaren
McLaren Senna

McLaren Senna
Arrinera Hussarya • Aston Martin Vantage GT12
Zenvo TS1 GT 10th Anniversary Edition

Zenvo TS1 GT 10th Anniversary Edition
Artega Scalo Superelletra • Porsche 911 GT3 RS (991.2)
Pininfarina Battista

Pininfarina Battista
Aston Martin DBS Superleggera • Vanda Electrics Dendrobium
Lotus Evija

Lotus Evija
Honda Civic Type-R (FK8)
Porsche Carrera GT

Porsche Carrera GT
*Porsche 718 Cayman GT4 Clubsport • Porsche 911 GT1 Evolution • *Porsche 911 GT2 RS Clubsport

* Released in separate events

Community content is available under
CC-BY-SA
unless otherwise noted.