Some vehicles in Asphalt 8: Airborne and Asphalt Nitro do not display their effective in-game speed either on the speedometer or in the garage stats.
This anomaly, called Speed Modification or Fake Speed, does not change the vehicle's speed in a race. Besides the discrepancy between displayed and true values, it only potentially lures unaware players into acquiring vehicles that are actually unable to meet their expectations.
The extent of its effect varies across vehicles. This table shows in percents the ratio of practical over displayed values. Any vehicle not listed is free from Speed Modification; motorcycles are excluded as well, for they all share a marginal 100.03% coefficient.
Notes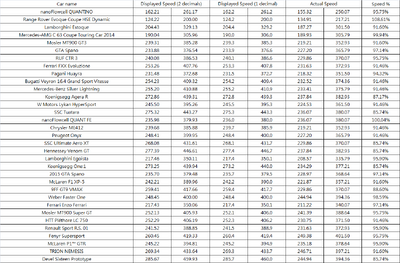 Displayed and real Top Speed considered with Level 3/Perfect Nitro applied.
Elite vehicles at default Elite settings.
The "+ or -" header indicates whether the vehicle is faster or slower than displayed.