Overview
The Suzuki GSX-R750 (2011-2017) has a new clean and sleek body style, new headlight, and the addition of Italian-made Brembo brake calipers (front) and Nissin (back). The 2011 model is about 9 kilograms (20 lb) lighter than the previous year's model. It has a "back torque limiting" clutch that allows for slicker downshifting. A lightweight Showa Big Piston Fork (BPF)comes standard along with a Showa rear shock. Features a more compacted instrument panel which was inspired by the GSX-R1000 instrument panel. The engine power produced at the rear wheel is 127.9 hp (95.4 kW)@ 12,600 rpm. Torque at the rear wheel is 55.7 lbf·ft (75.5 N·m) @ 11,100 rpm. Wet Weight is 194.1 kg (428 lb).
Summary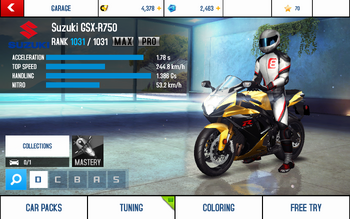 The Suzuki GSX-R750 was added in the Motorcycles Update as a low Class D motorcycle with the following rank statistics:
Official review
This is the official review of the Suzuki GSX-R750 on the Asphalt YouTube channel, made by ReV_Tez and published on September 13, 2017:
Time to reach end of Tokyo straight: 10.197s
Perfect nitro duration: 8.811s
Triple nitro duration: 6.402s
Nevada Reverse lap time: 1.33.952s
Final verdict: "THE GSX-R is not suited for competitive races. However, it is still stronger than a high majority of the D Class vehicles. If a player can efficiently maintain the focus meter then it becomes possible to challenge slightly faster cars even if playing with single tank. Finally, it is ideal to practice with to prepare for the faster bikes yet to come."
Usage
Owing to its low price and performance (competing with early vehicles), the Suzuki GSX-R750 is intended as a starter motorcycle, much like how the Dodge Dart GT is the (mandatory) starter car. In fact, the first and second season of the Moto Blitz career are dedicated to the GSX-R750, and the motorcycles tutorial uses the GSX-R750 in a modified Tokyo track.
A tune of 0 1 0 10 will allow the GSX to reach 172 mph (276 km/h) with a Tuning Kit at a rank of 811, and using the new Supercharged nitro feature for bikes, it can reach 181 mph (291 km/h) at this rank.
If the GSX-R750 is to be used in Multiplayer, it is recommended to keep the GSX-R750's tune low enough to keep it within the vicinity of the Dart and away from the Audi R8 e-tron Special Edition.
Price
The Suzuki GSX-R750 has a purchase price of
 30,000 or

 200. As of the 2019 Spring Update, upgrades cost
 136,000 and Pro Kits require
 44,800, 5 of each Class D Bike Parts, 12 Common Tech cards and 4 Four-Stroke engine cards.
The Suzuki GSX-R750 was also part of the 23rd Multiplayer Season, Garden Season 2 as an Amateur League reward. Players who already had the GSX-R750 would win
 15,000 instead.
Community content is available under
CC-BY-SA
unless otherwise noted.