Description
The Suzuki Hayabusa (Japanese for "Peregrine falcon" - the fastest animal in the world) or the GSX1300R is a production motorcycle by Suzuki that appears in Asphalt 8: Airborne.
It is notable for being one of the fastest production bikes in the world.
Asphalt 8: Airborne
Summary
The Suzuki Hayabusa was added in the Motorcycles Update as a low Class S vehicle with the following statistics:
As of the Fifteenth Anniversary Update, the Hayabusa is now a high-end Class B vehicle.
Performance
Following the trend of motorcycle performance, the Hayabusa possesses extreme acceleration, handling and drifting, at the expense of low top speed.
However, the Hayabusa's Supercharged nitro allows it to reach speeds of up to 491km/h, faster than some top-end S Class cars like the Pagani Huayra BC.
The Suzuki Hayabusa has a nitro efficiency rating of 6/9/12. This gives it the best level 3 nitro efficiency in all of Class S, as well as one of the best overall nitro efficiency ratings for its class. It is only inferior to the Cadillac 16 Concept for level 1 nitro efficiency.
In conclusion, the Hayabusa has excellent stats, In fact, if not for its low top speed of only 458.6km/h, it would've been among the best vehicles for Class S.
Official review
Official review of the Suzuki Hayabusa by ASL Tae Hwan Kim on October 9, 2017:
Time to reach end of Tokyo straight: 7.293s
Perfect nitro duration: 11.550s
Triple nitro duration: 7.887s
London lap time: 1.02.469s
Final verdict: "The Suzuki Hayabusa is a wonderful bike that has an amazing acceleration and handling. Thanks to its powerful Supercharged nitro, it can beat mid-term S Class cars despite its low rank. However, it's not recommended for MP since cars can easily knock you down."
Usage (Multiplayer)
Because of its relatively high stock-to-MAX+PRO rank increase, the Suzuki Hayabusa has some use in Multiplayer. Following are some of the best tunes.
0-10-0-10 0-0-0-0 Rank 1457. This tuning gives a speed of 259.7 mph (417.9 km/h), and it can reach over 276 mph (444.2 km/h) when Super-charged. Since this bike requires a much higher tuning to complete its R&D, it is unlikely that the player will be able to win it at this rank. However, if the player managed to assemble the bike without playing its R&D, this would be the optimal tuning for multiplayer, as bike parts are extremely rare.
0-10-0-10 1-1-1-1 Rank 1476. This tuning gives a speed of 263.0 mph (423.2 km/h), and it can reach up to 280 mph (~450 km/h) when Super-charged. Again, it is unlikely that the player can obtain the bike at this rank, but if they do, this is possibly the best tune for mid-rank multiplayer. The Hayabusa can reach about the same speed as a McLaren MP4/8 at rank 1476, and when Super-Charged, it can reach the speed of a TVR Sagaris at rank 1480.
0-10-0-10 2-2-2-2 Rank 1499. This tuning gives a speed of 267.2 mph (430 km/h), and it can reach up to 284 mph (457 km/h) when Super-charged. While being slightly faster than the aforementioned tunes, this tune is more likely to have bad matchmaking in multiplayer, especially if the player does not risk points.
0-10-0-10 5-4-5-3 Rank 1571. When Super-charged, the Hayabusa with this tune can reach 300 mph, a speed only a handful other cars are able to reach below 1600. Without Super-charge, it reaches 281.6 mph.
0-10-0-10 5-5-5-5 Rank 1598. This allows the bike to reach its maximum speed, 285 mph(459km/h) without Super-charge and 304 mph(492km/h) with it, around 1600 rank. This is probably the most competitive tune for multiplayer.
While the Suzuki Hayabusa has several decent tuning setups, the driver must be very careful with the handling physics of motorcycles as it can cause sudden wrecks on the tunnels/raised sections of Nevada, Tokyo, The Great Wall, Sector 8, Tenerife, and Patagonia.
With the release of the Audi R8 e-tron Special Edition, the Hayabusa's usability in Multiplayer is obliterated as it is unable to compete at any upgrade setup.
Price
The Suzuki Hayabusa can be assembled by obtaining 10 of its Legendary-rarity Blueprints. Assembly takes 9 hours but can be skipped for up to

 371.
As of the 2019 Holiday Update, the bike no longer requires Blueprints to be assembled and has a full purchase price of

 3,500.
As of the Fifteenth Anniversary Update, the Hayabusa has no longer

upgrades, but 10

levels instead, which cost total

 ??. Previously in the 2019 Spring Update, upgrades costed

 957,000 while Pro Kits required

 320,000, 12 of each Class S Bike Part, 24 Rare Techs, 16 Pro Techs and 20 Four-Stroke engines.
Research & Development
Main article: Research & Development/Suzuki Hayabusa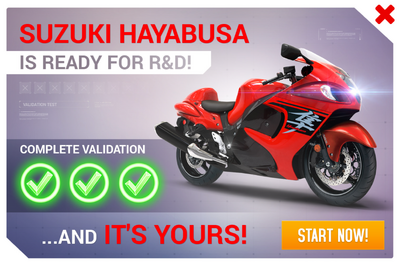 The Hayabusa's Research & Development event was launched on October 3, 2017. The event has 65 Tests spanning 4 Labs with a time limit of 12 days.

Vehicles in Asphalt 8: Airborne