TVR is an independent British manufacturer of high-end sports cars. It was founded in 1947 by Trevor Wilkinson. The name TVR is taken from the abbreviation of the founder's name TREVOR.
Overview
In 1946, he purchased an old wheelwright's workshop in Beverley Grove, Blackpool, to start an engineering business that he named Trevcar Motors. Initially, the company performed general engineering work (not always automobile related), and would also refresh and service cars and trucks. In 1947, local auto enthusiast Jack Pickard joined the company. Trevcar Motors was subsequently renamed to TVR Engineering (dropping several letters from Wilkinson's first name), and it continued to find general mechanical engineering work through the following years.
On 6 June 2013, it was reported that Nikolay Smolensky had sold his entire ownership of TVR to TVR Automotive Ltd, a UK company led by Les Edgar and John Chasey.
To coincide with the 2014 Classic Car Show, TVR announced a TVR Genuine Parts initiative to guarantee continuity of supply of parts for classic TVRs and the formation of a new company TVR Parts Ltd which is exclusively licensed to sell genuine parts worldwide, taking over the last stock remaining when the factory closed and the previous TVR parts business operations of Racing Green, Clever Trevor and Multipart Solutions. This was augmented the following year with the purchase of the parts business of David Gerald/Classic World Racing who had held the licence for pre 1980's TVRs.
On 3 June 2015, it was revealed that development of the new car had been underway for more than a year, with partners Gordon Murray and Cosworth, that would be launched in 2017, followed by additional models as part of a 10-year plan. The new car boasted an impressive specification, front engined, rear wheel drive, normally aspirated Cosworth V8 mated to a manual transmission, that caused it to be described as "God's own sports car". Codenamed T37, deposits were taken in anticipation for delivery in 2017.
Further details of the engine were revealed on 7 October 2015 as being based on the 5.0 L Ford Coyote V8, with modifications by Cosworth including lighter flywheel, dry sump lubrication and unique engine management, to generate from 450 to 500 hp (336 to 373 kW; 456 to 507 PS), depending on the variant.
On 22 March 2016, the First Minister of Wales Carwyn Jones announced that TVR would build its factory in Ebbw Vale adjacent to the Circuit of Wales, creating 150 jobs, with TVR also receiving an undisclosed investment from the Welsh Government.
On 5 June 2017, it was announced the first public viewing and launch of the car would take place at the Goodwood Revival on 8 September 2017, to coincide with the marque's 70th anniversary year. On 8 September 2017, at the Goodwood Revival, the TVR Griffith was unveiled, featuring designwork by Gordon Murray, a 5.0 L Ford Cosworth V8 engine, and a carbon fibre ground effect chassis.
It was announced in January 2018 that the Welsh Government had previously acquired a minority 3% stake in TVR in early 2016, following independent and specialist due diligence, for the sum of £500,000. With this share purchase, it also provided a £2 million repayable commercial loan to the company, alongside a private sector lender. According to the Welsh Government, the minority stake will "ensure the Welsh tax payer will benefit from the company's successes".
In June 2020, Autocar reported that TVR was owed more than £8.23 million from debtors, and has net assets slightly exceeding £2.1 million. TVR needed to pay off a £2 million loan from the Welsh government and a £3 million loan from financial firm Fiduciam. To fulfill its obligations and put the Griffith into production, TVR attempted to raise £25 million by issuing bonds on the Euronext Dublin, Ireland's main stock exchange, through Irish firm Audacia Capital. In January 2021, Fiduciam granted TVR a new £2 million loan through the UK's Coronavirus Business Interruption Loan Scheme.
Cars
Trivia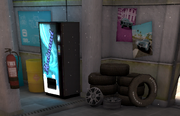 In the garage of Asphalt Overdrive, there is a hidden blue board with design drawings of a TVR Tuscan Challenge, a car that never made it into one of the Asphalt games.