So you improved again from 1416.... to 1513! And you are in the top 3000 for World Series :) Keep improving. I want to reply when you are online so there are more messages beig sent..... explains why I haven't sent a message yet. I am currently  at position 2,123 with a rank of 1578. I did get up to 1606 but ranking went down.
Lol, I highly doubt I will be a youtuber now or when I'm 18. I don't even have a proper camera plus I don't have enough cars/skills. It's best for me to enjoy A8 as a hobby right now.
Well, when I have school on weekdays (not for another 2 more weeks, lucky me!), I play A8 only for TLE (1-3 goes with TK+NT) and I buy SRKB. I only farm on weekend (1-3 hours) but I won't play MP when I have school (very rarely, once in 2 weeks) but I 'play' A8 everyday, just to play TLE for tokens. I play everyday, just for 10-15 mins. The way I get so much money is that I use double credits and do Challenge 15 of Veneno (500+ each hour).
Btw....., I bought the Integra for the Enduro and upgraded it to 1426 rank (0-5-0-3, 2-0-2-1) .
Found any FIV8's yet? Any good Mp clips?
My integra- Will be buying the Nismo and Avantador soon for the Enduro Challenge.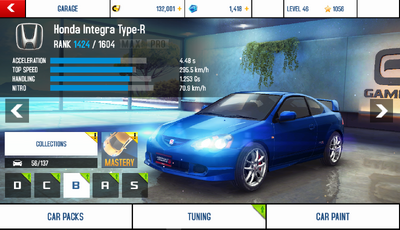 The update on Windows proof- here