A Time-Limited Event, often shortened to TLE or simply denoted as Event, is an internet based competition available to players in Asphalt 8: Airborne, Asphalt 9: Legends , Asphalt Nitro, and Asphalt Xtreme (the latter using the term Limited-Time Event). Each event is only available for a limited amount of time, ranging from 1 to 7 days, after which players who competed can claim their rewards. For the most part, a racer's rewards are judged by their lap time although Multiplayer Events present an exception.
Events require fuel to play in Airborne, tickets in Legends and Xtreme. The amount an event requires varies, but it is important to keep an eye on your bar or you might run it dry. The bar contains 10 points, each of which takes 10 minutes to refill. Alternatively, you can purchase a refill for

 65 or watch an ad video once a day and get a free refill--except for the Apple TV platform. As of the Motorcycles Update, the ad is no longer available on all platforms.
Events usually require you to own certain cars in order to play. On occasion events will allow players to drive a car they do not own, for free. The button to chose the car will say FREE TRY (or FREE TRY - UPGRADABLE if the event allows upgrades). Usually this is the case before a new car becomes available, and the top X players get the car as a leaderboard reward. A few times it was also to 'advertise' an already released car, such as with the BMW M3 Sedan shortly after its release, and the button will say Stock Vehicle if the player owns the car, regardless of any upgrades installed. As of the Porsche Update, the "Stock Vehicle" text has been removed altogether and the "NEXT" button now says "FREE TRY" even if the player already owns the car.
Event Rewards
There are several types of event rewards:
Race Rewards
Race rewards typically include a prize for participating, for finishing in first/third place, finishing within a certain time, etc. Unlike with Leaderboard Rewards, other player's scores are not taken into account. Once you win a Race Reward, you cannot lose it.
Leaderboard Rewards
Leaderboard Rewards combine scores from all across the world, with the highest scores at the top and the lowest scores at the bottom. Each platform (iOS, Android, Windows) has its own Leaderboard, and potentially different cut-off levels. Leaderboard prizes get increasingly more valuable as your position gets higher. As new scores are constantly being uploaded by other players, just because you currently have a certain position does not mean you have secured the reward.
The Leaderboard can be global, or, more rarely, national or divisional, for a 5'000-Player "Division". For instance the Ferrari 612 Scaglietti Cup was a Division Cup, with the top 1 player from each division wins the car, or the Ferrari Testarossa Cup being a national cup.
Score Rewards
Score Rewards are available in Multiplayer Events and reward you for a certain number of points you have achieved. As with Race Rewards, you cannot lose the reward once you achieved it.
Trophy Reward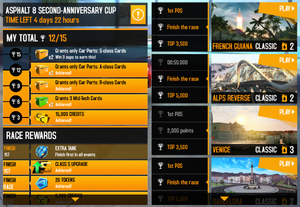 Trophy Reward is another (rare) type of reward, a system that gives out prizes depending on the numbers of trophies collected in multiple races, with the title "My total". A trophy in turn depends on your result in a race, and can include any of the above criteria: race, leader-board or score criteria (participated, finish within a time, position first, leader-board position, etc.). Since a trophy can depend on the leader-board position, the trophies you achieve are not for granted. Mostly trophy events span across several days, with one race available per day as in the Acura NSX 2005 Cup, Mercedes-Benz SLS AMG GT Coupé Final Edition Cup, and the 2015 Ford Mustang Cup after which you received the car as a reward if you played every day. Though less typical, there have also been cups with several races available simultaneously, such as the Exclusive Cup in July 2015 with three races during two days, or the Second-Anniversary Cup in Aug 2015 which even had 5 cups simultaneously.
Check on the History page for the (recent) history of events with their cars, tracks and rewards.
Multiplayer Events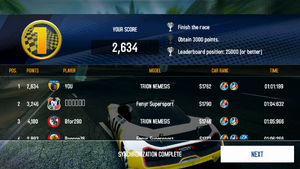 Similar to Multiplayer mode, these events pit racers against other players instead of NPCs (Non-Player Characters). The key difference is that every time you play, you increase your points, raising your Leaderboard position. These events require much more devotion, sometimes hours worth of gameplay, if you want to win anything. The one upside is that once you reach the top it is fairly easy to retain your position. Multiplayer events often are very expensive to play, sometimes costing up to five fuel points, meaning you can only play twice for every full fuel bar.
Opponent Selection
Like the World Series multiplayer mode, the players are not matched completely randomly. There are at least 3 segments: the players playing their first race / players with very low score; mid-field players; top ranked players. It is unclear, how many segments there are effectively, and what criteria are applied, but when you are among the top 100, you won't race against players at position 6000 for instance.
Multiplayer Scoring
The scoring system is somewhat intransparent. In general, the score bump you get decreases with your total score. For example if you place first in your first race, you will get an increase of 431 points. However if you it is your second race, and you place first again, you might increase only for 396, giving a total of 827. If you are at 4,000, a first place might give you only about ten score points. But this is not the case with every Race Event, some race events' scores increase flatten faster than others, for instance: first race 430, second race 430 + 344 = 774, and so on. The number of points you can achieve in your second race is also depending of the points you obtained in the first race, if you did not win the first race, you will not be able to obtain the full number of points in the second race.
The following score evolution has been observed:
| 1. Race | Total | 2. Race | Total | 3. Race | Total | 4. Race | Total | Win decay |
| --- | --- | --- | --- | --- | --- | --- | --- | --- |
| 430 | 430 | 344 | 774 | 244 | 1,018 | 207 | 1,225 | ?? |
| 430 | 430 | 344 | 774 | 280 | 1,054 | ? | ? | ~1/1.25 |
| 431 | 431 | 365 | 796 | ? | ? | ? | ? | ~1/1.18 |
| 431 | 431 | 396 | 827 | 364 | 1,191 | 337 | 1,528 | ~1/1.09 |
| 432 | 432 | 405 | 837 | ? | ? | ? | ? | ~1/1.067 |
The following score distribution has been observed:
| Rank | Score | Score | Score |
| --- | --- | --- | --- |
| 1 | 430 | 431 | 432 |
| 2 | 375 | 376 | |
| 3 | 319 | 320 | 321 |
| 4 | 264 | 265 | 265 |
| 5 | 209 | 209 | |
| 6 | 154 | 154 | |
| 7 | 98 | 99 | |
| 8 | 43 | 43 | |
This scale remains approximately the same with the Tenerife Update, offering 12-players multiplayer races in addition to 8-players races. The player placed 7th from the bottom earns 375 points, and the 8th or higher from the bottom earns 430 points in the first race, thus in a race with 12 players, places 1 to 5 earn the same score.
If you are trying to get a lot of points in a point based multi payer event, you will need to race over and over and get a good place. Still, to be in the top third, it is sometimes enough to just play the race even if you don't get a great position.
Apex Wednesday
These events always focus on a certain type of prize (for example Pro Kits, Tokens, or Decals) and are open to play every Wednesday from 0:00 to 24:00 UTC.
Anniversary Event
Asphalt 8: Airborne was originally released on August 22, 2013. Every year during that week, there are events and sales.
For 2017, the Anniversary cup was a multiplayer event instead and 2 Anniversary Packs being offered in addition.
Community Cup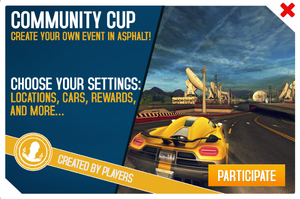 Gameloft also inquires about the Cup players would create with a survey. The first in-game ad appeared on Aug 14th 2015 on iOS, though the date on the form says to vote before June 24 (possibly the date of the survey of 2014). The result of the survey was the Community Cup on Aug 22, 2015. The survey allows to vote for all of the race parameters.
History
See also
Community content is available under
CC-BY-SA
unless otherwise noted.