This article is about Tokens in Asphalt 8. For other uses, see Currency.
Big and small icon

Balance display


Top bar of most screens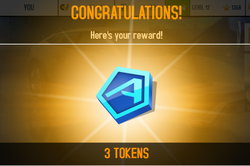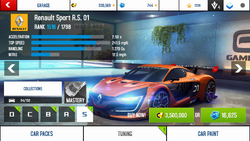 Tokens are a premium currency currently used since Asphalt 8: Airborne. Introduced in the Winter Update, they can be obtained through Events, in-game advertisements (at a rate of

 2 per 15~30 second ad), in-game purchase in the form of token packs, as a Mastery Reward for certain cars, completing Daily Tasks, as a Multiplayer League level up bonus, as a Multiplayer League points reward and completing Moto Blitz seasons (prior to the 2019 Spring Update, which replaced all Moto Blitz rewards with the Rookie Biker Kit and Advanced Biker Kit).
Tokens are represented as blue 3D pentagonal coins marked with an "A", the same "A" that is used in the Asphalt series logo.
Token-bought items
There are many cars that can be bought with tokens, and as of the Decals Update, many cars that were previously only available for real-life cash became available for sale as Token cars. With the Elite Cars Update, several previously credits only cars are now also purchasable with tokens. Starting November 13, 2017, several new accounts had their prices changed, making several cars that were credits-only become Token-only vehicles.
The Decals Update also introduced purchasable decals for cars, many of which can be purchased with tokens.
The Double Credits, Extra Tank, Absolute Armor, Nitro Recharger, and Boosted Wheels boosters require tokens to buy.
All pro kit boxes, with the exception of the Super Racer Kit Box, are bought with tokens.
The proto keys from Research & Development can be restored for  

5 - 150

​​​​.

If the main goal from a test in an R&D event is failed, the quality checks earned can be kept by spending some tokens.
Tokens can be used to unlock a Lab in R&D or Auto-Test a test, bypassing it.
In the case of the Lamborghini Centenario LP 770-4's R&D, the proto keys can be restored for up to  

250

.

Elite Cars' conditions can be instantly restored.
Enduro Double Down:

The Invites can be paid tokens to be instantly delivered.
Choosing to bank Enduro Points and continue with the Double Down bonus costs tokens. The amount charged increases the closer the player is towards the final Tier.
A failed race has a tokens option to redo the race without losing any unbanked EP or starting the challenge again from the start.
Tokens can be used to auto-pass a challenge.

Choosing to save up Multiplayer League points while keeping the risk bonus multiplier costs  

100

​​​​
Event fuel refills cost between  

7 - 65

​​​​. Each fuel segment costs  

6.5

​​​​ but the price is rounded up.
The Upgrades for cars are purchasable with either Credits or Tokens as of the Lunar New Year Update.
The Munich Update converted several previous Event based vehicles to also have tokens only upgrades, but this was later reverted on October 31, 2017 due to negative reception from the community. [1]

The following vehicles that were converted to have Token only upgrades until October 31, 2017 were:

Championship locations can be auto-unlocked with tokens.
Blueprint-unlockable cars can be instantly built with tokens. The price to instantly assemble, just like with R&D Proto Keys, EDD Invitations, and Championship Tires, decreases over time.
Several Exclusive Deals are purchasable with tokens.
Failed World Tour challenges can be paid to retain the hype multiplier.

World Tour challenges can be re-rolled.
Streaming Passes can be restocked with Tokens.
Token Packs
Token Packs are an in-app purchase that provides the player a set amount of tokens in exchange for real money.
The larger the pack, the better the price per Token.
The price per Token is also dependent on a player's Career  

Stars

. Contrary to Credit Packs, the size of the packs is the same for all Star levels. This leads to inconsistent prices:
With the Rio de Janeiro Update, each token pack will also award the player with VIP points for the VIP System.
A Tokens Pass subscription was also available when first launched for certain players/regions and gave a total of

 3,000,

 600 more than a Mountain of Tokens for the price of a Hoard of Tokens; the player has to log-in to the game every day for a consecutive 30 times with each log-in awarding

 100. The Token Pass Subscription has since been updated to now give a total of

 6,600;

 220 per day at half the price of a Truckload of Tokens for a similar amount.
The following table lists pack sizes and prices for some example Star levels taken from different accounts. Reaching

 1,700 seems to be the last level; even players with

 2,495 did not have better ratios. As Gameloft is based in France, prices are shown in Euro. Prices in US$ are the same despite different exchange rates, so players from the USA have an advantage as long the exchange rate for $ 1 is below € 1.
Pack
Tokens
VIP
points
Stars
Price
Tokens
per Euro
Handful of Tokens
 

200

200
 

130

€ 1.78*
 

112

 

1,608

€ 2.29
 

87

 

1,704

€ 1.99
 

101

Stack of Tokens
 

525

500
 

130

€ 4.64*
 

113

 

1,608

€ 5.49
 

96

 

1,704

€ 4.99
 

105

Hoard of Tokens
 

1,100

1,000
 

130

€ 9.14*
 

120

 

1,608

€ 10.99
 

100

 

1,704

€ 9.99
 

110

Mountain of Tokens
 

2,400

2,000
 

130

€ 18.56*
 

129

 

1,608

€ 21.99
 

109

 

1,704

€ 19.99
 

120

Truckload of Tokens
 

6,500

5,000
 

130

€ 45.71*
 

142

 

1,608

€ 54.99
 

118

 

1,704

€ 49.99
 

130

Vault of Tokens
 

15,000

10,000
 

130

€ 92.13*
 

163

 

1,608

€ 109.99
 

136

 

1,704

€ 99.99
 

150
* Prices for

 130 have been converted from Canadian Dollars and may differ from actual prices.
Anniversary Coins
Available only during the 5th Anniversary and Halloween Festival event, Anniversary Coins can be purchased as part of any Tokens or Credits pack.
Handful of Tokens: 150 Coins
Stack of Tokens: 350 Coins
Hoard of Tokens: 675 Coins
Mountain of Tokens: 1,200 Coins
Truckload of Tokens: 2,625 Coins
Vault of Tokens: 3,750 Coins
Transferability with Credits
There is no official conversion rate between tokens and Credits in Asphalt 8: Airborne. A token is worth

 138 on average, and at most,

 341. This is only an estimate, as the number of in-game tokens received for an equivalent value of credits depends largely on what you purchased.
In general, the lower the credit/token ratio of the car price is, the more economical it would be to purchase the car with credits instead of tokens. Due to the scarcity and high value of tokens to most players, it is usually a better choice to purchase an item with credits and save the tokens for other uses.
Vehicle/Item
Cost
Value
Rookie Credit Pack / Handful of Tokens
US$1.99
 

30,000


 

200


150 Credits per Token
Driver Credit Pack / Stack of Tokens
US$4.99
 

80,000


 

525


152 Credits per Token
Pilot Credit Pack / Hoard of Tokens
US$9.99
 

175,000


 

1,100


159 Credits per Token
Pro Credit Pack / Mountain of Tokens
US$19.99
 

420,000


 

2,400


175 Credits per Token
Champion Credit Pack / Truckload of Tokens
US$49.99
 

1,200,000


 

6,500


185 Credits per Token
Master Credit Pack / Vault of Tokens
US$99.99
 

3,000,000


 

15,000


200 Credits per Token
Suzuki GSX-R750
 

30,000

 or  

200

150 Credits per Token
Volkswagen Beetle Turbo
 

26,000

 or  

180

144 Credits per Token
Ferrari 308 GTS
 

120,000

 or  

1,100

109 Credits per Token
Mazda RX-8
 

325,000

 or  

1,850

175 Credits per Token
Buick Avista Concept
 

425,000

 or  

2,400

177 Credits per Token
Range Rover Evoque Coupe HSE Dynamic
 

125,000

 or  

525

238 Credits per Token
Acura NSX 2005
 

90,000

 or  

750

120 Credits per Token
Felino cB7
 

250,000

 or  

2,100

119 Credits per Token
Lamborghini Miura
 

325,000

 or  

2,100

154 Credits per Token
Mitsubishi Eclipse
 

395,000

 or  

2,300

171 Credits per Token
Mercedes-Benz CLA 45 AMG Racing Series
 

495,000

 or  

2,400

206 Credits per Token
DS Survolt
 

45,000

 or  

250

180 Credits per Token
Chevrolet SS
 

425,000

 or  

3,500

121 Credits per Token
TVR Sagaris
 

930,000

 or  

3,950

235 Credits per Token
Ferrari GTC4Lusso
 

765,000

 or  

4,325

176 Credits per Token
2010 Bentley Continental Supersports
 

975,000

 or  

4,925

197 Credits per Token
Ferrari LaFerrari
 

235,000

 or  

1,975

118 Credits per Token
Volkswagen W12
 

475,000

 or  

3,450

137 Credits per Token
Mosler GT3
 

985,000

 or  

5,325

184 Credits per Token
Jaguar XJ220S
 

1,275,000

 or  

5,975

213 Credits per Token
Koenigsegg Agera R
 

425,000

 or  

2,375

178 Credits per Token
SSC Tuatara
 

950,000

 or  

4,750

200 Credits per Token
Renault Sport R.S. 01
 

1,950,000

 or  

9,925

196 Credits per Token
Mosler Land Shark
 

2,250,000

 or  

10,975

205 Credits per Token
TRION NEMESIS
 

3,275,000

 or  

13,975

234 Credits per Token
Devel Sixteen Prototype
 

4,950,000

 or  

14,500

341 Credits per Token
Obtaining Tokens
Unlike credits, tokens are only obtainable as an Event, Car Mastery or Moto Blitz reward. Listed below are all of the cars with a car mastery tokens reward
Post v4.1
The Fast Lane Update made the Mastery for all vehicles to now award a Tokens reward when the 15th challenge is completed;

 50 for Class D,

 100 for Class C-S. As such, a total of

 22,450 can now be obtained.
Glitches
In the Research & Development Update, any car that was normally sold for tokens/licenses would end up selling for the same price, but in credits. This would normally happen under a weak Wi-Fi/mobile data connection. An example of this would be the McLaren P1™ GTR selling for the price of an Aston Martin DB9 Coupé (

 14,500).
In the Multiplayer League Update, the Chevrolet Corvette C3's tenth Mastery Challenge was bugged, seemingly awarding

 12,550.
References
Community content is available under
CC-BY-SA
unless otherwise noted.