The Tramontana XTR is a track-day supercar made by Tramontana as their most powerful model yet, surpassing the Tramontana R.
Description
XTR is the extreme version, with the most radical chassis modifications and clearly oriented towards pure performance. It incorporates an ultra-rapid competition gearbox. Additional aerodynamic appendages to optimize the vehicle's performance at high speeds. It has a V-12 720/888 hp engine.
- Tramontana official website
The Tramontana XTR has a handbuilt body design and a 888 bhp Mercedes-Benz-sourced twin turbocharged V12 engine coupled with a rear mid-engine, rear-wheel-drive layout and an ultra-rapid competition gearbox. The aerodynamics have been optimized as well.
A faster version of the Tramontana R, the Tramontana XTR is speculated to reach 60 mph in 2.2 seconds and a top speed of 228 mph.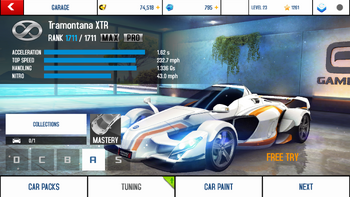 The Tramontana XTR was added in the Winter Update as a high-end Class A car.
The Tramontana XTR had a starting rank of 1504, a MAX rank of 1627, and a MAX+PRO rank of 1711. The car receives a modest Tuning Kit bonus of +31 rank points. Its main rivals are the Mazzanti Evantra, Pagani Huayra, Ferrari LaFerrari, and Kepler Motion.
The Tramontana XTR's acceleration and launch power are superb, albeit inferior to the Savage Rivale GTR and Shelby Cobra 427. It is worth noting that while the car can drift well, it has some difficulty cornering with the nitro activated. Because of its large nitro stat, it not only has a low-efficiency nitro (9/14/19), but also has a poor top speed; its top speed at MAX+PRO is only slightly better than the Mazzanti Evantra. In all, the Tramontana XTR should be restricted to use for short tracks, given its fast nitro consumption rates and bad top speed stat, as the car gets beaten by the McLaren P1 and Lamborghini Asterion.
The Tramontana XTR's Car Mastery has 2x Class A upgrades as a reward for Challenge 5, making it useful for upgrading the Audi R8 e-tron Special Edition and BMW 3.0 CSL Hommage, all of which have Tokens only upgrades.
Price & Availability
As of the Fifteenth Anniversary Update, the Tramontana XTR costs

 970,000 to purchase. The Tramontana XTR had a purchase price of

 525,000 (

 800,000 or 

 5,000 from December 27 to 30, 2017) to purchase. As of the 2019 Spring Update, upgrades cost

 1,435,000​ while Pro Kits require

 477,600​, 18 of each Class A Part, 12 Early & Initial Techs each, 24 Mid-Techs, and 12 Advanced Techs and 28 V12 Engines.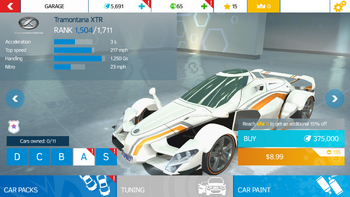 The Tramontana XTR was added in Asphalt Nitro's fifth update.
The Tramontana XTR behaves exactly the same as its Asphalt 8: Airborne rendition and is still a Class A car. However, it isn't the best Class A car to purchase since it loses to the Ferrari FXX Evoluzione.
The XTR costs

 375,000 to purchase.

Vehicles in Asphalt 8: Airborne