The Transylvania Update, also known as the 2019 Winter Update, is the 30th update for Asphalt 8: Airborne. It is scheduled to add the Transylvania track, whose name was revealed prior to the Fifth Anniversary Update.
Announcement
Celebrate the holiday season by unwrapping this new update to Asphalt 8, filled with a new environment, fresh events, and enough new rides to bring holiday cheer to racers everywhere!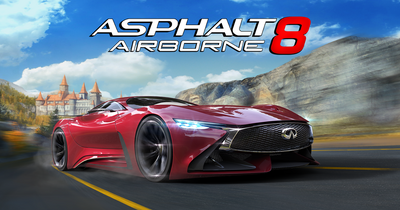 **What's New**
SNOWFLURRY FESTIVAL
Welcome to the new Snowflurry Festival event! We're introducing a lot of all-new, all-fun activities and quests for you to complete everywhere in the game -- and of course, new prizes for the victors!
WELCOME TO TRANSYLVANIA
We're dedicated to delivering the best new racetracks we can, so get ready to brave the risky mountain roads and gorgeous medieval landscapes of Transylvania!
NISSAN 370Z SPECIAL EDITION
This classic Nissan race car is returning to the game -- this time with improved stats and a stylish new look! Catch this sweet new ride once it appears in the upcoming R&D Event.
WINTER HOLIDAY R&D
The Lamborghini Centenario -- the famous 770 HP, fully carbon hypercar -- is speeding into Asphalt 8 this winter! Check out our exclusive Winter R&D Event to add this car to your Lamborghini collection!
NEW MOTORCYCLE
Ride the Lightning LS-218. This superb motorcycle will arrive in the game with its own special event shortly. Check the game often for details!
THE HOLIDAYS ARE HERE!
The winter spirit -- and winter decorations -- are back to make the game even cooler. We couldn't be happier to celebrate the holidays with you!
DIRECTIONAL STEERING
Handle your vehicle with unmatched precision using a brand-new Directional Steering control scheme.
New Vehicles
Class C
Unknown Class
The new vehicles will need the following engine cards:
Four-Stroke Engine
MV Agusta F4 1000 R (x20)
V6 Engine
Nissan 370Z Special Edition (x?)
V8 Engine
V12 Engine
Lamborghini Centenario LP 770-4 (x?)
Lamborghini Murciélago LP 640 (x?)
Game Changes
Gameplay Changes
New track: Transylvania.
Directional Steering is now available as a control scheme.
Cosmetic Changes
Events
TBA
Bugs / Glitches
Post-Update Screen
Trivia
This update features the following firsts:
This update and the Santa's Gift Update are the only updates of Asphalt 8: Airborne where more than one Lamborghini car was added.

Coincidentially, both updates were released in the month of December, in 2015 and 2018, respectively.

This update continues the Fifth Anniversary Update's trend of adding a vehicle whose debut was in Asphalt 9: Legends into Asphalt 8: Airborne.