Hi, I'm Audi R8 tyke, or Pro G* as in my Youtube. Currently, I have >180 cars in Asphalt 8 and I'm quite dead in A8 now. Hence the account is semi-dead too.
My Youtube: https://www.youtube.com/channel/UCkO-sd8h5495hgtb-AKDRqQ
As from 11th May 2019, Youtube channel name was changed to Audi R8 tyke.
About me
Been around A8 from 2016-2019.
Keen to answer questions about Asphalt 8.
Loves Audis in the game, despite they're crappy/cancerous.
(Off topic) Owns Audi R8s in EVERY RACING GAME I had, which includes CSR 2, RR3 and A8
Always dreamed to drive an Audi R8 LMS Ultra Special Edition in the future.
NEVER SPENT A PENNY ON THE GAME
Always think that A9 is sh*t.
NEVER be able to finish R&Ds. Either I f*cked up in the middle (by either time-outs or troll-tests) or in the last AI. (However, the Maserati Alfieri R&D is an exception. The RX-8 SE R&D is also an execption too.)
Last thing I wanna do before my retirement is to get my R8 SE.
Cars that I'm extremely proud to own
NOTE: DUE TO THE RECENT CHANGES IN ASPHALT 8, THIS PART IS SUBJECTED TO CHANGE GREATLY.
Audi R8 LMS Ultra
Mazda RX-8 SE
Audi R8 e-tron
Arrinera Hussarya GT (AHGT)
McLaren MP4-31
McLaren MP4/8
Rezvani Beast Alpha
Maserati Alfieri
2018 McLaren X2
Merc SLK SE
Cars that I do not want to own
Donkervoort "The Donkey" D8 GTO (Why should I get this crap if I get the RX-8?)
BMW i8 (You're another stupid example of a failed Class King dethrone, like that HORRIBLE KIMCHI CAR!)
TVR Sagaris SE (a Mosler GT3 clone that is an MP wannabe)
MV Augusta V4 (Unstable bike 'CLASS KING'. REMOVE WITH AUDI R8!)
ALL recent R&D cars (overpriced event which aims to juice every single penny from me)
Cars I plan to get (no matter I hate it or not)
Audi R8 e-tron SE (OP King of A8+BP-buildable+I want my resources back)
Ferrari 488 Pista (I WANT MA RESOURCES BACK!)
I will also plan to get these if token upgrades are removed
Porsche CGT (F*cked up Championship due to Token Upgrade)
BMW Hommage
Mosler SGT
Lamborghini LP770-4
Multiplayer Rivals
Personnaly I'm a peaceful person in MP, but I have some serious rivaly (and sometimes hostility) towards:
-ALL AIE drivers
-ALL X2 drivers
-ALL Donkey drivers
-Clan members, especially RpM clan members
AND here is a list of someone I've raced against in this wiki:
-SurfNSlide
Cars that I hate (Prepare to get yourselves triggered)
McLaren MP4/8 (I like it, but I hate it's sluggish speed)
The Vanda Dendrobium (Looks hideous+not the best)
And the most hateful thing in the Asphalt Universe-The 2006 Ford GT. This thing is the definition of HELL. It is as slow as a snail, a nitrous guzzling Piece Of Crap, crappy drifting and a credit black hole. Poor thing that this gets a lot more common because of new players buying this crap due to the price change. (But hey, it looks nice, and I like the looks)
This is the most SINFUL thing in Asphalt- the Donkervroot D8 GTO. It is *that* slow, same price with Miura but way slower. It do not do well in MP but annoying popular. My Supra and even my FURAI eats them up ALIVE. IT DOESN'T DESERVE AN AUDI STRAIGHT-5.
AND THERE'S THE NEW DEFINITION OF GARBAGE- The Zenvo ST1. THIS THING... UGLY AS HELL, AS SLOW AS THE DONKEY, AND A MONEY PIT. AND EVEN IT'S NOT THE BEST MID-TIER CLASS A.
ALL recent R&D cars: OMG. YOU ALL TRY TO JUICE MY RESOURCES? LET ME EDUCATE Y'ALL, SILLY, BEING OVERPRICED SH*TS ONLY ENCOURAGES ME NOT T WASTE RESOURCES! HA! TAKE ON THIS!
What I do in my blog posts
Car Comparison-This is a pretty new idea. Basically, I put 2 cars together for a comparison and find out which car has the edge than the other one. For which car is better, you'll have to decide yourself, as I'm only doing stuff on paper and experience there.
Top 5s
Consumer advice for current A8

BTW, here's a Big M8: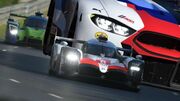 Community content is available under
CC-BY-SA
unless otherwise noted.