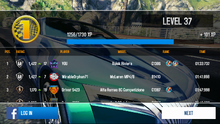 Hi, I am a random person who plays A8. Other games I mostly play are Roblox, MC5, A9 and MCVS. My in-game username is Marc W., I also have a YouTube channel called Humanny.
History
I started playing before the Bikes update. Starting from around September 2017 to right before Fall Out Boy came and June 2018 to right before FLU, I have taken a break from the game. As of editing this now (October 25, 2019) I have 74 vehicles, 52 achievements, and I'm level 47 in MP trying to get to Pro League.
My favorites
Favorite car in all time:
Favorite track:
Favorite Class D car(s):
Favorite Class C car(s):
Buick Riviera
Renault Trezor
Favorite Class B car(s):
Favorite Class A car(s):
Lamborghini Asterion
Lamborghini Terzo Millennio
Favorite Class S car(s):
Mercedes-Benz Silver Lightning
Lamborghini Veneno
Tasks
These are the tasks I have completed or not completed.
Completed Tasks
Have 70 cars (74/70)
Get the Buick Riviera
Have 200 licenses (217/200)
Have 1000 stars (1054/1000)
Get the Renault Trezor
Uncompleted Tasks
Have 75 cars (74/75)
Get the Camaro Z/28 (300 licenses; 217 acquired)
Hope you'll have a good day viewing!

Community content is available under
CC-BY-SA
unless otherwise noted.